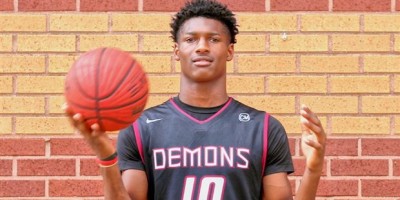 Nelson Phillips of Class 5A No. 1 Warner Robins. Credit: 247Sports
McEachern remains undefeated and stays in the top spot in Class AAAAAAA. Grayson has ridden a strong start to the season (one loss, to Class AAAAA No. 1 Warner Robins) to the No. 2 ranking. Norcross falls to No. 8 after an upset loss to Lakeside-DeKalb.
Brunswick suffered its first loss of the season since our Week 5 rankings came out, so Langston Hughes takes over atop Class AAAAAA. No. 3 Jonesboro is undefeated since a Dec. 2 loss to an outstanding Class AAAAAAA Pebblebrook squad.
Warner Robins remains the top dog in Class AAAAA, and Buford remains at No. 2. Columbia took a two-point win over Miller Grove on Dec. 15 after our Week 5 rankings came out, so the Eagles stay a spot ahead of the Wolverines (Nos. 3 and 4).
Upson-Lee remains on a tear, as the Knights are undefeated and dominating the competition so far, including a 30-point win over No. 5 Mary Persons in Class AAAA. Sandy Creek, undefeated since Nov. 14, is ranked No. 2.
Morgan County remains flawless through Week 5 in Class AAA. The Bulldogs will face stout competition in the Capital City Classic from Dec. 22-23 and the Sweet South Classic from Dec. 28-29. Savannah schools Jenkins and Johnson have been rolling as of late.
Glenn Hills remains at the top in Class AA as it awaits its first game against Maclay, FL in the Capital City Classic in Tallahassee. Banks County fell to Apalachee on Dec. 21 and slid to No. 3,a allowing South Atlanta to move up to second.
Central-Talbotton is in now control of Class A-Public with a flawless record through 11 games while previous No. 1, Calhoun County, slid to third. The Hawks moved past Webster County, Jordan and Dooly County last week. Savannah's Woodville-Tompkins, with a 10-2 record, is chasing at No. 2.
St. Francis is leading Class A-Private and is coming off victories over Southwest Atlanta Christian and ranked No.2 Wesleyan. The Knights will face a tough game against Duluth on Friday in the Hawks-Naismith Holiday Classic at Norcross. Landmark Christian slid down the polls after falling to GAC.
Class AAAAAAA
1. McEachern
2. Grayson
3. Pebblebrook
4. Collins Hill
5. Mountain View
6. Wheeler
7. Peachtree Ridge
8. Norcross
9. Newton
10. Meadowcreek
Class AAAAAA
1. Langston Hughes
2. Brunswick
3. Jonesboro
4. Cambridge
5. Gainesville
6. Douglas County
7. Tri-Cities
8. Stephenson
9. Tucker
10. Bradwell Institute
Class AAAAA
1. Warner Robins
2. Buford
3. Columbia
4. Miller Grove
5. Southwest DeKalb
6. McIntosh
7. Maynard Jackson
8. Lithonia
9. Eagle's Landing
10. Statesboro
Class AAAA
1. Upson-Lee
2. Sandy Creek
3. St. Pius X
4. Americus-Sumter
5. Mary Persons
6. Carver-Columbus
7. Stephens County
8. Cartersville
9. Baldwin
10. Westover
Class AAA
1. Morgan County
2. Jenkins
3. Johnson-Savannah
4. Cedar Grove
5. Westside-Macon
6. Greater Atlanta Christian
7. Windsor Forest
8. Dougherty
9. Dawson County
10. Pace Academy
Class AA
1. Glenn Hills
2. South Atlanta
3. Banks County
4. Dublin
5. Thomasville
6. Swainsboro
7. Chattooga
8. Jeff Davis
9. Laney
10. Berrien
Class A-Public
1. Central-Talbotton
2. Woodville-Tompkins
3. Calhoun County
4. Montgomery County
5. Wilkinson County
6. Macon County
7. Manchester
8. Lanier County
9. Pelham
10. Wilcox County
Class A-Private
1. St. Francis
2. Aquinas
3. Eagle's Landing Christian
4. North Cobb Christian
5. Landmark Christian
6. Christian Heritage
7. Greenforest
8. WD Mohammed
9. King's Ridge Christian
10. Mt. Vernon Presbyterian