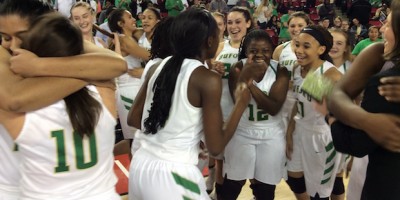 The Buford girls are once again on top of Class 5A. Credit: AJC
Westlake remains No. 1, but Collins Hill shoots up to No. 2 after other top-five teams suffered setbacks. North Forsyth moves up to No. 3 after a strong December so far and a great showing in Arizona at the Nike Tournament of Champions.
Winder-Barrow gets knocked from its perch as No. 1 after suffering a loss to a red-hot Lanier squad, which moves up to No. 4. Harrison moves into first.
The defending-champion Lady Wolves lead in AAAAA and it looks as if Gene Durden's squad is poised for yet another deep playoff run. Buford took titles in 2015 and three-in-a-row from 2009-11. Dutchtown, following a loss to Class AAA's Lovett on Nov. 21, have reeled off nine wins to take the No. 2 spot.
Carver-Columbus and Harris County are the teams to beat in Class AAAA. On Dec. 19, top-ranked Carver defeated cross town rival Columbus 69-39 to protect its No. 1 spot. Second-ranked Henry County is preparing for a Dec. 28 game against Decatur in the Chuck Miller Classic. Following a loss, previous No. 6 Jefferson fell to No. 9. West Hall fell out of the rankings and was replaced at the No. 10 spot by Americus-Sumter.
In Class AAA, No. 1 Beach has been controlling Savannah and defeated crosstown rival and fourth-ranked Johnson-Savannah, 53-42. No. 2 GAC defeated East Hall, Mountain View on Dec. 15 and 16 and is awaiting Charles Henderson, AL in a tournament in Naples, Fla. No.
Class AA top-ranked Laney remained perfect on the season following an 89-30 victory over Hephzibah on Dec. 21. New No. 2 Putnam County defeated old No. 2 Rabun County, sending Rabun falling to No. 4. Swainsboro remains perfect on the year following a 60-41 victory over Cambridge on Dec. 21.
Previous No. 1 Pelham slid to fourth following its loss to, at the time, No. 3 Terrell County, 61-60. Terrell County moved up to No. 2 this week. Greenville holds true in the No. 2 spot.
The Holy Innocents' Lady Golden Bears are again in control of Class A-Private this week following a victory against Lebanon, TN at the She Got Game Classic. Wesleyan protected its No. 2 ranking after a victory over Fayette County.
Class AAAAAAA
1. Westlake
2. Collins Hill
3. North Forsyth
4. Norcross
5. McEachern
6. Cherokee
7. Colquitt County
8. Newton
9. South Gwinnett
10. North Cobb
Class AAAAAA
1. Harrison
2. Winder-Barrow
3. Alpharetta
4. Lanier
5. Northview
6. Lovejoy
7. Forest Park
8. Sequoyah
9. Northside-Warner Robins
10. Tucker
Class AAAAA
1. Buford
2. Dutchtown
3. Flowery Branch
4. Harris County
5. Bainbridge
6. Villa Rica
7. Jackson-Atlanta
8. Carrollton
9. Eagles Landing
10. Southwest DeKalb
Class AAAA
1. Carver-Columbus
2. Henry County
3. Spalding
4. Luella
5. Northwest Whitfield
6. Madison County
7. Baldwin
8. Marist
9. Jefferson
10. Americus-Sumter
Class AAA
1. Beach
2. Greater Atlanta Christian
3. Franklin County
4. Johnson-Savannah
5. Lovett
6. Central-Macon
7. Haralson County
8. Peach County
9. Hart County
10. Dawson County
Class AA
1. Laney
2. Putnam County
3. Swainsboro
4. Rabun County
5. Model
6. Banks County
7. Fitzgerald
8. Dodge County
9. Dublin
10. Washington
Class A-Public
1. Telfair County
2. Greenville
3. Terrell County
4. Pelham
5. Macon County
6. Wheeler County
7. Woodville-Tompkins
8. Marion County
9. Mitchell County
10. Georgia Military
Class A-Private
1. Holy Innocents'
2. Wesleyan
3. St. Francis
4. Our Lady of Mercy
5. Christian Heritage
6. Stratford Academy
7. Landmark Christian
8. Calvary Day
9. Fellowship Christian
10. Lakeview Academy