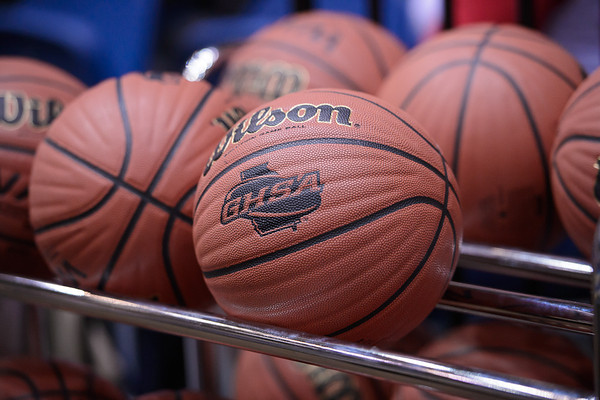 The top six in Class AAAAAA remain unchanged, but the final four spots saw some shuffling. No. 7 Collins Hill moves up two spots after Newton and Dacula lost. No. 8 belongs to Milton after seven straight wins. The Eagles have won their past three games by an average of 39 points. Without Harvard signee Chris Lewis against Alpharetta, Milton won 93-54 and received 27 points from Alex O'Connell. Kendrick Summerour added 21, Justin Brown 18 and Kyrin Galloway 10 in the rout. No. 9 Newton continues to cling onto a top ten spot. Just when you think they will fall out after a 57-56 loss to Tucker in which the Rams missed 11 free throws, Coach Rick Rasmussen's team rebounded with a huge 56-53 win over 5ANo. 6 Cedar Shoals at the Classic City Shootout at Clarke Central thanks to Jaquan Simms' game-high 16 points. The No. 10 slot goes to McEachern, who edged out Dacula 84-76 in double overtime at the SEBA Hoopfest and in the process knocked them from the top ten. AJ Jones finished with 25 points, four rebounds and five assists while Darius Jones added 17 in the win. Freshman forward Isaac Okoro made his presence felt with 16 points, 10 rebounds and four blocks. Dacula was powered by Derek St. Hilaire's 30 points and Wofford signee Kevon Tucker's 18. Douglas County drops from the poll after a 96-80 loss to Pebblebrook. The Falcons are now 7-4 and 5-0 in Region 3 and are knocking on the door to re-emerge in the top ten.
Fayette County was home to a colossal showdown between top ten teams in 4ANo. 8 Sandy Creek and AAAAA's No. 2 McIntosh. In the end, it was the Chiefs blowing away host Sandy Creek, 69-51, and moving back up to No. 2 in the state. Unsigned point guard Will Washington was masterful with 25 points, five rebounds and eight assists. Wofford signee Dishon Lowery finished with 14 points, 13 rebounds, three assists and four blocks and Furman signee Jordan Lyons captured the McIntosh all-time scoring record on the boys side with a three-pointer on the first play of the game. Lyons finished with 13 points and now has 1,930 over his career, surpassing Jeff Sheppard's record of 1,919. Elias Harden of Sandy Creek scored 25 points, but Gardner-Webb signee Christian Turner was held to 11 points and seven rebounds from his point guard position. No. 8 LaGrange defeated 3ANo. 8 Callaway for the second time in a three-day span, 63-60. Southwest DeKalb clings on to No. 10 after hard fought losses to No. 1 Miller Grove 76-69 and 1A-Private No. 4 Whitefield Academy, 53-52. Former No. 9 Warner Robins was blown out by 3ANo. 7 Central-Macon 81-64 Monday afternoon at the Washington County Christmas Tournament. Replacing the Demons is No. 9 Camden County. The Wildcats are 11-0 and coming off a 74-69 win over 1A-Public No. 2 Randolph-Clay, the Red Devils' only loss of the season.
The bottom of Class AAAA saw a shakeup with two new teams debuting. Perry lost 47-42 to Choctawhatchee (FL) and 64-56 against Bleckley County while Monroe fell to South Cobb 72-55, thus dropping the two teams from No. 9 and No. 10 respectively. In steps No. 9 Thomson and No. 10 Eagle's Landing.  The undefeated Thomson Bulldogs are winning by a margin of 32 points per game. In their latest rout, a 99-51 win over Jefferson County, Radaren Johnson finished with 21 points, five rebounds, four assists and six steals while San Antonio Brinson, a transfer from Aquinas, added 13 points, five rebounds, four assists and two blocks. No. 10 Eagle's Landing has received big contributions from underclassmen, but senior leader Jordan Lewis has been the heart and soul of the team. He is averaging a team-high 16.8 points per game and 3.5 steals. In the Eagles' only loss of the season, a 75-61 defeat to No. 2 Jonesboro, Lewis scored 21 points.
Some teams from Macon in Region 2-AAA are trying to make a case for the top ten. Central-Macon goes from being unranked to No. 7 after drilling Warner Robins 81-64. No. 9 Southwest-Macon has two of the most explosive scorers in Middle Georgia. Justin Slocum is averaging 23.2 points, 11.3 rebounds and 2.2 blocks. Nick Hargrove Jr. is pouring in 21.2 points, 4.2 rebounds and 6.0 assists per game. One unranked Macon squad is Westside-Macon at 9-3. The Seminoles are led by possibly the best sophomore in the entire country, 6-foot-8 forward Khavon Moore. He is averaging 21.3 points, 11.8 rebounds, 4.1 assists, 3.3 steals and 2.5 blocks a night. They meet Houston County for the third time this season at the Bear Brawl on Monday night. The two teams have split their first two meetings. Elsewhere in AAA, No. 10 East Hall returns to the rankings after knocking off Lumpkin County 73-63.
A new No. 1 takes over Class AA, in Thomasville. The Bulldogs have an impressive resume and are undefeated after taking down Tyree Crump and Bainbridge, 85-70.  Seminole County slips to No. 3 following an 84-81 loss to No. 6 Early County. It will be a mad dash to win Region 1 with Seminole County, Early County and Thomasville all having to play each other twice this year. No. 8 Macon County enters the poll thanks to an impressive 75-70 win over 1A-Public No. 4 Taylor County. No. 9 Long County debuts in the top ten after an 8-2 start, coming off a 6-22 record in 2014-15.
Lovett falls out of the rankings after a bad loss to Woodstock, 67-55. Soon to follow them might be another Region 6 team. No. 10 Pace Academy has not played well this year. Early close losses to 6A No. 1 Westlake and 1A-Private No. 1 Greenforest looked like promising results, but a loss to rival No. 4 GAC and to Lower Richland (SC) on Saturday has the Knights lucky to stay in top ten contention. Pace lost 66-55 to Lower Richland, who is now just 3-7 on the season. The 1-4 Knights rode Wendell Carter Jr., the top ranked junior in the nation to a big game, but it wasn't enough as the Diamond Hornets, whose tallest player stands just 6-foot-4 to Carter's 6-foot-11, were able to earn the victory at the Chick-fil-A Classic.
In Class A-Private, No. 2 SWAC took down No. 3 St. Francis, 74-68. De'Andre Ballard went off for 42 points to outduel Kobi Simmons' 28. No. 4 Whitefield Academy moves up three spots after edging North Clayton 87-80 in 2OT and 5ANo. 10 Southwest DeKalb, 53-52.  No. 6 North Cobb Christian slips three spots after blowing a 16-point halftime lead against Sprayberry at the SEBA Hoopfest. Starting point guard Nick Fleming has been out with a fractured elbow. No. 8 St. Anne-Pacelli remains in the top ten after a statement victory over No. 9 Landmark Christian. The Vikings used 35 points from Tre Sudberry to get past the War Eagles.
Class A-Public's hottest team besides No. 1 Treutlen is No. 5 Lincoln County. Ahmad Rand posted three straight triple-doubles before seeing his streak broken in the Lincoln County Christmas Tournament championship. The Red Devils captured the crown with a 55-50 win over North Oconee. Zach Crite led the way with 15 points while Rand was named Tournament MVP and finished with 12 points and seven blocks in the title game.
Class AAAAAA
1. Westlake
2. Shiloh
3. Norcross
4. Wheeler
5. Tift County
6. Lambert
7. Collins Hill
8. Milton
9. Newton
10. McEachern
Class AAAAA
1. Miller Grove
2. McIntosh
3. Gainesville
4. Allatoona
5. Heritage
6. Cedar Shoals
7. Riverwood
8. LaGrange
9. Camden County
10. Southwest DeKalb
Class AAAA
1. Grady
2. Jonesboro
3. Lithonia
4. Henry County
5. Liberty County
6. St. Pius
7. Walnut Grove
8. Sandy Creek
9. Thomson
10. Eagle's Landing
Class AAA
1. Laney
2. Morgan County
3. Jenkins
4. Calhoun
5. South Atlanta
6. Banks County
7. Central Macon
8. Callaway
9. Southwest Macon
10. East Hall
Class AA
1. Thomasville
2. Crawford County
3. Seminole County
4. GAC
5. Vidalia
6. Early County
7. Holy Innocents'
8. Macon County
9. Long County
10. Pace Academy
Class A-Private
1. Greenforest
2. SWAC
3. St. Francis
4. Whitefield Academy
5. Lakeview Academy
6. North Cobb Christian
7. Tattnall Square Academy
8. St. Anne-Pacelli
9. Landmark Christian
10. Our Lady of Mercy
Class A-Public
1. Treutlen
2. Randolph-Clay
3. Wilkinson County
4. Taylor County
5. Lincoln County
6. Terrell County
7. Hawkinsville
8. Atkinson County
9. Wilcox County
10. Hancock Central