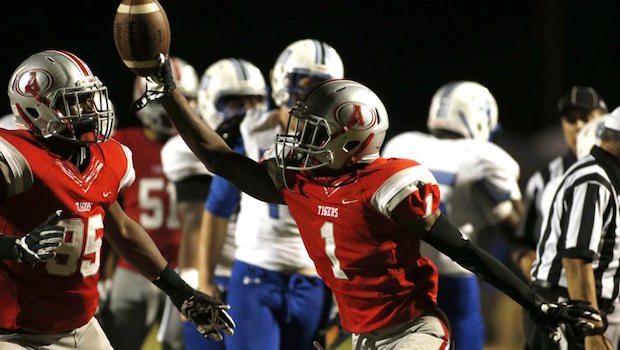 Colquitt County suffered an upset at the hands of two-loss Brookwood, the Broncos' second-straight win after seven-point losses to Walton and Archer to begin the season. Another big development this week in Class AAAAAAA is North Cobb's fall out of the Top 10 after a wild 36-35 loss to unranked East Coweta. Tift County jumps into the Top 10 after defeating Parkview 50-37 and moving to 5-0.
The only movement in the second-biggest classification this week is Douglas County's jump over Winder-Barrow from No. 9 to No. 8. Both teams remain undefeated in wins over winless teams, but Douglas County handled South Paulding 42-0 while Winder-Barrow struggled with Loganville 17-14.
In Class AAA, the top three remain the same with Cedar Grove, Peach County and GAC continuing their season-long battle for supremacy. Dawson County, after a 13-10 loss to West Hall, fell to unranked. After a 62-6 thrashing of Coahulla Creek, Calhoun jumped up from sixth to fourth with a 3-1 record. Lovett, previously No. 8 fell to tenth and Westminster, previously unranked, moved up to No. 8 after beating Redan 44-0.
Benedictine is still the team to beat in Class AA after beating Swainsboro 30-18 this week on an interception return by Travis Blackshear with :33 seconds left. Hapeville Charter is second after a bye-week. Screven County moved up to third after a 55-0 victory over Butler. Callaway is sixth after a 42-20 win over Upson-Lee. Rabun County settles at fifth. Thomasville jumped to No. 4 after a 76-20 win over Worth County.
Aquinas fell out of the rankings from No. 10 after its second loss of the season, and 4-0 Mt. Pisgah is bumped up into the tenth spot despite being on a bye week. Eagle's Landing Christian continued its dominance of Class A-Private with a 49-0 win over Holy Innocents'.
Class AAAAAAA
1. Grayson
2. Lowndes
3. Archer
4. Mill Creek
5. Walton
6. Colquitt County
7. Brookwood
8. McEachern
9. Mountain View
10. Tift County
Class AAAAAA
1. Tucker
2. Lee County
3. Coffee
4. Harrison
5. Mays
6. Northside-Warner Robins
7. Langston Hughes
8. Douglas County
9. Winder-Barrow
10. Alpharetta
Class AAAAA
1. Rome
2. Buford
3. Stockbridge
4. Carrollton
5. Jones County
6. Warner Robins
7. Starr's Mill
8. Griffin
9. Kell
10. Wayne County
Class AAAA
1. Cartersville
2. Blessed Trinity
3. Marist
4. Thomson
5. Sandy Creek
6. Woodward Academy
7. Jefferson
8. Ridgeland
9. Burke County
10. Mary Persons
Class AAA
1. Cedar Grove
2. Peach County
3. Greater Atlanta Christian
4. Jenkins
5. Calhoun
6. Crisp County
7. Lovett
8. Bremen
9. Dawson County
10. Monroe Area
Class AA
1. Benedictine
2. Hapeville Charter
3. Rabun County
4. Screven County
5. Thomasville
6. Callaway
7. Brooks County
8. Jefferson County
9. Dodge County
10. Fitzgerald
Class A-Public
1. Manchester
2. Irwin County
3. Commerce
4. Taylor County
5. Clinch County
6. Macon County
7. Charlton County
8. Mt. Zion-Carroll
9. Emanuel County Institute
10. Turner County
Class A-Private
1. Eagle's Landing Christian
2. Prince Avenue Christian
3. Wesleyan
4. Mt. Paran Christian
5. Calvary Day
6. Athens Academy
7. Tattnall Square
8. Fellowship Christian
9. Stratford Academy
10. Mt. Pisgah Christian