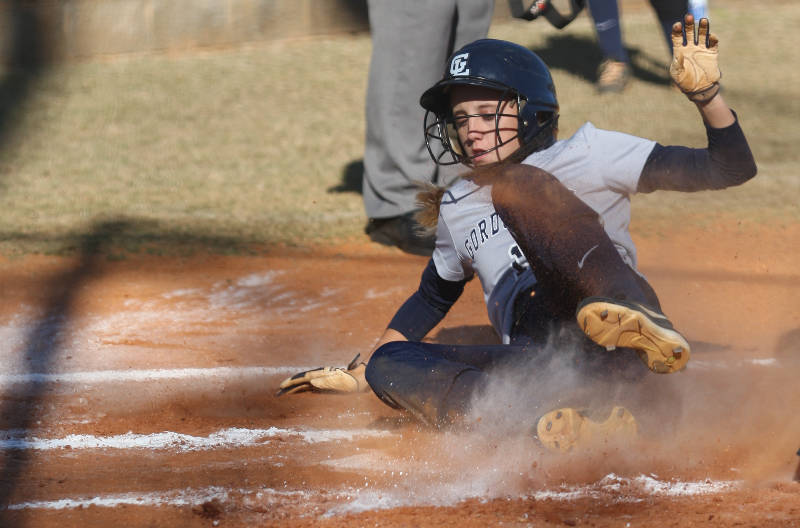 Photo By Times Free Press
Cherokee (17-2) continues its quiet ascension towards the top of the Class AAAAAA rankings. The Warriors are now No. 2 and have won 12-straight games heading into the home stretch of the season. Cherokee finishes Region 5 play 8-0. Taylor Cates finished 3-of-4 with 4 RBIs in a 7-0 victory over Etowah. Kindell Reaves pitched a complete-game shutout and allowed just two hits while striking out six Eagles. No. 7 Brookwood (16-6) re-enters the poll for the first time since dropping out in Week 3. The Broncos were ranked as high as No. 4 before falling out early in the season. They have won six-straight games highlighted by an 8-0 win over Class AAAA's No. 6 Buford (16-6). East Coweta (18-2) slips to No. 4 after a 7-3 loss to West Laurens.
The top three in Class AAAAA remain the same, headlined by No. 1 Cambridge (12-0) who has now tossed 11 shutouts. No. 2 Chapel Hill (19-2) picked up a quality 3-1 win over Allatoona on the road last Thursday. Ashley Morgan continues to get the job done on the mound and at the plate, while Savannah Sikes and Morehead State-commit Bella Caricari provide pop offensively. Caricari went 3-for-3 with a double against Allatoona while Morgan cracked a 2-run homer in the sixth to take the lead and allowed just three hits and one run in her seven innings of work.
No. 4 Woodland-Stockbridge (18-4) swaps places with now No. 5 Union Grove (15-5) and is riding a seven-game winning streak. Over the seven game stretch, the Wolfpack have picked up key wins over Union Grove, Class AA No. 2 Vidalia (20-3), West Laurens (14-6), Northside-Columbus (14-9) and No. 10 Loganville (17-8). No. 7 Houston County (16-4) has won 11-straight. Both Cross Creek (15-7) and Creekview (12-8) drop out of the polls after holding the No. 9 and No. 10 spots respectively. Cross Creek has dropped four-straight while the Grizzlies have fallen three times in a row.
In Class AAAA, Heritage-Catoosa (19-2) holds fast at No. 1. Buford has tumbled four spots to No. 6 after losses to Brookwood 8-0, Ridgeland 3-2 and Mill Creek 6-5. No. 2 Gilmer (19-4) creeps up to second in the rankings and gives Region 7 the classification's top two teams. No. 3 Walnut Grove (18-3) has big tests looming in the form of AAAAA No. 3 Greenbrier (16-3) on the road on Wednesday and Thursday at AAAAA No. 10 Loganville.
Carrollton (14-5) finally re-enters the polls at No. 9. The Trojans have scored wins over No. 5 Thomas County Central (19-4) 10-1 and have beaten region rival No. 10 Whitewater (18-6) twice this year including last Tuesday, 5-3.
Calhoun remains the top dog in Class AAA and has now won 16-straight games, running the Yellowjackets' record up to 20-1. Jackson County (15-8) tumbles all the way out of the rankings after losing 5-of-6 games. The Panthers were ranked No. 4 last week before their losing streak. No. 5 Dodge County (18-5) slips two spots after losses to Bleckley County, AAAAAA No. 6 Dacula (16-3) and AAAAAA No. 4 East Coweta.
Gordon Lee (20-1) takes over the top spot in Class AA and has now outscored region opponents 90-to-1. Since a 4-3 loss to Calhoun, the Trojans have marched their way to 15-straight victories including wins over A-Public No. 5 Georgia Military (12-4), AAAAAA No. 8 Archer (14-5), Lassiter (14-6) and Harris County (13-8). After starting 18-0, Vidalia drops to No. 2 and has lost three of its last five games. The Indians have fallen to Long County 1-0, Woodland-Stockbridge 4-0 and Lanier 3-1.
Class A-Private also has crowned a new No. 1 with Brookstone (13-1) taking over after four-straight No. 4 Prince Avenue (10-6) losses. Athens Christian, East Coweta, Jones County and Grayson all handed the Wolverines defeats.  In A-Public, Baconton Charter (18-1) remains atop the poll. No. 10 Emanuel County Institute makes an appearance in the rankings thanks to eight-straight wins and a 14-4 record. The Bulldogs have two big games remaining as they battle No. 7 Johnson County (16-5) on Tuesday and No. 9 Treutlen (16-6) next Tuesday.
AAAAAA
1. North Gwinnett
2. Cherokee
3. Harrison
4. East Coweta
5. South Forsyth
6. Dacula
7. Brookwood
8. Archer
9. Parkview
10. Woodstock
AAAAA
1. Cambridge
2. Chapel Hill
3. Greenbrier
4. Woodland-Stockbridge
5. Union Grove
6. Heritage-Conyers
7. Houston County
8. Dunwoody
9. Alexander
10. Loganville
AAAA
1. Heritage-Catoosa
2. Gilmer
3. Walnut Grove
4. Locust Grove
5. Thomas County Central
6. Buford
7. Madison County
8. Stephens County
9. Carrollton
10. Whitewater
AAA
1. Calhoun
2. Ringgold
3. Franklin County
4. Pierce County
5. Dodge County
6. Southeast Bulloch
7. Westminster
8. Central-Carrollton
9. Blessed Trinity
10. Morgan County
AA
1. Gordon Lee
2. Vidalia
3. Union County
4. Harlem
5. Bryan County
6. Armuchee
7. Seminole County
8. Washington-Wilkes
9. Berrien
10. Wesleyan
A-Private
1. Brookstone
2. Tattnall Square Academy
3. Christian Heritage
4. Prince Avenue Christian
5. First Presbyterian Day
6. Stratford Academy
7. Mt. Vernon Presbyterian
8. ELCA
9. Athens Christian
10. Fellowship Christian
A-Public
1. Baconton Charter
2. Wilcox County
3. Charlton County
4. Echols County
5. Georgia Military
6. Trion
7. Johnson County
8. Telfair County
9. Treutlen
10. ECI