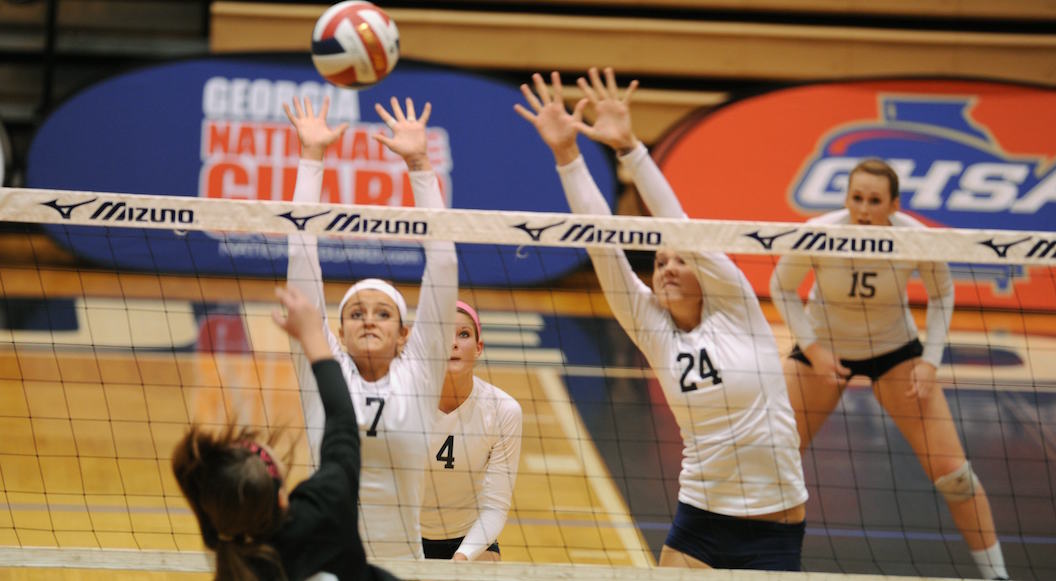 In Class AAAAAAA, No. 2 Lassiter defeated Cherokee 3-0 (25-17, 25-14, 25-14) and sent the Indians to No. 9. No. 3 Etowah defeated Roswell 3-0 (25-16, 25-16, 25-17) and the Hornets dropped to No. 6 behind No. 4 Norcross and No. 5 Mill Creek. South Forsyth fell to No. 10 after losses to Mill Creek and Lambert this past week.
Class AAAAAA No. 1 Alpharetta fell 2-1 to Pope, but remains at the top of the poll due to other results. Pope followed its (27-25, 21-25, 15-11) with a 2-0 loss to Centennial this Tuesday and stays at No. 3. Sequoyah remains at No. 2 with a 22-1 record and its only loss coming to Alpharetta in August. Harrison climbed to No. 4 after defeating previous No. 4 Allatoona 2-1 on Tuesday. Undefeated Habersham Central (18-0) rounds out the top 5. Also, Centennial's big win over Pope earned them a spot at No. 10, replacing Chattahoochee.
The top 3 did not budge in Class AAAAA, but two new teams are making appearances in the polls. No. 9 Kell and No. 10 Dutchtown replaced Locust Grove and Decatur.
In Class AAAA, Northside-Columbus defeated rival Columbus 2-1 on Tuesday. The result slid Columbus from No. 3 to No. 7 and Northside-Columbus jumped from No. 9 to No. 6.
In Class AAA, No. 1 Westminster fell to Class AAAAAAA No. 1 Walton 3-0 (25-23, 25-17, 25-19) last Thursday and No. 2 Pace Academy fell 3-1 (17-25, 22-25, 25-19, 16-25) to Class AAAA No. 1 St. Pius, but neither result was enough to shake up the standings.
In Class AA/A-Private, ELCA fell to No. 8 after back-to-back losses to Landmark Christian and Trinity Christian. Also, Holy Innocents' fell to No. 9 after its loss to Mt. Vernon.
Class AAAAAAA
1. Walton
2. Lassiter
3. Etowah
4. Norcross
5. Mill Creek
6. Roswell
7. Kennesaw Mountain
8. Lambert
9. Cherokee
10. South Forsyth
Class AAAAAA
1. Alpharetta
2. Sequoyah
3. Pope
4. Harrison
5. Habersham Central
6. Allatoona
7. Glynn Academy
8. Lakeside-Evans
9. Apalachee
10. Centennial
Class AAAAA
1. McIntosh
2. Chamblee
3. Riverwood
4. Starr's Mill
5. Veterans
6. Buford
7. Statesboro
8. Union Grove
9. Kell
10. Dutchtown
Class AAAA
1. St. Pius
2. Marist
3. Blessed Trinity
4. Sandy Creek
5. LaFayette
6. Northside-Columbus
7. Columbus
8. Woodward Academy
9. Northwest Whitfield
10. Ridgeland
Class AAA
1. Westminster
2. Pace Academy
3. Greater Atlanta Christian
4. Calhoun
5. North Hall
6. Jackson County
7. Jefferson
8. Morgan County
9. Lovett
10. Savannah Arts
Class AA/A-Public
1. Coosa
2. Gordon Lee
3. Woodville Thompkins
4. Elite Scholars Academy
5. Pepperell
6. Harlem
7. Model
8. Armuchee
9. Thomasville
10. Union County
Class AA/A-Private
1. Hebron Christian
2. Savannah Christian
3. Walker
4. Calvary Day
5. Trinity Christian
6. Landmark Christian
7. Mt. Paran
8. Eagle's Landing Christian
9. Holy Innocents'
10. North Cobb Christian