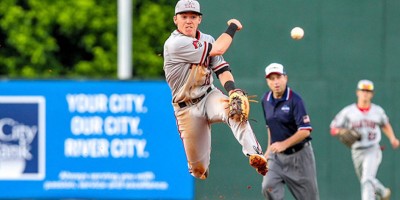 In Class 7A, Grayson reclaimed No. 1 following former No. 1 North Paulding's losses to Walton (1-0) and North Cobb (2-1). The Wolfpack dropped down to No. 5 and trail No. 2 Woodstock, No. 3 Parkview and No. 4 Brookwood in the top 5. Also, Walton climbed from No. 10 to No. 7.
Class 6A saw South Paulding replace East Paulding after a pair of wins over the Raiders. In Class 5A, Calhoun improved from No. 10 to No. 8 and Marist climbed to No. 2 in Class 4A.
In Class 3A, Oconee County jumped from No. 5 to No. 3 and Cherokee Bluff slid down from its previous spot at No. 3 to No. 5. Callaway dropped from No. 3 to No. 7 in Class 2A and Gordon Lee took over No. 1 in Class A Public.
Class 7A
1. Grayson
2. Woodstock
3. Parkview
4. Brookwood
5. North Paulding
6. East Coweta
7. Walton
8. Lowndes
9. Harrison
10. Lambert
Class 6A
1. Buford
2. Carrollton
3. Winder-Barrow
4. Allatoona
5. Pope
6. Houston County
7. River Ridge
8. Lassiter
9. Lakeside-DeKalb
10. South Paulding
Class 5A
1. Blessed Trinity
2. Loganville
3. Greenbrier
4. Cartersville
5. Harris County
6. Starr's Mill
7. Wayne County
8. Calhoun
9. Decatur
10. Eastside
Class 4A
1. North Oconee
2. Marist
3. West Laurens
4. Benedictine
5. Flowery Branch
6. Troup
7. Jefferson
8. Northwest Whitfield
9. Perry
10. Bainbridge
Class 3A
1. Hart County
2. North Hall
3. Oconee County
4. Mary Persons
5. Cherokee Bluff
6. Morgan County
7. Pierce County
8. Ringgold
9. Franklin County
10. West Hall
Class 2A
1. Vidalia
2. Lovett
3. Bremen
4. Pace Academy
5. Bleckley County
6. Banks County
7. Callaway
8. Elbert County
9. Model
10. Westside-Augusta
Class A Private
1. Wesleyan
2. Tattnall Square
3. Fellowship Christian
4. Mt. Paran
5. Savannah Christian
6. Hebron Christian
7. First Presbyterian Day
8. Prince Avenue Christian
9. Brookstone
10. Stratford Academy
Class A Public
1. Gordon Lee
2. Schley County
3. Charlton County
4. Metter
5. Irwin County
6. Johnson County
7. Commerce
8. Wilcox County
9. ACE Charter
10. Crawford County