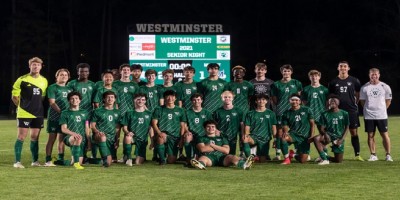 The Westminster Wildcats boys soccer team picked up a crucial 2-1 home win over the Marist War Eagles on Tuesday evening.
The two teams scored one goal each in the first half, but the Wildcats managed to score a second goal in the second half and hold on for the win.
The first goal for the Wildcats was scored by junior forward Alex Lee on an assist from sophomore defender Noah Cooney. The second goal was scored by junior midfielder Edward Rendle.
As a team, Westminster took 20 shots, which is 13 more shots than the War Eagles, despite only possessing the ball 49.1% of the time, compared to the War Eagles, who possessed the ball 50.9% of the time.
With the win, the Wildcats improve to 9-1-3 overall on the season and extend their winning streak to five games in a row, which they've been on ever since they've returned from spring break.
This win was special for the 10 seniors on the team as it was senior night for them, and head coach Scott Snyder really showed his appreciation for all that they've done.
"Getting to play and to do well against a team that was a very good team, it made it even more intangibly feeling good because of it," Snyder said.
"We had played well for most of the game, but we allowed them to get back into it and tie us, and to be able to come out and retake the lead and then nail the door shut was a big step forward for us as a team," coach Snyder said.
Coach Snyder is really proud of his team's ability to overcome adversity, which he believes will help them to be prepared for the playoffs.
"Marist is as good as any team in the state, so if we can do well against them, we'll definitely use that experience when we get into the playoffs," coach Snyder said.
The Wildcats have three games remaining in the season against Parkview, Dalton and Lovett. The playoffs come right after that.