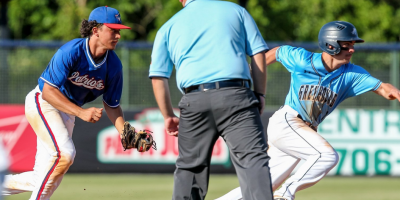 In Class 7A, Etowah has taken over the No. 1 spot after picking up its 14th-straight win. The Eagles lost 7-5 in their season opener to previous No. 1 Lambert, but have won their last 14 games—including Tuesday night's 8-7 win over Roswell. Lambert comes in at No. 2 after splitting their two-game series with No. 5 Denmark and falling 11-6 in the first game of a two-game series with West Forsyth that will resume on Wednesday night. South Forsyth remains No. 3 ahead of Woodstock and No. 5 Denmark—which climbed from No. 7. North Forsyth fell out of the poll after three-straight losses and Tift County dropped out after getting swept (8-4, 3-0) by No. 9 Lowndes. Parkview returns to the poll at No. 8 and North Cobb makes its debut at No. 10 following a 13-1 start and active 10-game win-streak.
The Class 6A poll is loaded at the top with No. 1 Buford and No. 2 Allatoona both sharing 15-0 records. Buford has outscored its opponents 135-35 and Allatoona has posted a 141-38 runs advantage. Houston County holds down No. 3 for consecutive weeks with an 11-2 record and Richmond Hill defeated Glynn Academy two out of three games to climb to No. 4. South Effingham moved up from No. 9 to No. 7 and Cambridge replaced River Ridge and debuts at No. 10 after defeating the Knights 10-2 on Monday.
In Class 5A, Greenbrier fell from No 3 to No. 7 after dropping two games to Apalachee and the Wildcats used their wins over the Wolfpack to debut at No. 9. Jones County was swept by Ola (9-1, 3-0) and dropped out of the poll. Also, North Springs comes in at No. 4 after extending its win-streak to 12 games and improving its record to 12-3. Class 4A No. 1 North Oconee has won 12-straight and is 15-1 and No. 2 Marist is 10-3 with an 8-game win-streak. Jefferson moved up to No. 8 and Heritage-Catoosa dropped from No. 8 to No. 10 behind No. 9 West Laurens.
In Class 3A, Redan replaced Burke County and debuts at No. 9 and Appling County moved down a spot to No. 10. Class 2A's Elbert County moved up from No. 8 to No. 6 with its 10-game winning streak and Bleckley County debuts at No. 10 and replaces Putnam County.
Calvary Day swept Savannah Country Day and replaces them at No. 10 in the Class A Private poll and North Cobb Christian improved from No. 8 to No. 6. In Class A Public, Commerce and Social Circle replaced Washington-Wilkes and Claxton. Commerce has won 9-straight games and Social Circle carries an 8-game win-streak.
Class 7A
1. Etowah
2. Lambert
3. South Forsyth
4. Woodstock
5. Denmark
6. East Coweta
7. Cherokee
8. Parkview
9. Lowndes
10. North Cobb
Class 6A
1. Buford
2. Allatoona
3. Houston County
4. Richmond Hill
5. Glynn Academy
6. South Paulding
7. South Effingham
8. Pope
9. Valdosta
10. Cambridge
Class 5A
1. Loganville
2. Cartersville
3. Blessed Trinity
4. North Springs
5. Coffee
6. Woodward Academy
7. Greenbrier
8. McIntosh
9. Apalachee
10. Ware County
Class 4A
1. North Oconee
2. Marist
3. Benedictine
4. LaGrange
5. Troup
6. Flowery Branch
7. Cedartown
8. Jefferson
9. West Laurens
10. Heritage-Catoosa
Class 3A
1. Pierce County
2. North Hall
3. Cherokee Bluff
4. Mary Persons
5. Franklin County
6. Long County
7. Pike County
8. Greater Atlanta Christian
9. Redan
10. Appling County
Class 2A
1. Pace Academy
2. Lovett
3. Thomasville
4. Callaway
5. Cook
6. Elbert County
7. Jeff Davis
8. Model
9. Bremen
10. Bleckley County
Class A Private
1. Mt. Paran
2. Fellowship Christian
3. Tattnall Square
4. Wesleyan
5. Savannah Christian
6. North Cobb Christian
7. First Presbyterian Day
8. King's Ridge
9. Athens Christian
10. Calvary Day
Class A Public
1. Irwin County
2. Wilcox County
3. Charlton County
4. Johnson County
5. Metter
6. Schley County
7. ACE Charter
8. Commerce
9. Bryan County
10. Social Circle