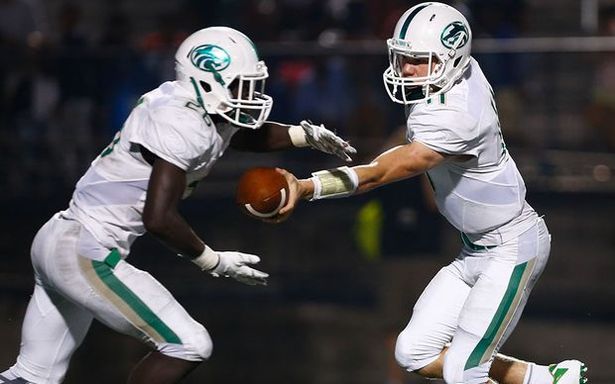 In Class AAAAAAA, the top 5 remained the same and No. 6 Lassiter scored a 35-21 victory over  South Forsyth. As a result, South Forsyth slid to No. 10. Lowndes comes in at No. 7 after a 49-13 win over Mt. Zion-Jonesboro and a 35-34 win on Sept. 3 over Parkview, which comes in at No. 8.
In Class AAAAAA, top-ranked Northside-Warner Robins enjoyed a bye, while No. 2 Houston County survived a 17-0 deficit to defeat Spalding 28-24. No. 3 Lee County cruised past Thomas County Central 37-7 and No. 4 Valdosta lost 45-24 to Class AAAAAAA No. 9 Colquitt County.
Arabia Mountain fell to No. 9 in Class AAAAA after a 20-14 loss to East Coweta and Thomas County Central's lopsided loss to Lee County dropped the Jackets to No. 10.
Blessed Trinity suffered a 56-6 loss to Tennessee's McCallie School and fell to No. 7 in the poll. Strong performances by Jefferson (31-28 over Gainesville) and Cairo (40-0 over Shaw) beat out the Titans for a spot a No. 5 and No. 6. Burke County's 28-21 loss to Effingham County dropped the Bears to No. 9.
After slipping to No. 9 in the Class AAA poll a week ago, Westminster raised its stock with a win over Cedar Grove, 42-21. The statement victory sees the Wildcats move up four spots to No. 5 while the Saints drop six spots to No. 10.
Vidalia sees its place in the Class AA top 10 disappear after a 27-6 loss to No. 1 Benedictine. Replacing the Indians is the Fighting Irish of Dublin, who stand at 5-0 following a 6-4 campaign in 2015.
Everyone took care of business in Class A-Private except for Mt. Pisgah who lost to Pinecrest Academy 17-14. With the loss, the Patriots are replaced in the poll by No. 10 Fellowship Christian. The Paladins are 4-0 and have outscored opponents 128-35. Their best win came in Week 2 against Mt. Paran, winning in Kennesaw 14-7.
Class A-Public saw its top ranked team Commerce upset by Athens Christian, 21-14. The Tigers tumble down to No. 5 as Clinch County regains the No. 1 spot. No. 3 Macon County is officially back on track, ripping Taylor County 63-27 and in the process knocking the Vikings out of the top 10. Mitchell County replaces them, coming in at No. 9 with a perfect 5-0 record. Lincoln County clings onto the No. 10 ranking after a 35-19 loss to Class A-Private No. 7 Stratford Academy. In the loss quarterback Javon Reid was electric. His explosiveness makes the Red Devils a dangerous team coming down the stretch.
Class AAAAAAA
1. Mill Creek
2. Roswell
3. Grayson
4. McEachern
5. Norcross
6. Lassiter
7. Lowndes
8. Parkview
9. Colquitt County
10. South Forsyth
Class AAAAAA
1. Northside-Warner Robins
2. Houston County
3. Lee County
4. Valdosta
5. Northgate
6. Harrison
7. Dalton
8. Glynn Academy
9. Tucker
10. Alexander
Class AAAAA
1. Buford
2. Stockbridge
3. Carrollton
4. Kell
5. Griffin
6. Rome
7. Ware County
8. Grady
9. Thomas County Central
10. Arabia Mountain
Class AAAA
1. Cartersville
2. Thomson
3. Sandy Creek
4. Woodward Academy
5. Jefferson
6. Cairo
7. Blessed Trinity
8. Mary Persons
9. Burke County
10. Spalding
Class AAA
1. Greater Atlanta Christian
2. Liberty County
3. Pace Academy
4. Peach County
5. Westminster
6. Calhoun
7. Central-Macon
8. Lovett
9. Crisp County
10. Cedar Grove
Class AA
1. Benedictine
2. Fitzgerald
3. Brooks County
4. Rabun County
5. Callaway
6. Jefferson County
7. Model
8. Pepperrell
9. Heard County
10. Dublin
Class A-Private
1. Eagle's Landing Christian
2. Wesleyan
3. Prince Avenue
4. Landmark Christian
5. Darlington
6. Calvary Day
7. Stratford Academy
8. First Presbyterian Day
9. Athens Academy
10. Fellowship Christian
Class A-Public
1. Clinch County
2. Emanuel County Institute
3. Macon County
4. Mt. Zion
5. Commerce
6. Manchester
7. Randolph-Clay
8. Marion County
9. Mitchell County
10. Lincoln County