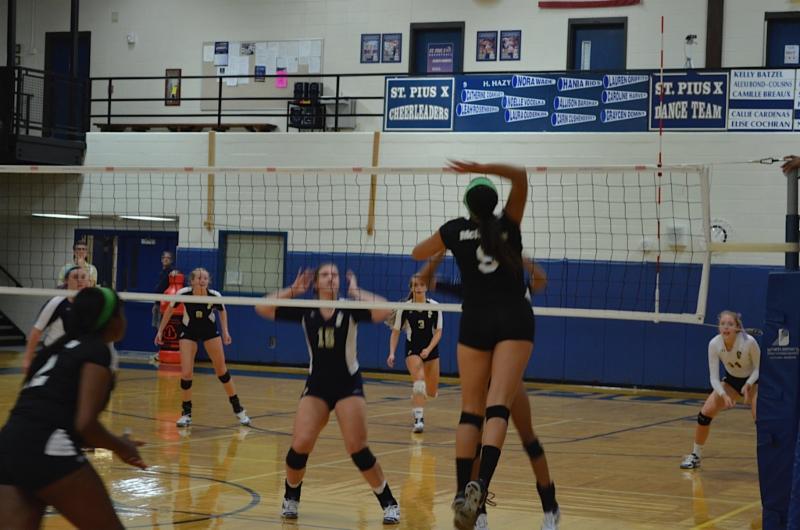 With one final week left before area tournaments get set to seed the 2016 state playoffs, the rankings saw minor shuffling.
In Class AAAAAAA, No. 1 Walton scored a 3-1 (17-25, 25-19, 25-14, 25-14) win over No. 3 Lassiter. No. 2 Lambert, which defeated Lassiter 3-1 on Sept. 8. Mill Creek jumped North Gwinnett for No. 8 after topping the Bulldogs 2-1 on Sept. 20.
In Class AAAAAA, No. 1 Alpharetta sits at 33-1 with just three matches left. The Raiders remain a safe distance from No. 2 Harrison, which solidified its standing with a 2-1 win over No. 3 Cambridge. Greenbrier defeated Grovetown 2-0 on Sept. 20 to take the No. 9 spot and send the Warriors to No. 10.
Buford continues its seventh straight week at the top of the Class AAAAA rankings and the Wolves look ahead to their final four regular season opponents after taking on cross-state opponents in the SVC Southern Invitational this past weekend. Harris County defeated Veterans to move up to No. 7, while the Warhawks take over No. 8.
St. Pius scored a 2-1 win over Marist in the Southern Volleyball Invitational to retain its spot in the top 3.
In Class AAA, Savannah Arts lost three straight matches and fell six spots to No. 10. In Class A, Savannah Christian took the No. 1 spot after edging previous No. 1 Calvary Day (25-23, 27-25) on Thursday.
Class AAAAAAA
1. Walton
2. Lambert
3. Lassiter
4. North Cobb
5. Etowah
6. Norcross
7. South Forsyth
8. Mill Creek
9. North Gwinnett
10. Woodstock
Class AAAAAA
1. Alpharetta
2. Harrison
3. Cambridge
4. Johns Creek
5. Dunwoody
6. Pope
7. Sequoyah
8. Lakeside-Evans
9. Greenbrier
10. Grovetown
Class AAAAA
1. Buford
2. Whitewater
3. McIntosh
4. Chamblee
5. Decatur
6. Ola
7. Harris County
8. Veterans
9. Flowery Branch
10. Walnut Grove
Class AAAA
1. Blessed Trinity
2. Woodward Academy
3. St. Pius
4. Marist
5. Columbus
6. North Oconee
7. Heritage-Catoosa
8. Ridgeland
9. Sandy Creek
10. Jefferson
Class AAA
1. Westminster
2. Lovett
3. Pace Academy
4. Redan
5. Greater Atlanta Christian
6. Lakeview-Fort Oglethorpe
7. Fannin County
8. East Hall
9. Southeast Bulloch
10. Savannah Arts
Class AA
1. St. Vincent's
2. Coosa
3. Jordan
4. Toombs County
5. Armuchee
6. Rabun County
7. Rockmart
8. Harlem
9. Brooks County
10. Kendrick
Class A
1. Savannah Christian
2. Calvary Day
3. Athens Academy
4. Walker
5. Mt. Pisgah
6. Mt. Paran
7. Mt. Vernon
8. Wesleyan
9. Gordon Lee
10. Aquinas