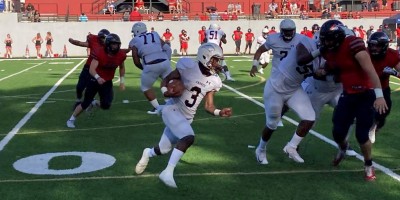 In Class 7A, Lowndes took over the top spot after its 33-21 win over Valdosta. Grayson comes in at No. 2 and remains undefeated after its 20-13 win over Mill Creek. Collins Hill was defeated 24-17 by East Coweta and was replaced in the poll by the Indians—which debut at No. 8.
Allatoona jumped Valdosta for No. 2 in Class 6A and Buford improved to No. 3. Former No. 2 ranked Valdosta slid to No. 5 after its second loss of the season. In Class 5A, Starr's Mill defeated Harris County and makes its debut at No. 10.
In Class 4A, Northwest Whitfield jumped from No. 9 to No. 6 and Flowery Branch fell from No. 6 to No. 9 after its 40-10 loss to No. 2 Jefferson.
The top 5 of Class 3A did not shift. Rockmart, previously No. 9, climbed to No. 6 this week. Pierce County fell one spot to No. 7. Appling County entered the poll at No. 8 and Westminster fell one spot from No. 8.
Callaway kept the top spot in 2A and the top 5 stayed put. Bleckley County climbed one spot to No. 6 and Thomasville climbed one spot to No. 7. Haralson went from No. 9 to No. 8 with Cook at Toombs at No. 9 and No. 10, respectively.
ELCA leads Class A-Private again this week and the only shift in the top five is Fellowship moving to No. 4 and Wesleyan falling one spot to No. 5. In Class A-Public, Metter took the top spot with Irwin County and Commerce chasing at No. 2 and No. 3. Brooks County, formerly No. 1, fell to No. 4 and Dublin is up two spots to No. 5 this week.
Class 7A
1. Lowndes
2. Grayson
3. Colquitt County
4. Brookwood
5. Norcross
6. Cherokee
7. Roswell
8. East Coweta
9. Newnan
10. Mill Creek
Class 6A
1. Lee County
2. Allatoona
3. Buford
4. Lovejoy
5. Valdosta
6. Richmond Hill
7. Douglas County
8. Westlake
9. Dacula
10. Carrollton
Class 5A
1. Blessed Trinity
2. Ware County
3. Warner Robins
4. Cartersville
5. Calhoun
6. Coffee
7. Veterans
8. Ola
9. St. Pius
10. Starr's Mill
Class 4A
1. Marist
2. Jefferson
3. Benedictine
4. Stephenson
5. Carver-Columbus
6. Northwest Whitfield
7. Bainbridge
8. Islands
9. Flowery Branch
10. Hapeville Charter
Class 3A
1. Crisp County
2. Cedar Grove
3. Oconee County
4. Peach County
5. Greater Atlanta Christian
6. Rockmart
7. Pierce County
8. Appling County
9. Westminster
10. Sandy Creek
Class 2A
1. Callaway
2. Fitzgerald
3. Lovett
4. Rabun County
5. Early County
6. Bleckley County
7. Thomasville
8. Haralson County
9. Cook
10. Toombs County
Class A-Private
1. Eagle's Landing Christian
2. Athens Academy
3. Prince Avenue Christian
4. Fellowship Christian
5. Wesleyan
6. Trinity Christian
7. North Cobb Christian
8. Holy Innocents'
9. Darlington
10. Aquinas
Class A-Public
1. Metter
2. Irwin County
3. Commerce
4. Brooks County
5. Dublin
6. Taylor County
7. Macon County
8. Washington-Wilkes
9. Pelham
10. Wilcox County