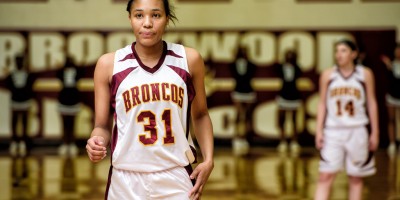 Photo By Ty Freeman
Brookwood closed 2016 with authority, winning the Deep South Classic beating three teams that have been ranked over the course of the year in North Forsyth (47-44), Franklin County (66-49) and No. 9 Lambert (55-42). Hillgrove and Colquitt County fall out and are replaced by the Longhorns and first time entry into the Top 10, Marietta. Hillgrove lost to Lambert 53-50 at the Deep South Classic while Colquitt County lost to both Valdosta and Monroe. Marietta scored a 49-39 win over Creekview at the Campbell Holiday Classic before falling to Douglas County 77-58.
Mays has lost five straight games and now sits at 5-7 an unranked in Class AAAAAA. The Raiders have played a difficult schedule, going 0-3 at the SoCal Holiday Prep Classic and will need to regain their footing once they return to Georgia which is more than doable. No. 9 Forest Park and No. 10 Gainesville crack the poll. Forest Park debuts after a 2-1 showing at the Balln Prep Invitational. The Red Elephants opened the year ranked but quickly fell out. They are back in after a 2-1 Lanierland, beating Chestatee 56-44, losing to West Hall 59-50 and defeating Lakeview Academy 65-55.
Arabia Mountain stumbled against Spalding 47-37 and beat Hapeville Charter 41-35 but it wasn't enough to hold off No. 10 McIntosh who makes a Top 10 appearance after winning the Mary Persons Tournament Championship and beating Perry 47-37.
Class AAAA's Perry and Jefferson don't survive the final week of 2016. Perry lost to McIntosh while Jefferson went 1-2 at the Carolina Invitational. No. 9 Heritage-Catoosa and No. 10 Henry County climb back into the poll.
In AAA, No. 6 Ringgold went 1-2 at the Beech Christmas Tournament while No. 4 Hart County earned two wins at the 9th annual McDonald's Shootout before falling to Greenville, SC 75-44. Monroe slips three spots following losses to Rickards, FL (51-39) and Colquitt County (67-45). Central-Macon debuts at No. 10. The Lady Chargers are 8-3 coming off a Greenville Classic Championship, beating Class A-Public No. 4 Greenville 48-42.
Class AA has seen No. 5 Model not fully hit their stride yet. They went 1-2 at the Disney KSA event, losing to Pope 49-43 in the process. Dodge County hangs tight at No. 3 after a strong showing at the Volume Hyundai Classic at GSCU, losing in the championship to Class AAAAA No. 6 Maynard Jackson 54-50. No. 4 Fitzgerald moves up two spots and No. 7 Dublin moves up three spots while Heard County drops out.
In Class A-Private, Fellowship Christian departs from the rankings after losing to Pickens and Gilmer at the Fannin County Christmas Tournament. No. 9 Stratford Academy jumps into the picture following a 50-34 win over Macon County.
Speaking of Macon County, after skyrocketing up to No. 6 last week in Class A-Public, their first week in the poll, the Bulldogs have dropped three straight and now find themselves at No. 9. They went 0-3 at the Tattnall Square tournament losing to Stratford, Fairview Christian Academy, TN and Carver-Atlanta. No. 2 Wheeler County went to Vidalia and won their tournament, beating the Class AA No. 6 in the process 68-56. Terrell County falls out after a 54-51 loss to Westover. Marion County takes a hold of No. 10.
Class AAAAAAA
1. Norcross (15-1)
2. McEachern (9-5)
3. Collins Hill (13-1)
4. Mill Creek (14-1)
5. Archer (11-3)
6. Newton (10-2)
7. Brookwood (11-4)
8. Westlake (10-5)
9. Lambert (12-2)
10. Marietta (12-3)
Class AAAAAA
1. Harrison (11-2)
2. Winder-Barrow (8-4)
3. Douglas County (13-2)
4. Lovejoy (12-2)
5. Grovetown (10-5)
6. Stephenson (10-5)
7. Sequoyah (11-2)
8. Northview (12-3)
9. Forest Park (11-4)
10. Gainesville (8-3)
Class AAAAA
1. Buford (11-0)
2. Flowery Branch (12-2)
3. Southwest DeKalb (12-4)
4. Griffin (13-0)
5. Warner Robins (13-0)
6. Maynard Jackson (11-1)
7. Carrollton (11-1)
8. Villa Rica (12-1)
9. Harris County (10-2)
10. McIntosh (10-2)
Class AAAA
1. North Oconee (12-2)
2. Carver-Columbus (13-1)
3. West Hall (11-4)
4. Cross Creek (11-4)
5. Columbus (9-3)
6. Northwest Whitfield (9-4)
7. Americus-Sumter (11-2)
8. Sandy Creek (8-3)
9. Heritage-Catoosa (14-2)
10. Henry County (11-5)
Class AAA
1. Beach (11-1)
2. Johnson-Savannah (12-1)
3. Greater Atlanta Christian (10-4)
4. Hart County (12-2)
5. Redan (9-2)
6. Ringgold (11-4)
7. Calhoun (12-3)
8. Haralson County (10-3)
9. Monroe (9-3)
10. Central-Macon (8-3)
Class AA
1. Laney (12-1)
2. Rabun County (13-1)
3. Dodge County (10-2)
4. Fitzgerald (7-0)
5. Model (9-4)
6. Vidalia (9-3)
7. Dublin (7-3)
8. Dade County (10-4)
9. Bryan County (9-2)
10. Hapeville Charter (9-4)
Class A-Private
1. Holy Innocents' (12-1)
2. St. Francis (8-4)
3. Wesleyan (10-2)
4. Pinecrest Academy (8-2)
5. Lakeview Academy (11-4)
6. Landmark Christian (9-3)
7. Calvary Day (9-2)
8. Tattnall Square Academy (8-4)
9. Stratford Academy (8-3)
10. Christian Heritage (6-4)
Class A-Public
1. Pelham (10-0)
2. Wheeler County (12-1)
3. Telfair County (10-1)
4. Greenville (10-2)
5. Woodville-Tompkins (11-3)
6. Treutlen (8-3)
7. Wilcox County (8-4)
8. Taylor County (8-3)
9. Macon County (6-3)
10. Marion County (8-3)