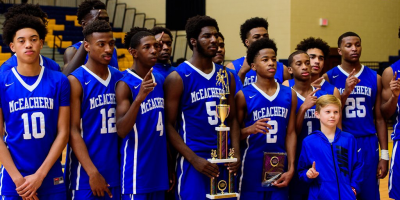 Photo By Ty Freeman
It was a make or break week full of holiday tournaments across the country as contenders and pretenders separated themselves from the field. Newton officially takes over the No. 1 spot in Class AAAAAAA after shutting down the best player in the country, Zion Williamson of Spartanburg Day, SC, in the second half to rally and win the Farm Bureau Classic Championship 73-64. The young Indians of No. 2 McEachern are certifiably terrifying after beating No. 5 Wheeler in the Tournament of Champions National Division Championship 77-67 behind sophomore Isaac Okoro's 25 points and seven rebounds.
No. 1 Gainesville is simply scary in Class AAAAAA. Without D-I prospect KJ Buffen still, the Red Elephants demolished the field at the 57th Lanierland, romping its way to the title in the most dominant fashion the event has ever seen. They won by an average of 37 points, highlighted by a 104-67 blowout of Class A-Private No.7 Lakeview Academy and a 88-38 destruction of East Hall in the finals. There is a new No. 2 in South Paulding. No. 3 Jonesboro has played a national schedule and have played extremely well, but the Spartans have been as consistent as it gets and they were rewarded by winning the Lake City Classic Smile Generation Bracket, getting revenge against Class A-Private No. 2 North Cobb Christian in the championship 70-64.
Southwest DeKalb tumbles to No. 10 in Class AAAAA following a 1-2 showing at the Tucker Shootout, losing to Brainerd, TN (53-42) and Class A-Private No. 1 Greenforest (92-69). Riverwood falls out after losing both their games at the Lake City Classic. Replacing them is No. 9 Columbia. The Eagles went 3-1 at T.O.C. with a 88-86 double overtime victory over Class A-Private No. 4 St. Francis and a 86-66 victory over Grayson.
Americus-Sumter and North Clayton don't survive the week in Class AAAA The Eagles went 0-3 at Tucker while Americus-Sumter suffered a bad loss to Northview 66-61 and were beat by Class AAAAAAA No. 7 Tift County 71-55. Debuting are No. 7 Carver-Columbus and No. 10 Baldwin. The Tigers won back-to-back impressive games against Alabama's Lanett (95-77) and Central (83-77). Already in just Year 2, Buck Harris has turned the Braves into statewide contender. They have scored wins over Class AA No. 9 Putnam County (65-46), Class A-Public No. 5 & defending state champs Wilkinson County (63-46) and now just won the Antebellum Christmas Classic, drilling Creekside in the finals 52-34.
In Class AAA, Calhoun saw its 48-game regular season winning streak snapped with a loss to King's Ridge Christian at the Antebellum Classic 65-40. They were beat back-to-back by Maynard Jackson the following day, the first string of consecutive losses since Dec. 18 & 19 in 2014. The Yellow Jackets and Johnson-Savannah Atomsmashers both exit the poll. Johnson came up north and had a poor showing at T.O.C. going 0-3. Reentering the poll is No. 8 Jenkins who went 3-1 at T.O.C. Following them is Dougherty who debuts at No. 10.
Laney leaps four spots to No. 5 in Class AA after a 62-59 win at Thomson. Therrell and Thomasville both slip while No. 3 Dublin is hot with their second 1-point win over Wilkinson County, this time at the Palace 54-53. No. 8 Chattooga won their Christmas Tournament with a 60-57 victory over Cartersville. Callaway exits the Top 10 after a 3-3 start and a 69-66 loss to Villa Rica. Back in the mix is No. 10 Banks County who has won six straight.
Demiere Brown of No. 2 North Cobb Christian is as good as any scorer in the state and is in my opinion the toughest cover in the state in Class A-Private. He poured in 27.3 points per game as the Eagles finished second at the Lake City Classic. They defeated Allatoona in overtime 70-68 and held off Auburn 55-51 to make it to the finals where they fell to South Paulding in a SEBA Hoop Festival rematch, 70-64.
Calhoun County continues to roll in Class A-Public. They knocked Montgomery County out of the Top 10 with their 72-51 rout. No. 7 Clinch County took care of the Eagles as well, 71-65 after falling to Turner County in the Ronalda Pierce Holiday Hoopfest Championship 77-70. Replacing Montgomery County is No. 10 Trion, who debuts.
Class AAAAAAA
1. Newton (13-0)
2. McEachern (12-0)
3. Pebblebrook (7-5)
4. Norcross (13-3)
5. Wheeler (10-4)
6. Westlake (8-5)
7. Tift County (13-1)
8. Berkmar (11-5)
9. Collins Hill (13-3)
10. Discovery (12-5)
Class AAAAAA
1. Gainesville (13-0)
2. South Paulding (12-1)
3. Jonesboro (10-4)
4. Langston Hughes (9-4)
5. Heritage-Conyers (9-3)
6. South Cobb (12-2)
7. Alpharetta (15-1)
8. Brunswick (11-2)
9. Dacula (9-4)
10. Alexander (10-4)
Class AAAAA
1. Buford (11-2)
2. Eagle's Landing (10-2)
3. Cedar Shoals (12-2)
4. Warner Robins (11-3)
5. Fayette County (11-5)
6. Miller Grove (9-6)
7. Union Grove (11-3)
8. New Hampstead (10-4)
9. Columbia (9-5)
10. Southwest DeKalb (10-6)
Class AAAA
1. Sandy Creek (8-3)
2. Upson-Lee (15-0)
3. Henry County (12-5)
4. Richmond Academy (12-3)
5. Eastside (9-4)
6. LaGrange (11-2)
7. Carver-Columbus (11-3)
8. Burke County (8-3)
9. Perry (11-3)
10. Baldwin (8-4)
Class AAA
1. Westside-Macon (9-3)
2. Greater Atlanta Christian (10-4)
3. Liberty County (8-5)
4. Morgan County (8-3)
5. Islands (10-3)
6. Pace Academy (4-7)
7. Central-Macon (10-2)
8. Jenkins (9-6)
9. Cedar Grove (5-4)
10. Dougherty (9-4)
Class AA
1. South Atlanta (12-1)
2. Josey (12-2)
3. Dublin (7-4)
4. Monticello (8-5)
5. Laney (10-3)
6. Thomasville (6-5)
7. Therrell (9-5)
8. Chattooga (11-1)
9. Putnam County (10-3)
10. Banks County (9-4)
Class A-Private
1. Greenforest (10-2)
2. North Cobb Christian (10-3)
3. Southwest Atlanta Christian (7-5)
4. St. Francis (11-3)
5. Aquinas (9-1)
6. Holy Innocents' (6-4)
7. Lakeview Academy (8-4)
8. Whitefield Academy (8-5)
9. Tallulah Falls (13-0)
10. Darlington (8-3)
Class A-Public
1. Calhoun County (9-0)
2. Quitman County (11-1)
3. Taylor County (7-2)
4. Treutlen (11-0)
5. Wilkinson County (8-3)
6. Wilcox County (10-2)
7. Clinch County (10-1)
8. Central-Talbotton (8-3)
9. Crawford County (8-4)
10. Trion (8-3)