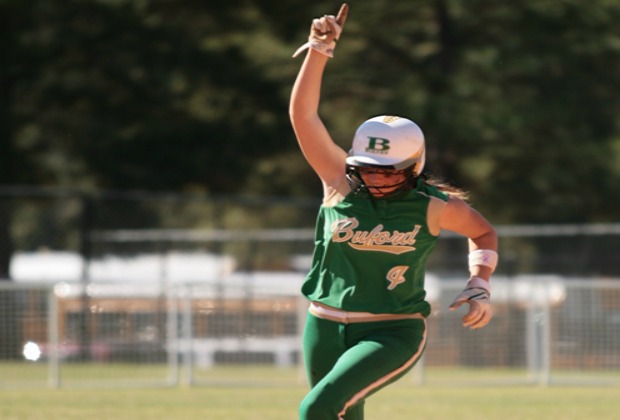 GHSA
Buford staked a claim as the state's best team regardless of class with a 9-0 win over Class AAAAAA No. 1 Lassiter Monday. The game was called after the fifth inning due to the run rule. It was Lassiter's third loss of the season and Buford's seventh win over a Class AAAAAA foe. The Wolves' lone loss was to Collins Hill, however.
Buford pitcher Bria Bush (7-1) dominated Lassiter and gave up just one hit. The Wolves broke through in the second inning with five runs on four hits. Senior Nikki Cook was 2-for-3 with a triple and an RBI.
Class AAA No. 1 Buford improved to 21-1 with a 17-9 win over Banks County Tuesday. The Wolves sprinted out to a 9-0 lead in the first, but watched as Banks County rallied for eight runs in the third. But Buford rallied to score seven in the third and the issue was no longer in doubt.
Remington Hasty was 4-for-4 with four RBIs and a homer for Buford while junior Emily Crocker improved to 6-0 with the win. Sophomore Drew Puckett hit a grand slam and Alexus Murray was 2-for-2 with three RBIs. The Wolves are 10-0 in Region 7-AAA.
North Atlanta sophomore middle infielder Paris Powell is among the state leaders with a .568 batting average. Powell's Warriors are 10-7 overall and 5-4 in Region 6-AAAAA play. … Sprayberry sophomore first baseman Kierston Moore is hitting .549 with six home runs, seven doubles and 19 RBIs. … Another sophomore, Amber Winters of East Paulding, has a .446 average with 42 RBIs and 29 runs.