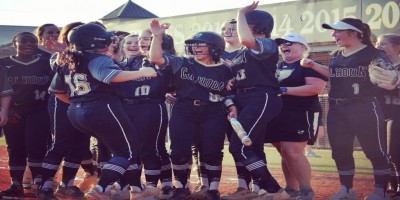 In the state's highest classification, East Coweta leads and is flawless on the season at 26-0, 5-0. North Gwinnett holds the No. 2 spot again this week with North Forsyth up to No. 3. Grayson fell to No. 4 and Archer comes in at No. 5.
Top-ranked Houston County leads Class AAAAAA again with Lee County chasing. The two programs battled to a 1-1 split in the 1-AAAAAA region championship series and will meet for the third game on Wednesday. Evans is No. 3 ahead of Creekview and Dacula at No. 4 and No. 5, respectively.
Locust Grove is the team to beat in Class AAAAA ahead of No. 2 Walnut Grove. Carrollton is No. 3 again this week ahead of No. 4 Buford. Whitewater is up to No. 5 from No. 8 in last week's poll.
In Class AAAA, Eastside is at the top again in a top-5 that did not shift. Ringgold leads Class AAA and captured the 6-AAA region title on Tuesday after two victories over No. 5 Calhoun. Sonoraville climbed from No. 6 to No. 2 this week with East Hall and Jefferson at No. 3 and No. 4.
Banks County is at the top of Class AA in a top-5 that did not shift. Gordon Lee leads Class A-Public again this week. Marion County moved up from No. 5 to No. 3 and Bowdon fell from No. 3 to No. 5 this week.
Wesleyan is at the top of Class A-Private with a new No. 2, Tattnall Square, in the fray. George Walton Academy fell to No. 3 ahead of No. 4 Mount de Sales. Eagle's Landing Christian is No. 5 this week after it beat Strong Rock Christian twice on Tuesday.
Class AAAAAAA
1. East Coweta
2. North Gwinnett
3. North Forsyth
4. Grayson
5. Archer
6. Colquitt County
7. Mountain View
8. Cherokee
9. Hillgrove
10. Lowndes
Class AAAAAA
1. Houston County
2. Lee County
3. Evans
4. Creekview
5. Dacula
6. Pope
7. Effingham County
8. Northgate
9. Alexander
10. Greenbrier
Class AAAAA
1. Locust Grove
2. Walnut Grove
3. Carrollton
4. Buford
5. Whitewater
6. Starr's Mill
7. Statesboro
8. Jones County
9. Union Grove
10. Harris County
Class AAAA
1. Eastside
2. Heritage-Catoosa
3. Northwest Whitfield
4. Northside-Columbus
5. Marist
6. LaGrange
7. LaFayette
8. Madison County
9. Hampton
10. Flowery Branch
Class AAA
1. Ringgold
2. Sonoraville
3. East Hall
4. Jefferson
5. Calhoun
6. Franklin County
7. Jackson County
8. Coahulla Creek
9. Lakeview Fort-Oglethorpe
10. Brantley County
Class AA
1. Banks County
2. Heard County
3. Rockmart
4. Harlem
5. Vidalia
6. Screven County
7. Bacon County
8. Bremen
9. Lamar County
10. Berrien
Class A-Public
1. Gordon Lee
2. Trion
3. Marion County
4. Schley County
5. Bowdon
6. Georgia Military
7. Lanier County
8. Commerce
9. Academy for Classical Education
10. Baconton Charter
Class A-Private
1. Wesleyan
2. Tattnall Square
3. George Walton Academy
4. Mount de Sales
5. Eagle's Landing Christian
6. Strong Rock Christian
7. Stratford Academy
8. Mount Paran Christian
9. Christian Heritage
10.  Prince Avenue Christian