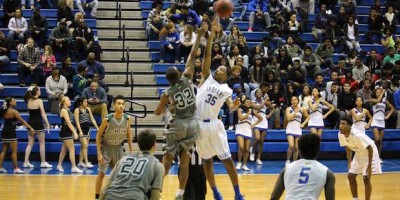 McEachern lost twice over the break to top national competition but stayed No. 1.
Class AAAAAAA McEachern took two close losses over the holidays to Top 10 teams nationally but remains No. 1. Pebblebrook and Norcross complete the top three spots. Collins Hill moves up to No. 4 with just one loss on the year, and Etowah breaks into the Top 10 for the first time this season. Newton surges to No. 6 as Wheeler drops several places from its pre-holiday spot to No. 8.
One-loss Brunswick takes over the No. 1 spot in Class AAAAAA after previous No. 1 Langston Hughes stumbled earlier this week against Alexander. Gainesville has won seven in a row, including a win Tuesday over No. 7 Lanier. Another one-loss team, Cambridge, moves up to No. 4, and Creekview debuts in the rankings at No. 8.
In Class AAAAA, Miller Grove used back-to-back wins over ranked opponents (a 47-34 win over Lithonia and a 56-60 win over former No. 3 Columbia) to secure No. 3 in this week's poll. Villa Rica's 14-0 start has put the Wildcats in the poll for the first time at No. 7 and Stockbridge used a win over Class AAAA's current No. 3 Sandy Creek to enter at No. 9.
Defending Class AAAA state champion Upson-Lee sits at No. 1 with a 17-0 record, but there is a new No. 2 with St. Pius after the previously mentioned loss by Sandy Creek to Stockbridge bumped the Patriots down a spot to No. 3. Mary Persons' only loss this season came to the top-ranked Knights, and they round out the top five with another one-loss team, 14-1 Americus-Sumter, whose only loss was a narrow 58-56 defeat to Northside-Columbus.
Morgan County has compiled a 16-0 record and is leading Class AAA. The Bulldogs defeated East Jackson 68-47 on Jan. 9. Savannah's Jenkins (10-3, 5-1) is coming off a hard-fought 61-57 victory over local rival Windsor Forest.
In Class AA there was a shake-up below top-ranked Glenn Hills and No. 2 Thomasville. A new No. 3, Washington County, has moved into the fray following a 73-72 victory over Dublin. South Atlanta fell to fourth following a loss to Therrell, 71-67. Therrell entered the rankings at No. 10 following the upset win.
Manchester's victory over Brookstone keeps them at the top of Class A-Public and continues an undefeated season. Central-Talbotton's win against St. Anne-Pacelli keeps Central undefeated as well. Central will face off against top-ranked Manchester this week. Calhoun County is riding a six-game winning streak after their dominating 29-point win over Webster County.
St. Francis remains in charge of Class A-Private, winning by 20 or more points in its last three games. No. 2 Aquinas remains undefeated in its region and has had no issue with putting up points as shown by its commanding 88-30 win over Taliaferro County. No. 3 Eagle's Landing Christian is coming off an 81-32 win over Our Lady of Mercy.
Class AAAAAAA
1. McEachern
2. Pebblebrook
3. Norcross
4. Collins Hill
5. Mountain View
6. Newton
7. Meadowcreek
8. Wheeler
9. Grayson
10. Etowah
Class AAAAAA
1. Brunswick
2. Gainesville
3. Langston Hughes
4. Cambridge
5. Tri-Cities
6. Douglas County
7. Lanier
8. Creekview
9. Bradwell Institute
10. Jonesboro
Class AAAAA
1. Buford
2. Warner Robins
3. Miller Grove
4. Southwest DeKalb
5. Lithonia
6. Jackson-Atlanta
7. Villa Rica
8. Columbia
9. Stockbridge
10. McIntosh
Class AAAA
1. Upson-Lee
2. Sandy Creek
3. St. Pius X
4. Mary Persons
5. Americus-Sumter
6. Carver-Columbus
7. Cartersville
8. Salem
9. Westover
10. Baldwin
Class AAA
1. Morgan County
2. Jenkins
3. Johnson-Savannah
4. Cedar Grove
5. Westside-Macon
6. Greater Atlanta Christian
7. Central-Macon
8. Pace Academy
9. Windsor Forest
10. Dawson County
Class AA
1. Glenn Hills
2. Thomasville
3. Washington County
4. South Atlanta
5. Laney
6. Banks County
7. Dublin
8. Bleckley County
9. Swainsboro
10. Therrell
Class A-Public
1. Manchester
2. Central-Talbotton
3. Calhoun County
4. Lanier County
5. Wilkinson County
6. Woodville-Tompkins
7. Montgomery County
8. Macon County
9. Wilcox County
10. Pelham
Class A-Private
1. St. Francis
2. Aquinas
3. Eagle's Landing Christian
4. Christian Heritage
5. North Cobb Christian
6. Holy Innocents'
7. Walker
8. Greenforest
9. Lakeview Academy
10. Savannah Christian