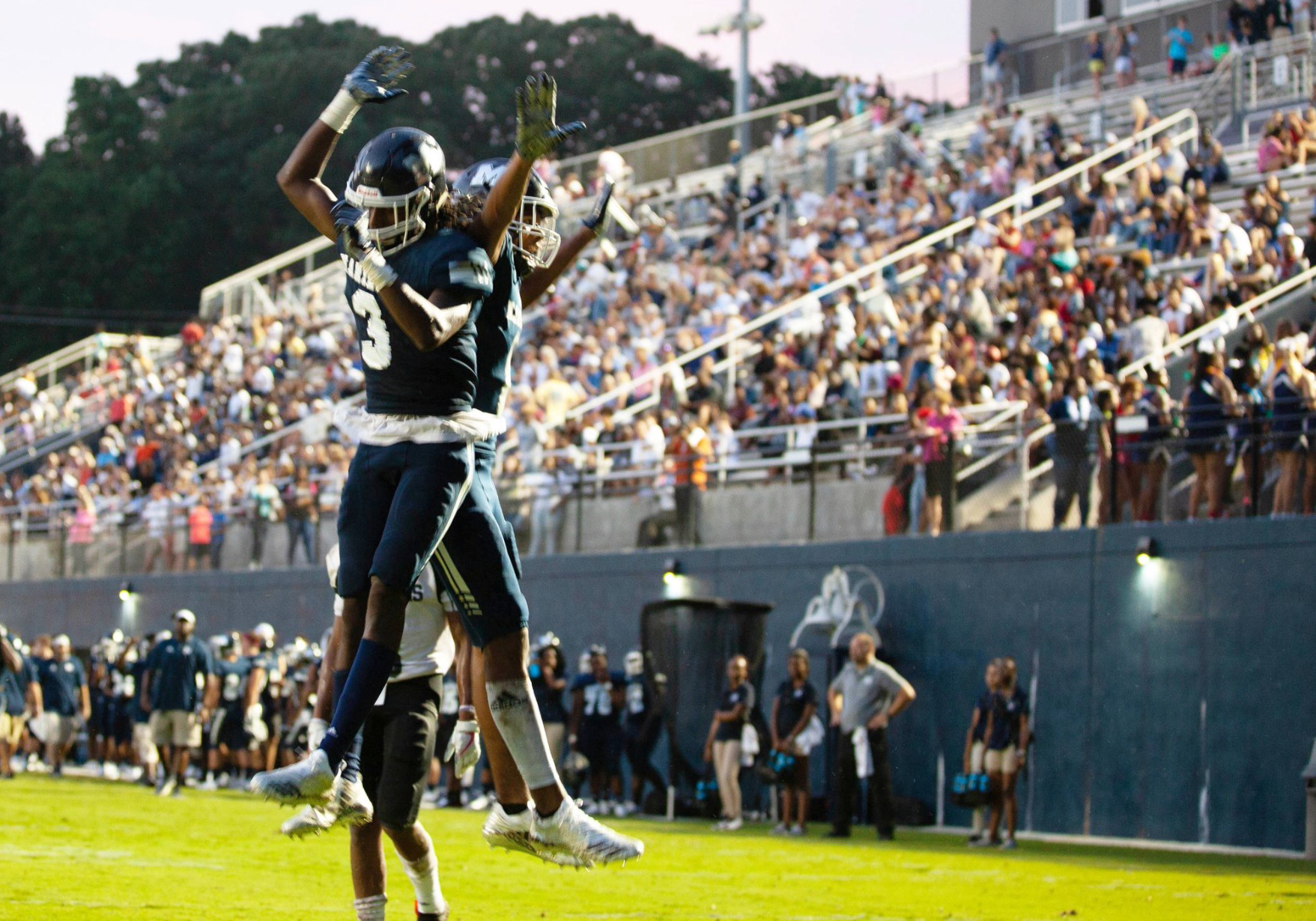 Marietta won a nail-biter against visiting McEachern, snapping a 10-game losing streak against the Indians with the 28-27 victory — and putting Coach Hockman's quest for his 100th win with McEachern on hold for another week. Harrison Bailey tossed a 4-yard touchdown to Junior tight end Arik Gilbert to put Marietta on the board first, but McEachern Junior Jordon Simmons tied it shortly after with a 2-yard run. The Blue Devils struck again later in the first when Freshman Daniel Martin returned an interception 29-yards for the score, and Junior Kimani Vidal exploded for a 26-yard rushing touchdown to extend Marietta's lead to 21-7 in the second. With under a minute remaining in the half, McEachern's Sophomore quarterback Carlos Del Rio connected with Senior Xavier Harvey for a 21-yard touchdown to make it a one-possession game. Del Rio picked up where he left off in the third quarter, hitting Junior Tavares Driessen for an 11-yard score to tie the game. Just two minutes later, Bailey and Gilbert connected for the pair's second score of the game with a 26-yard touchdown to reclaim the lead. McEachern running back Paris Brown gave the Indians a chance to tie the game with a 2-yard rushing score late in the third, but a missed extra point kept the Blue Devils ahead by one. With the clock winding down in the fourth, Del Rio threw up a last-ditch effort to De'Aundrey Davis that was intercepted by Junior Rashun Bass in the endzone.
Class AAAAAAA
Norcross 55, Lakeside-DeKalb 7
After a disappointing shutout last week, Norcross came out big this week with eight different Blue Devils scoring against Lakeside-DeKalb. After a 42-yard run, Lance Jackson finished off the drive with a 37-yard touchdown run. Up 14-0, Michael Porter extended the lead with an 11-yard score. Louis Williams then found Isaiah Williams for the only touchdown pass of the night before Zaire Lee picked off Lakeside on the final play of the opening frame, taking it all the way to the house for a 22-yard touchdown. Norcross led 35-0 after the first and 45-0 at the half.
Mill Creek 42, Discovery 7
Mill Creek put a beat down on last-place Discovery behind a big night from Josh Battles. Battles started the night off with a short touchdown run with 6:09 left in the 1st quarter. Baxley Harris found Battles through the air minutes later for a 16-yard touchdown. With only 9.0 seconds left in the quarter, Battles extended the lead to 21-0 with a 14-yard touchdown score. After another Mill Creek score and with 5:28 left in the half, Battles found the endzone for his fourth touchdown of the night and a 35-0 lead. He finished the game with 101 yards on 15 carries. Harris went 6-of-8 for 134 yards and two touchdowns.
Brookwood 42, Central Gwinnett 7
Brookwood moved to 6-1 on the season with a convincing victory over host Central Gwinnett, despite losing starting quarterback Conner Chavis (concussion) midway through the first quarter. The Broncos built a 21-0 lead in the opening frame with an Eli Kohl kickoff return, a 21-yard interception return by Dennarrio Stewart and a Chris Carter touchdown run. Carter found the endzone again in the second quarter after Brookwood recovered a bobbled Central Gwinnett punt snap on the Black Knights' 4-yardline. The home team cut into Brookwood's lead when quarterback Justin Fomby complete a 5-yarder to Skylar Adams, but a 45-yard pick-six from Michael Killebrew and another score by Kohl — this time on a 65-yard run — sealed the 42-7 final with 1:57 left in the third quarter. Griffin Jamison replaced Chavis at quarterback.
North Gwinnett 27, Collins Hill 14
North Gwinnett traveled across town to battle rival Collins Hill, looking to extend its three-game win streak. An early field goal gave the Bulldogs the lead, but the Eagles responded with a first-quarter touchdown. North Gwinnett's Jr Martin found Jarvis Cunningham late in the first for the touchdown and 10-7 lead. From there, the Bulldogs didn't look back. Cunningham found the endzone on a reverse run, followed by a Martin touchdown pass to Tyler Goodson for a 24-14 lead at half. North Gwinnett found the endzone twice more behind two Goodson touchdown runs, going on to win on the road 27-14 over Collins Hill.
Walton 40, Etowah 14
Walton scored all 40 of its points in the first half before Etowah scored touchdowns in the third and fourth quarters. Raiders receiver Kendall Alford caught a 48-yard touchdown from senior starter Austin Kirksey in the first quarter and a 54-yard touchdown from freshman backup Zak Rozsman in the second. Dominick Blaylock and DJ Soyoye each rushed for 3-yard touchdowns in the first quarter. In the second quarter, Brandon Spencer returned an Etowah fumble caused by Grant Jensen for a touchdown. Conor Cummins made field goals of 37 and 31 yards for Walton. Etowah quarterback Dalton Miller threw two touchdown passes.
North Paulding 29, North Cobb 19
In a big region matchup, undefeated North Cobb went on the road to battle North Paulding. North Paulding got things started on a huge 65-yard touchdown connection from Ross Malmgren to Kellan Autenrieth. The Wolfpack extended the lead to 10-0 on a Brock Travelstead field goal, whose leg proved to be a difference maker in this game. North Cobb cut into the lead after a big 75-yard touchdown drive, but North Paulding responded with another Travelstead field goal and a 67-yarder from Malmgren to Jordan Veneziale for a 20-6 lead over the Warriors. North Cobb took another stab at the deficit though, cutting the lead to 20-13 at half. Travelstead connected on 3 of 3 field goals in the second half, giving him a perfect 5-of-5 line and a 29-13 lead for his team. North Cobb tried some late game heroics, scoring with four minutes to go, but it wasn't enough. North Paulding handed North Cobb its first loss of the season.
Parkview 56, Berkmar 7
Parkview's Cody Brown kicked off the Panthers' scoring spree in the first quarter with a 40-yard touchdown run. Parkview kept at it with their running game, accumulating three more rushing scores in the first from Malik Washington, Brown again, and a long 62-yard rush by Jakeim Thompson to go up 28-0. Berkmar got on the board with a touchdown in the second, but Parkview was quick to respond with an 88-yard kick return for a touchdown by Sophomore Jared Brown. Jordan Williams scored the first Panther touchdown through the air with a 10-yard pass to CJ Daniels late in the second. Brown rushed into the end zone once more for his third score of the game to cap the 49-point first-half performance. Freshman quarterback TJ Williams scored the last touchdown of the game with a 19-yard pass to TJ Burdian late in the third.
Westlake 21, Pebblebrook 12
Jalyn Williams threw a pair of first-quarter touchdown passes to Amir Spivey and visiting Westlake never looked back against Pebblebrook. Marveon Boyd rushed for two scores to keep Pebblebrook's comeback chances alive, but a missed PAT following his first touchdown and a failed two-point conversion attempt following his second one kept it a two-possession game. Darrell Nichols added a 31-yard touchdown scamper in the third quarter to provide the Lions with some valuable insurance points.
Roswell 56, Lassiter 13
Roswell quarterback Ethan Roberts threw all three of his touchdown passes to Jacob Jarrett and rushed for a score to lead the host Hornets. Roberts found Jarrett for scoring passes of 40, 30 and 27 yards and rushed for a 17-yard touchdown to help Roswell to a 35-6 halftime lead. Roswell's Kamonty Jett opened the scoring on a 78-yard rush in the first quarter. Khaleed Mosley returned an interception 30 yards for a touchdown in the third quarter, and Jeremy Slaughter and Savion McCrary each rushed for touchdowns in the fourth.
North Forsyth 28, Lambert 14
The North Forsyth Raiders defeated the Lambert Longhorns thanks to an exceptional performance from senior running back Bryson Trigg. Trigg scored the first Raiders points of the game with a 10-yard rush midway through the first, and quarterback Carter Mullikin connected with Trigg for a 71-yard touchdown pass in the second. Mullikin took it to the endzone himself four minutes later on a 2-yard run for a 21-0 lead at halftime. Lambert scored its first touchdown with 5:52 left in the third quarter when Peyton Rich found Drew Dockter for a 4-yard pass, a minute before Trigg's third touchdown — this one a 48-yard rush. That would be North Forsyth's final touchdown of the game, and the Raiders held a 28-7 lead going into the fourth. Lambert scored its last points off a 53-yard passing touchdown from Peyton Rich to Jake Rising.
East Coweta 45, Wheeler 21
Wheeler was first on the board when Senior quarterback CJ Ogbonna connected with Junior John Hoyer on a 25-yard touchdown pass. East Coweta's Gerald Green tied the game on the next possession with a 60-yard rushing score. A field goal to end the first extending the Indians lead, but Green helped create more space with two rushing scores in the second quarter to give East Coweta a 24-7 lead at the half. Green continued to be the go-to guy, scoring twice more on the ground in the third quarter. His 90-yard kick-off return for a touchdown early in the fourth gave the Senior his sixth score of the night and sealed the deal on the Indians first win of the season.
Milton 35, South Forsyth 21
Milton led just 6-0 at halftime and trailed 7-6 early in the third quarter, but the visiting Eagles scored 29 straight points to take control of the game. Milton quarterback Jordan Yates threw four touchdown passes, including two to Micah White. After a scoreless first quarter, Yates found Jordan Cox for a 36-yard touchdown. South Forsyth took a 7-6 lead on Jordan Brunson's 6-yard touchdown run with 9:08 to play in the third, but Yates responded with a scoring pass to Dylan Leonard and a 15-yard TD to White to close the quarter up 20-7. Yates found White again for a 32-yard score in the fourth quarter, and Joshua Edwards rushed for a 25-yard TD to give Milton a 35-7 lead with nine minutes to play.
West Forsyth 39, Forsyth Central 0
The West Forsyth Wolverines won a blowout game on the road against Forsyth Central Bulldogs. The first quarter saw a field goal by Alex Wilson and a 4-yard touchdown catch by Casey Cowart. West Forsyth added two points from a safety in the second quarter, followed by 4-yard touchdown run by Saxby Waxer. Drew Southern scored on a 1-yard run early in the second half and threw a 38-yard touchdown to Abe Cameron in the quarter as well. Waxer had a fourth-quarter touchdown off a 3-yard run.
Cherokee 21, Woodstock 7
Host Cherokee returned three interceptions for touchdowns to take a 21-0 halftime lead. Woodstock scored in the third quarter on a 68-yard Walker Ormsby pass to Jabari Overton, but the Wolverines turned the ball over on downs twice inside the Cherokee 30-yard line in the second half. Cherokee quarterback Landon Ergle was 9-of-15 passing for 77 yards.
Class AAAAAA
Alpharetta 50, Chattahoochee 21
Alpharetta got its offense going early with an 80-yard rushing touchdown from Bradley Rowlinson just a minute and a half into the game. Chattahoochee scored its first touchdown just twenty seconds later on the ground, and took a 14-7 lead two minutes after that. Alpharetta's Jaden Slocum scored with 6:47 to go after Rowlinson found him for a 67-yard touchdown pass, and Kent Cherry took it 7 yards into the endzone at the end of the opening frame for a 20-14 Raiders lead. Cherry scored his second touchdown of the evening off a 51-yard run midway through the second quarter, but Damon Stewart's 7-yard run for Chattahoochee cut the Raiders' halftime lead to 27-21. The remainder of the game belonged to Alpharetta's offense. Cherry scored for the third time on an 80-yard run, Matthew Ashe completed a 33-yard field goal and Rowlinson connected with Austin Frazier for a 43-yard touchdown before the end of the third. The final touchdown of the game came in the fourth quarter when Will Gerdes found Nick Haven for a 27-yard touchdown.
Johns Creek 38, Cambridge 20
Johns Creek used a consistent, well-rounded offensive approach to win one on the road against the Cambridge Bears. The Gladiators' Zach Gibson added to a first-quarter field goal with the first of his three touchdown passes —  a 35-yarder to Giovanni Dyer — midway through the second. Dalton Pearson returned a punt to the endzone for 39 yards two minutes later, but Zachary Harris connected with Ridge Polk on a 55-yard touchdown pass in the final seconds of the half to give Cambridge its first points of the game. Johns Creek led 17-7 entering the third quarter, and Gibson threw his second touchdown pass to Yong Ming Lee for 85 yards with three minutes to go in the frame. Cambridge responded with a 5-yard rushing touchdown from Philip-Michael Collins, but the extra point attempt was unsuccessful. Two minutes into the fourth, Nate Hope brought the score to 31-13 with a 51-yard rush, and Gibson connected with Matt Casey for a 15-yard passing touchdown. Cambridge's Harris completed a pass to Chandler Jones to score with a minute left in regulation.
Harrison 56, Osborne 0
David Roberts had touchdown runs of 51, 45 and 34 yards and Gavin Hall threw two touchdowns to Micah Davis to help the host Hoyas to a 42-0 halftime lead. James Ziglor added a 4-yard touchdown run in the second quarter. Will Rutledge had a 22-yard touchdown run in the third quarter, and Malakai Taft rushed for a 6-yard score in the fourth. Christian Lowery was 8-of-8 on extra points.
Sequoyah 45, South Cobb 20
Quarterback Collier Pecht accounted for three touchdowns for host Sequoyah, which led 24-7 at halftime. DJ King (5 yards) and Cole Jacobs (61 yards) rushed for touchdowns to give the Chiefs a 14-7 lead at the end of the first quarter, and Jaden Mitchell (22 yards) added a rushing score in the second. Jason Campbell made a 36-yard field goal to give Sequoyah its 17-point halftime lead. Pecht scored on 24-yard runs in both the third and fourth quarters to put the game out of reach and capped his team's scoring with a 26-yard touchdown pass to Jacobs. Grant Gibson and Adam LaSelva recovered fumbles for the Chiefs, and Myles McGee had an interception.
Centennial 49, Dunwoody 6
A crushing victory over the Dunwoody Wildcats moved the Centennial Knights to 5-0 in Region 7. The win came in no small part to Centennial quarterback Max Brosmer's outstanding performance. Brosmer threw a 7-yard touchdown pass to Freddy Fairley in the first, a 75-yard pass to Drake Mason in the second, and three touchdown passes in the third quarter — two of which went to Richard Shaw and the other to Mason. Centennial's Cal Dickie scored off a 16-yard rush early in the first quarter for the first Centennial touchdown. Dunwoody's only touchdown came in the second quarter.
Pope 26, North Atlanta 7
Sophomore running back Joseph Stellmach rushed 5 yards into the end zone to give Pope the lead midway through the first quarter, but the extra point was unsuccessful. The Greyhounds recovered a fumble with 29.5 seconds remaining in the half, setting up an 18-yard touchdown pass from Peyton Cariaco to Senior Zach Owens for the score. North Atlanta scored a touchdown in the middle of the third but would fail to put points on the board again. Two more third-quarter rushing touchdowns from Owens and Junior Cade Payne capped off the scoring for the night as the Greyhounds coasted through a scoreless fourth quarter to grab their third region win of the season.
Class AAAAA
Riverdale 14, Jonesboro 12
Riverdale went up 7-0 in the opening quarter on a Frederick Collins 3-yard touchdown run. A little over a minute into the second frame, Phalon Daniels added a 5-yard touchdown run to put the host Raiders up 14-0. Jonesboro's Tremir Alexis found Ahilik Booker for a passing touchdown with 32.2 left in the half, but a failed PAT left the deficit 14-6. The teams went scoreless in the third quarter, but a muffed punt by Riverdale set up a short field for the struggling Cardinals' offense. With 8:34 left, Kendaris Hillman ran in a 7-yard touchdown, but Jonesboro couldn't convert the would-be tying 2-point conversion and the Raiders held on.
Buford 43, Loganville 0
Derrian Brown rushed 15 times for 164 yards and Aaron McLaughlin was 7-of-9 passing for 119 yards and three scores to lead Buford to a 43-0 victory at Loganville. McLaughlin started the scoring in the first quarter with a 30-yard touchdown pass to Drew Gutierrez and a 25-yard score to Austin Turner. Still in the first, Davin Bryant returned a Loganville fumble 92 yards for a touchdown and Brown scored on a 1-yard run to give Buford a 27-0 lead at the end of the quarter. In the second, Xyre Wilson caught a 1-yard touchdown pass from McLaughlin, and a bad Loganville punt snap went out of the end zone for a safety to give Buford a 36-0 halftime lead. Brown capped the scoring in the third quarter with a 12-yard touchdown run.
Starr's Mill 38, McIntosh 20
Starr's Mill absolutely dominated through three quarters of play to take down the McIntosh Chiefs. Hunter Lawson threw a 45-yard completion to Sean King for the only score of the opening frame, and two touchdowns in the second quarter — a 20-yard rush from Kalen Sims and a 5-yard rush from Lawson — gave Starr's Mill a lead 21-0 at halftime. A 50-yard field goal and a 70-yard punt return left the score at 31-0 at the start of the fourth. Starr's Mill scored its final touchdown of the evening with eight minutes to go on to a 60-yard rush from Jalen Lazenby before McIntosh closed the game with 20 unanswered points. Calvin Flowers put the first Panther points on the board with 7:25 left to go off a 78-yard rush. Jaden Nelson recovered a fumble and took it to the endzone with 6:32 left, and Flowers scored again on a 2-yard run in the final minute.
Rome 68, Paulding County 7
Paulding County found the end zone first when Jaylen Dukes hit Tony Lauzurica for a 75-yard touchdown. Rome was quick to respond when Senior running back Jamious Griffin rushed 26 yards for the score, but a missed PAT kept the Patriots ahead by one. The Wolves took a 12-7 lead when Senior quarterback Knox Kadum rushed the ball 13 yards into the end zone, and Rome's six touchdowns in the second quarter were plenty to put the game away. The Wolves had scores on the ground from Xavier Roberts, Trey Lawrence and another from Griffin, and Roberts also scored on a pass from Kadum. Nick Burge and Jamar Roberts both racked up defensive scores, and Lawrence found the end zone once more in the third before freshman quarterback Bryson Hill scored the game's last touchdown with a 1-yard rush.
Class AAAA
Blessed Trinity 21, Flowery Branch 20 (OT)
Flowery Branch rallied two touchdowns back to force overtime at 14-14. Blessed Trinity scored on the first possession of the extra period to go ahead 21-14. The Falcons answered with a Zarian Browner touchdown run, but rather than going for the PAT,  the host Falcons gambled with a do-or-die 2-point conversion and Elijah Gainey's pass attempt fell incomplete. Blessed Trinity built its lead with a Jake Smith QB sneak on the Titans' opening drive. Eight seconds into the second quarter, Flowery Branch appeared to be in position to even the score, but Gainey's pass was intercepted by Smith at the 7-yard line and returned 93 yards to put the Titans up 14-0. Gainey found Jalin Strown for a 41-yard touchdown pass before the half and the duo hooked back up with 8:58 left in the third quarter from 13 yards out to tie it. 14-14.
Ridgeland 69, LaFayette 7
Ridgeland put up a school-record 69 points at home, emphatically beating visiting LaFayette to extend the Panthers win streak under first-year head coach Cortney Braswell to five. Quarterback Tanner Hill threw both of his touchdown passes in the first quarter — a 12-yarder to Stephon Walker and a 52-yard completion to Torrance Roberts that was set up by Jordan Hughley's fumble recovery — and Terrance Roberts added the first of Ridgeland's seven scores on the ground in the frame as well. Walker's interception kicked off a big second quarter that ended with the Ramblers in a 48-o hole at the half. Shawn Wilson had two touchdown runs during the onslaught — including a 47-yarder — and Hughley and Roberts each took trips to the endzone on a 51-yard run and a 14-yard blocked punt return, respectively. Jordan Blackwell had two rushing touchdowns and Azavear Blackwell ran in one in the third quarter to put the Panthers out front 69-0. LaFayette Senior Alan Hu saved the Ramblers from a shutout with a 3-yard run in the final minutes of the game.
Oconee County 20, Stephens County 14
Oconee County went toe-to-toe with host Stephens County in a big region matchup. The game remained scoreless after the first quarter and most of the second, but Stephens County pounded into the end-zone for the lead in the final minute of the first half. After a opening second-half defensive sequence, Oconee County cut the deficit to 7-6 behind a Max Johnson touchdown, unable to tie on a miss extra-point. Stephens County went  3-and-out on its next possession and Oconee took advantage. Julian Benitez gave the Warriors the 14-7 lead on a 8-yard touchdown run, and Johnson found Seth Caldwell for the touchdown and 20-7 lead with 45 seconds remaining in the third. With time winding down, Stephens County cut the lead to 20-14, but it was too late; Oconee County went into victory formation and held on for the win on the road.
Woodward 36, Hampton 11
Tahj Gary did just about everything for the War Eagles as they rolled to road win over Hampton. Gary led the team rushing with 14 carries for 72 yards and a score and he also returned a punt 52 yards for a touchdown. He ran for a nine-yard TD as part of a 16-0 third quarter that broke open what had been a competitive 10-3 game at halftime. Woodward also got touchdowns from Alan Wright and Miles Montgomery plus three field goals by Marshall Golick. After taking a brief 3-0 lead midway through the first quarter, Hampton managed only a safety the rest of the way until Untavais Varner scored from one yard out with seven seconds remaining.
Cartersville 7, Sandy Creek 0
Marcus Gary rushed for the game-winning touchdown with 3:08 to play and Oscar Hernandez made the extra point to give Cartersville the win at Sandy Creek. Gary rushed 26 times for 125 yards, and Cartersville quarterback Tee Webb was 12-of-21 passing for 90 yards and two interceptions, both in the third quarter.
Troup 35, LaGrange 14
Trey Williams returned the opening kickoff for a touchdown to put undefeated Troup (7-0) on the board first at Columbus Memorial Stadium. Tyree Carlisle added a 10-yard rushing touchdown early in the second quarter and quarterback Kobe Hudson ran in an 8-yard score with 1:15 left in the half. The Grangers managed to get on the board before the break with a Charles Crawford 19-yard touchdown to pass to Jordan Ogletree to cut it to 21-7. Hudson padded the lead with his second rushing score and Crawford connected with Ogletree a second time to bring it to 28-14. Hudson went through the air for the game's final points, an 18-yard touchdown pass to Trea Mitchell.
Eastside 26, Salem 14
Eastside quarterback Noah Cook got the Eagles going early with a touchdown pass to Jamari Brown and a touchdown run less than three minutes into the game. Eagles kicker Kade Mote drilled a pair of field goals—including a 44-yarder—to extend the lead to 20-0. Salem's Donald Wilson rushed for a touchdown, but Cook answered with a touchdown pass to Antavious Cook and the Eagles closed out the Seminoles in the fourth to improve to 7-0.
Marist 57, Denmark 7
Host Marist jumped out to a 50-0 lead before Denmark got on the board just before the half. Quarterback Connor Cigelske and Brett Zoeller each rushed for touchdowns, and Cogelske connected with Zoeller for a 72-yard score to make it 29-0. Mitch Owens and Joshua Moore each returned interceptions for touchdowns, Lincoln Parker added a 19-yard touchdown and Patrick Miles scored on a 30-yard run to make it 50-0.
Class AAA
Jefferson 35, Morgan County 14
Visiting Jefferson led 21-0 at the half and took a 35-0 lead into the fourth quarter before Morgan County's Jordan Huff rushed in his pair of touchdowns. Nick Evans put Jefferson up in the first quarter with a fumble recovery and touchdown return of 25 yards. Morgan County turned it over on downs early in the second quarter, and Jefferson capitalized with 73-yard scoring drive to push the lead to 14-0 and eat up nearly half of the 12-minute quarter. Quarterback Carter Stevenson connected with Garmon Randolph for a 21-yard touchdown before the half, and found Zac Corbin for a 69-yard score on the Dragons' first drive in the third. Donsha Gaither rushed for a 12-yard touchdown minutes later to put Jefferson up 35-0.
Calhoun 56, Murray County 0
Calhoun's Zach Fuller rushed for three touchdowns in the first quarter to help the defending state champions move past Murray County in a 6-AAA matchup. Fuller's three touchdowns, coupled with Clemson-commit Brannon Spector's 18-yard interception return, allowed Calhoun a 28-0 lead after one quarter of play. Jonkell Tolbert and quarterback Gavin Gray each scored on rushing touchdowns in the second to give the Yellow Jackets a 42-0 lead at the half. Gray finished the game 7-of-9 passing for 124 yards. In the third quarter, backup quarterback Jake Morrow passed to Ethan Crump on a 35-yard strike for a touchdown. Morrow finished the game with 173 yards on 8-of-11 passing to help Calhoun put together a 381-yard offensive performance — 305 in the air — while holding Murray County to just 85 yards of offense. Jerrian Hame's 7-yard run in the third quarter brought the game to its final tally.
Pace Academy 17, Lovett 13
Jared Rayman and Jayden Thomas connected for each of Pace Academy's touchdowns en route to a hard-fought road win over Lovett. It was the Lions who struck first on a 30-yard touchdown pass from Blaine McAllister to Lance Beck in the opening quarter, but they managed only two Henry Beery field goals the rest of the way. The Knights broke a 10-10 halftime tie when Rayman found Thomas for a six-yard scoring strike in the third quarter. Lovett twice forced turnovers — a Ritter Windom interception and a Will Seiler fumble recovery — while trailing by just four points, but the offense failed to come up with a game-winning drive.
Cedar Grove 30, Westminster 3
Jadon Haselwood got the scoring started with a six-yard touchdown reception and also returned a punt 70 yards for a score as Cedar Grove rolled to a convincing win over host Westminster. The Wildcats found themselves within 14-3 following a Charlie Ham field goal and were driving at the Cedar Grove 10-yard line but fumbled just prior to halftime. Having survived that scare, the Knights raced away to victory throughout the second half. Austin Smith's second scoring strike went to Rashad Jordan from 18 yards out, while the visitors also benefited from a 12-yard touchdown run by Robert Jones III.
Greater Atlanta Christian 38, Lumpkin County 0
Greater Atlanta Christian scored all 38 of its points in the first half while cruising past host Lumpkin County. The Spartans got two touchdowns from Ty James–a 50-yard punt return in the opening quarter for a 28-0 advantage and a 21-yard reception from Jackson Hardy in the second quarter. Josh Rose accounted for two touchdowns, connecting with Christian Thomas on a 20-yarder and also rushing eight yards to endzone. Hardy also added a second touchdown pass to Brooks Miller from three yards away, while Beck Naegele tacked on a field goal just prior to halftime. A running clock in the second half sped things up and no more points were scored.
Haralson County 24, North Murray 22
Haralson County's Treylon Sheppard took 35 carries and paced the Rebels to victory with 406 rushing yards and four rushing scores. The 24-point mark resulted from an 0-4 night in the PAT department. Sheppard broke free for a 72-yard score midway through the first quarter and a 66-yard touchdown midway through the second. North Murray made it 12-7 at the half with an 8-yard touchdown pass from Preston Poag Jr. to Will Campbell. Sheppard took Haralson County's first play of the second half in for a 47-yard touchdown to extend the lead to 18-7, but Ladd McConkey returned the ensuing kickoff for a touchdown and then converted the 2-point conversion to cut it to 18-15. Sheppard's fourth touchdown run came on a 90-yard scamper with 1:52 left in the third. Poag went back to Campell in the fourth quarter to bring it within 24-22. North Murray got the ball back at Haralson County's 35-yard line with 2:20 left on the clock and drove down the field, but were unable to get set for a would-be game-winning 38-yard field goal attempt and the clock expired.
Class AA
Jefferson County 34, Glenn Hills 19
Jefferson County jumped out to a 28-0 lead and held off the visiting Spartans to extend its winning streak to six games. Jay Jenkins ran in two touchdowns (56, 8) and Desmond Beale rushed for an 8-yard score to put the Warriors up 21-0. Kydran Jenkins recovered a fumble and returned it 58 yards for a score before Gleen Hills was able to chip into the lead. Jefferson County's Aquavious Hunter iced the game with a 90-yard touchdown run that put the Warriors up 34-13 before a late Spartan score.
Class A
Fellowship Christian 46, King's Ridge 14
Fellowship relied on three-touchdown performances from both Murphy Reeves and quarterback Joey Archer to move past King's Ridge. Reeves scored on runs of 22, 16 and five yards, and Archer threw touchdown passes to Cameron Gill (57 yards, 21 yards) and Cam Cochran (27 yards). Fellowship blew open its 13-7 lead at the start of the second, outscoring King's Ridge 27-0 in the frame.
St. Francis 20, Pinecrest Academy 16
St. Francis erased a 16-7 halftime deficit, outscoring host Pinecrest Academy 13-0 in the third quarter and using a time-consuming drive in the fourth to clinch victory. The Knights' first of two third-quarter touchdowns came off a turnover, with Josh Gil running for a score from 17 yards away. What proved to be the game-winner came on a turnover, as Gianni Dorsey returned an interception 30 yards to the endzone. The Paladins had taken their early lead with a five-yard touchdown run by Patrick Sullivan and a 32-yard scoring strike from Ryan DiFazio to Colby Mangan. Sawyer Huffstetler also booted a 26-yard field goal for Pinecrest Academy.