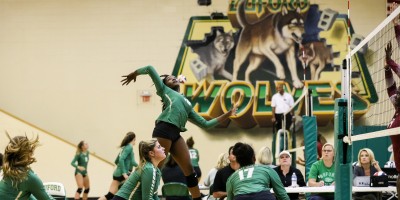 The first-round of the GHSA softball playoffs continued as southern parts of the state recover from the impact of Hurricane Matthew. Volleyball teams also continued their region tournaments and, in a nationally-televised football games, Grayson defeated Archer 41-14 in a Class AAAAAAA slugfest on ESPN2.
In the softball games that could be played on Thursday, Woodland-Cartersville swept North Springs 9-1 and 8-0. Jackson County finished off its series with Westminster and, after winning (12-1) in Game 1 yesterday, Jackson took Game 2 (12-0) to advance to face Calhoun in the second-round.
In volleyball action on Thursday, Woodward volleyball advanced to the region semifinals after defeating Henry County in two sets. Woodward won the first set 25-8 and the second set 25-12 to advance. Marist captured the 7-AAAA region title with a 3-0 victory over rival Blessed Trinity. North Gwinnett won the 6-AAAAAAA region title with a four-set match over Mill Creek.
We will track the softball and volleyball action Friday and Saturday and each night next week so follow along! The rest of the scores are below.
Football
Grayson 41, Archer 14
Softball First-Round Playoff Scores 
Alexander 19, Lanier 0
Alexander 8, Lanier 0
Allatoona 5, Cambridge 1
Allatoona 7, Cambridge 2
Chapel Hill 9, North Oconee 1
Chapel Hill 13, North Oconee 1
Christian Heritage 11, Mount Vernon 3
Christian Heritage 17, Mount Vernon 2
Creekview 5, Pope 3
Jackson County 12, Westminster 0
Kennesaw Mountain 3, Newnan 1
Newnan 9, Kennesaw Mountain 4
Woodland-Cartersville 8, North Springs 0
Woodland-Cartersville 9, North Springs 1
Volleyball
Allatoona 2, Harrison 0
Allatoona 2, Sequoyah 0
Alpharetta 2, Pope 1
Clarkston 2, Southwest DeKalb 1
Dawson County 2, East Hall 1
Dutchtown 2, Ola 0
Eagles Landing Christian 2, Strong Rock Christian 0
Eagles Landing Christian 3, Trinity Christian 0
East Hall 2, Cherokee Bluff 0
East Hall 2, Fannin County 1
East Hall 2, Lumpkin County 0
Fellowship Christian 2, Mt. Pisgah Christian 0
Fellowship Christian 2, Pinecrest Academy 0
Greater Atlanta Christian 3, Lovett 2
Jefferson 2, Jackson County 1
Jefferson 2, Rabun County 0
LaFayette 2, Pickens 0
Lakeside-DeKalb 3, Parkview 2
Lambert 3, West Forsyth 0
Landmark Christian 2, Strong Rock Christian 1
Milton 3, South Forsyth 2
Mt. Paran Christian 2, Walker 0
North Cobb Christian 2, Walker 1
North Gwinnett 3, Mill Creek 1
North Hall 2, Dawson County 0
North Hall 2, East Hall 1
North Hall 2, Lumpkin County 0
Oconee County 3, Madison County 1
Pace Academy 3, Westminster 1
Providence Christian 3, Aquinas 2
Southeast Whitfield 2, Ridgeland 0
St. Pius X 3, North Oconee 0
Trinity Christian 2, Landmark Christian 1