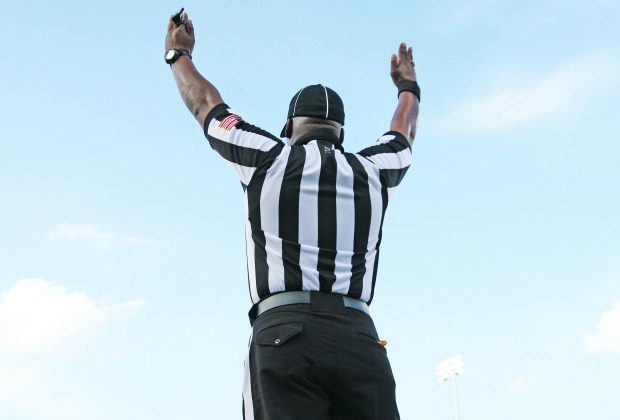 Photo by Sonny Kennedy
There have been plenty of surprises through the first six weeks of the high school season, but Woodstock at 5-0 is one of the most notable results. Woodstock has not won five games in a season since 2010 and a competitive region each year has resulted in just one year in school history that has seen more than eight wins (2009). This is the first time Woodstock has ever started a season 5-0.
The Wolverine's opened the year with wins over River Ridge, Johns Creek, Wheeler and Lassiter. While those four teams have had struggles this season, Etowah was one of the hottest teams heading into Week 6 and Woodstock battled past the previously unbeaten Eagles 47-44 in triple overtime.
We saw a slight shift in power in Gwinnett County last year as Dacula and Archer emerged as playoff teams and Brookwood, Parkview and Grayson saw a slide. This year's shift in Region 5-AAAAAA is much more drastic. Last year's top three playoff seeds (Lassiter, Milton and Walton) are 3-5 in region play and the defending region champion Lassiter is still looking for a competitive game at 0-5 with an 0-3 region record. The Trojans have not lost more than three region games in a season since 2005 when it was a nine-team region slate. Lassiter is giving up 51 points per game and was thrashed by Milton 56-0 on Friday. While the defense has been a major concern the past few seasons, seeing a Lassiter team get shutout is even more alarming.
"The kids have been resilient," Irwin told the Marietta Daily Journal "We're not used to losing five games in a year, much less five in a row. We have two options. We can quit, or we can try and get better. We still have five more region games left to play.
JUDGEMENT DAY…
The smallest regions in the state have six teams and as a result, each school is going to play five non-region games before they begin taking on their five region opponents.
In Class AAAAAA, Region 1 and Region 2 are the only two regions with just six teams and this will mark the first weekend of region action. Lovejoy, Tucker and Rockdale County each escaped non-region play with middling 3-2 records to headline Region 2. Region 1, however, did what no other region has done and enters region play unscathed. Camden County, Colquitt County, Lee County, Lowndes, Tift County and Valdosta combined for a 29-0 non-region record and we'll get front row tickets the next six weeks as these six unbeatens battle for the four playoff spots up for grabs.
Outside of Region 1, Grayson, Dacula, Northview, Woodstock and East Coweta make up the 11 teams with undefeated records in Class AAAAAA.
In Class AAAAA, Mays made the biggest statement this weekend with a 40-35 win over Class AAAAAA Lovejoy. Lovejoy took a 14-0 lead, but Mays got back in business with a key interception by Ferlando Jordan that was returned to the 3-yard line. Mays quarterback Asahnia Aderhold returned from injury and threw for five touchdowns off 13-25 passing for 338 yards. Julius Whitehead hauled in three of the touchdown passes and Tyshawn Brown caught the other two Aderhold touchdown throws.
In Class AAAA, Marist has quietly held down the No. 4 spot in the polls while dominating defensively. In the past three weeks, the War Eagles have outscored their opponents 146-0 and included a 60-0 win over Redan on Friday. In Class AAA, the top 10 remained unbeaten for a third consecutive week and it's the only classification in the state with 10 undefeated teams in the poll. Not only are they undefeated, but the teams have dominated opponents. Central-Carroll remains a surprise team at No. 7 in the poll and boasts the state's top defense through six weeks. The Lions topped Landmark Christian 21-7 on Friday and have allowed just 13 points in their first five games (2.6 points per game).
GAC, Vidalia and Fitzgerald are three of six remaining unbeaten in Class AA and join defending state champion Lovett and Benedictine as favorites for this year's crown.
In Class A, Mt. Paran made its case this weekend as one of the top teams in Class A-Private. The Eagles jumped to a 31-0 lead over Pinecrest Academy on Friday before cruising to a 45-14 win and moving to 5-0. Mt. Paran is averaging 45.6 points per game while giving up just 14 points per game and looks like a lock to finish the regular season undefeated.