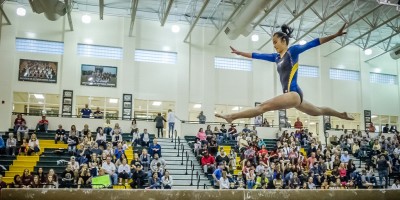 Photo By: Cecil Copeland
This year's GHSA Gymnastics State Championship will mark the 51st year of operation since the sport's opening season in the state of Georgia. On Friday, May 3rd, all participating teams will head to Ola High School in Henry County to compete on the balance beam, uneven bars, vault and floor exercise. Since the GHSA Girls Gymnastics' inaugural season in 1969, 17 different schools have claimed the state title. This go-around, eight teams will be looking to grab their school's first state title.
Of the 67 total teams that participated in the 2018-19 season, 15 have qualified for the state meet. One of those programs is two-time defending champion West Forsyth who snagged the school's second title in school history last season, besting second place North Oconee by 3.85 points. This season the Wolverines will be without standout Aundria Crittenden who placed second in the floor exercise and third on the balance beam during last year's state meet. Returning to the competition will be Ella Castellanos and Hallie Stocker, whose score of 9.55 earned her fifth place in the floor exercise in 2018.
North Oconee's second-place finish last year came in large part to a stellar performance by Savannah Schoenherr, who became the first gymnast in GHSA history to sweep all five event titles at the state meet. Now competing at the University of Florida, the spot for top competitor is wide open for Lambert senior Brianna Greenlow. As a junior, Greenlow placed second in every event except the floor exercise where she placed third. Her overall performance earned her a score of 38.525, just .875 points behind first-place finisher Schoenherr.
With West Forsyth looking to grab its third title in a row, the Buford Wolves will be looking to stop them and return to the top of the podium for the first time since their three-year run from 2014-16 where the Wolves became the sixth school to win three consecutive titles in GHSA gymnastics history. Buford placed third overall during last year's meet and return a key part of their team in Kelsey Schulman. As a junior, she placed fifth on the vault and in the all-around with her highest finish coming on the uneven bars with a third-place score of 9.5.