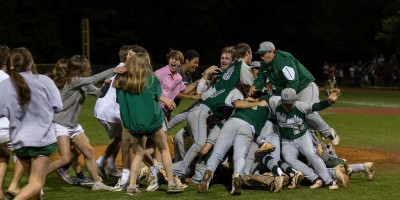 Photo By Armaan Painter
By Joe Chapman

In the three years prior to this season, the Westminster Wildcats Varsity Baseball team had two Final Four appearances and one state championship appearance. This year however, the Wildcats were finally able to get over the hump and win the Class AAA State Championship by sweeping defending state champions, Blessed Trinity, by scores of 2-1 and 7-6. So what was the key to finally reaching the goal of a state championship?
"I think our whole team could agree that this might have not been the most talented team we've ever had, maybe the fourth most talented team in the past four years," senior first baseman and Missouri commit, Armaan Painter, explained, "But I think what we had was everybody was able to get hot at the right time and everybody was able to believe in a team goal."
Going into the state playoffs, Westminster was 20-6 and was the second-seed out of Region 4 behind Blessed Trinity. After a first round sweep of Pierce County, the Wildcats traveled to face off against Jefferson, who had beat Westminster the previous year in the Final Four. While many may have seen this as a revenge situation, as Painter points out, that was not the approach to take.
"We definitely had that in the back of our minds but we knew that this was a different year, different team. They were a different team and it was going to be a hostile environment going there," said Painter. "Playing for revenge wouldn't have really been the best option so we went in there and played like it was just another game and I think that really helped us go out there and sweep."
Westminster then cruised through both Westside-Augusta and Cedartown in the Quarterfinals and Semifinals to set up a championship matchup against region foe and the defending state champion Titans. Blessed Trinity was the ultimate thorn in the side for the Wildcats as Westminster had outslugged other opponents up to that point 348-92, but was outscored in two regular season meetings with the Titans, 24-4.
"The first two games, I felt like we were intimidated," Painter said. "I think we learned from the two regular season matchups and that's why playing great programs makes you good," Head Coach Russell Wrenn explained, "You only learn what you need to fix by playing teams that are good. Blessed Trinity is no exception."
Painter said that the biggest thing that changed from the regular season matchups to the state championship was a belief in each other. "Going into the state championship it seemed like everybody else was counting us out and this time we weren't intimidated and we knew we were going to win. We had a little get together at a teammates house the Friday night before the state championship and we were talking and we were calm and it was kind of like we knew a secret that nobody else knew. Then we went out there Saturday and we proved it."
After winning the first game, Westminster found itself up one in the top of the last inning but faced a bases loaded situation with two outs. A dribbler to Rankin Woley resulted in a force out at home and finally gave Westminster the elusive state title, causing a huge celebration to break out on the field.
"Our guys were in the dog pile immediately. One of our assistant coaches turned a cartwheel and the other one was about 6-feet in the air on top of the dog pile," Wrenn said. "I struggled to stand up. I think I was just more relieved than anything else. I was exhausted to be honest though. But it was a great exhaustion."
"I just kind of threw my glove up in the air and started sprinting to the mound and I think I hugged Kenneth Hartzfield our third basemen and we just went into a dog pile and our whole school pretty much charged the field," Painter recounted.
After three years of close calls and what-ifs, the 11 graduating Westminster Wildcats are now sent off as state champions. Along with the seniors, Coach Wrenn is also leaving the program to help coach at the high school he attended in Maryland with one of his former coaches and his father. While he is excited about his future endeavors, leaving the Westminster program was one of the toughest decisions that Coach Wrenn has ever made.
"The most difficult thing about taking any job is leaving the underclassmen and the kids that I looked forward to coaching for many years and I think they had anticipated me coaching them for a bunch of years." While it is difficult to leave the program, he believes that the Wildcats will not miss a beat and will continue to be successful.
"Now we know that they inherit a great tradition to carry on. Chad Laney, my assistant, is going to be taking over as head coach. He's going to do a great job as well and the kids will be able to stay in the program and take us to even bigger and higher heights."
Though there will be an influx of new faces littered throughout the roster and the coaching staff, the Wildcats will be in good hands. Capturing their first state title since 1975 and fourth in school history, throughout their improbable journey the Wildcats proved that believing in themselves was the ultimate elixir to solving their regular season kryptonite, Blessed Trinity, leaving a bright future ahead on West Paces Ferry Road.