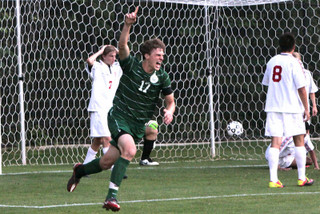 Robert Greenfield
Westminster pulled off back-to-back Class AA titles after stopping Blessed Trinity in penalty kicks for a 1-1 (4-2, PKs) victory. The Wildcats took the lead with three minutes to play in the first half on a Josh Bennett goal, staking the defending champions to a 1-0 lead at intermission.
In the second half, Blessed Trinity tied the game at 1 when Stefan Rizzo was credited with a goal after he struck a ball that deflected off of a Wildcat into the Westminster net.
That would be the only goal that Wildcat keeper Andrew Freschi would allow, however, as he stopped eight shots in regulation and in two scoreless overtime sessions.
In penalties, Freschi stopped two more Blessed Trinity attempts and the Wildcats would win in four rounds. Bennett, Chandler Gay, Andy Stormand and Paul Bicinanza all found the netting in the penalty session for Westminster.