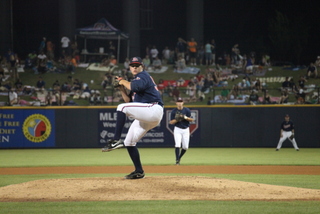 Gwinnett Braves
Despite stumbling a bit at the beginning of the month, the Gwinnett Braves continue to remain atop the South Division standings with a comfortable lead over the remaining competition. The G-Braves are also neck and neck for the International League's best over-all record. Securing the best record will be key down the stretch as the G-Braves look to find themselves with home-field advantage come October.
Gwinnett continues to get great production from several players who have been the driving force of the offense throughout the first two months of the season. Jose Constanza has been a nightmare for opposing pitching as the speedy outfielder's .321 average leads the team. Speaking of speed, Luis Durango has dominated the base paths, leading the team in stolen bases to go along with a .285 average and 18 RBIs. Newcomer Ernesto Mejia is continuing to make the most out of his first season in Triple-A, driving in a team-high 26 runs to go along with five homers. He has not disappointed manager Dave Brundage, who has kept Mejia in the cleanup spot in the order, where his productivity has been consistent.
On the mound, Julio Teheran continues to dazzle, posting a 3-1 record so far, along with a 2.48 ERA. With each start, Teheran looks to prove why he should find himself as a mainstay on the Atlanta roster sooner rather than later. A former Atlanta mainstay, Jair Jurrjens, is making the most of his stint in Gwinnett as he tries to regain his form from 2011, when he was selected as an all-star. In three Triple-A starts, Jurrjens has a 2-0 record with a 2.05 ERA.
GARTRELL HONORED
Outfielder Stefan Gartrell was named the International League's Batter of the Week for the week ending May 6. During that span, Gartrell hit .400 while hitting three home runs and driving in eight runs. After a slow start to the season, Gartrell has come on strong for Gwinnett over the past few weeks, as he's blasted a team-leading seven home runs to go along with 22 RBIs. He's also boosted his batting average to .236 from below .200 earlier in the season. For Gwinnett to remain atop the IL standings, Gartell will be expected to continue providing the power-punch to an already potent lineup.