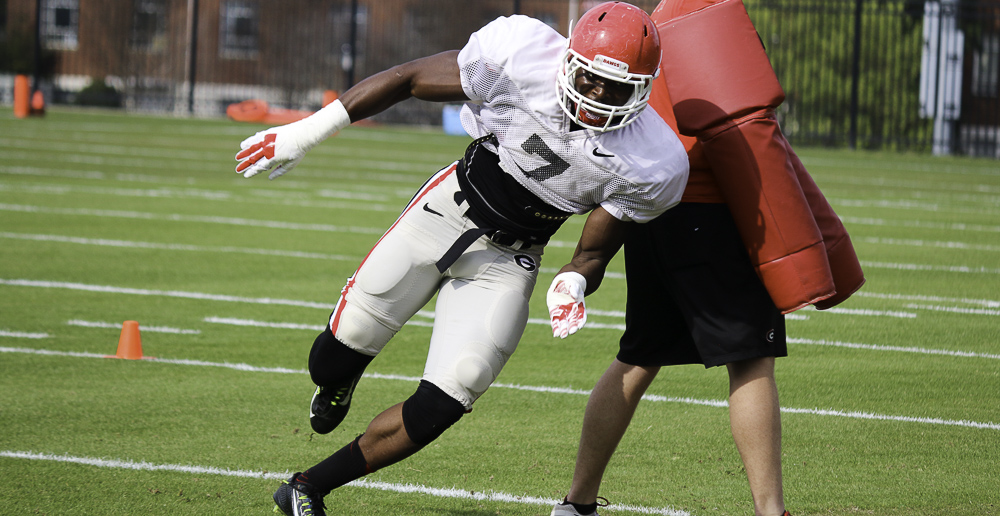 Jake Rowe/ 247 Sports
Saturday is Georgia's annual spring game inside Sanford Stadium, known as 'G-Day.' As is the case every year, there are many positions that people will be keeping a close eye on.
Quarterback
It seems according to last week's scrimmage, that rising redshirt sophomore Brice Ramsey and junior Faton Bauta are in the lead for the new quarterback spot. That said, head coach Mark Richt told the Paul Finebaum Show on the SEC Network that the battle is still a "tight race" between those two and redshirt freshman Jacob Park. A telling sign will be the number of snaps each QB gets with the first team offense on Saturday.
Center
This race is currently a three way race as well between senior Hunter Long, sophomore Isaiah Wynn, and junior Brandon Kublanow. Wynn has started the last two scrimmages this spring and Long is the one of the three that has the most experience at the position. Kublanow tells us that he's been working mostly at his guard spot. One thing we do know is that these players have serious shoes to fill with the departure of three year starter David "Boss" Andrews.
Wide Receiver
This group has been hampered by injury a little over the spring and is still trying to find a group of players that can be counted on in the 2015 season. The notable returners include seniors Malcolm Mitchell and Justin Scott-Wesley. You can also throw junior Reggie Davis into that list of returning players. Might a player like Charlie Hegedus help this team out? He recently returned to practice from a hamstring issue. Receiver's coach Brian McClendon says that he's looking for the "7-8 guys that can play winning football for UGA."
"Star" Position
This position really came into focus last season, when defensive coordinator Jeremy Pruitt basically made the base defense a nickel look. This position was manned by senior Damian Swann and his production rose when playing the position. Now, Georgia must find a replacement and there seems to be one name that is getting consideration for the starting job. It is looking like that redshirt sophomore Reggie Wilkerson could be the man for the job. However as is the case with Pruitt, nothing is ever set in stone.
–
These are the main position groups that will have my eye on Saturday inside Sanford Stadium. Why don't you join us out there? It gets underway at 2 pm and the best part about it? It is free to attend. Who can beat that? No one!