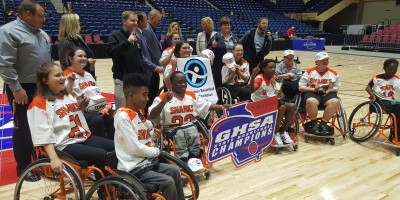 The Houston County Sharks won their sixth-straight wheelchair championship.
MACON — The Houston County Sharks weathered an early deficit to defeat the West Georgia Wolverines 36-27 in the AAASP/GHSA Wheelchair Basketball State Championship at the Centreplex in Macon on Thursday. The victory marks the sixth-straight basketball championship for the Sharks.
Houston County found itself down 4-0 after the first of six periods of play as West Georgia came out shooting well. Jesse Cochran and Bryan Lanier scored the two baskets for the Wolverines in the first period and continued their hot shooting into the second period. By the end of the second period, the Wolverines had pushed the lead to 8-1 and forced Houston County to answer. It did.
"It means a whole lot," said Sharks star Jordan Kozloski. "We worked our butts off to get here and we wanted to show out. The game plan was to have fun and to show out, you know, to make our shots and just play as a team. You can't win the game individually. You have to play as a team. We work together and we work hard. We are a big family."
And the Sharks' comeback was a team effort.
At the end of the third period, the Sharks were trailing by one point, 12-11, but by the end of the fourth period, Houston County was holding a 21-16 lead. It pushed the lead to a commanding 27-18 after five periods and was able to hold on to put the game away.
Kozloski finished with a game-high 24 points. Teammate Emanuel Dawson scored eight points, and Olando Hicks added four.
Bryan Lanier led West Georgia in scoring with 10 points. Teammate Jesse Cochran added nine points, including a 3-pointer. Bubba Ivey added six points and Dylan Goble scored two.
"What fueled the comeback?" Kozloski said before answering her question. "Determination. The drive and winning feeling that I had before. I wanted it back. I had to fight for it, we had to fight for it. We were hungry for that today."