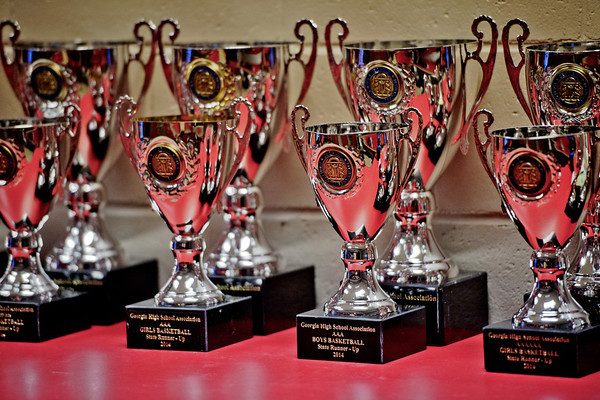 Basketball is a game of runs. Thursday night's thrilling 84-82 championship game proved that as Bryant "DaJohn" Williams hit a driving shot with seconds remaining to bring home Calhoun County's first title since 1997. Greenville (28-3) pushed the issue early using their 1-2-1-1 hybrid press to harass the Cougars (30-2). The Patriots led 25-20 after the first period and a big Jamal McKee performance. McKee, a senior, entered the game averaging 20.3 points and 9.4 rebounds to lead Greenville. His aggressive nature was on display early as he scored 10 points in the first quarter on his way to finishing with 29 points and 12 rebounds.
The second quarter belonged to Greenville who extended its lead to seven points late in the first half before the Cougars pounced. Calhoun County trailed 45-38 with a minute remaining before Quenten Taylor, who scored 18 points in the half, sparked a 6-0 burst including a layup at the buzzer to cut the lead to 45-44 heading into halftime. That momentum carried over into the third quarter as the Cougars went on a 16-3 run to take a 60-48 lead. Calhoun County outscored Greenville 25-13 in the third and held a comfortable 69-58 lead to end the period, even though star guard Quenten Taylor picked up his fourth foul with 4:26 remaining in the third.
After shooting 33 percent in the third period, the Patriots came out with a fire and determination to not go quietly into the night. Jamal McKee caught fire along with Renault Griffin. An 8-0 run sparked by six straight points from McKee and capped by a thunderous putback dunk from Griffin saw the Patriots close the gap to 71-68 after a flurry of points in 1:39 span. Calhoun County Head Coach Marcus Shaw knew it was now or never and had to gamble by putting Quenten Taylor back in the game with four fouls and still nearly half the quarter to be played. Senior Tamarcus Jackson would foul out with 15 points for Greenville with 4:47 remaining and the Patriots still trailing 71-70. Just over a minute later at the 3:30 mark, Greenville would get over the hump and take its first lead 74-73 since the half on a Brendarious Henry offensive rebound. Renault Griffin who finished with nine points, all in the fourth quarter, would get another slam to finish off a 16-2 Greenville run that would give them a 76-73 lead.
With under two minutes to go, Greenville guard Quan Tenny would turn the ball over, but would quickly re-steal it and go coast to coast to give the Patriots an 81-80 lead. Freshman guard Rashaun Williams would quickly answer for Calhoun County to retake an 82-81 lead. With 28.2 seconds remaining, Griffin was hacked and sent to the line. A 50 percent foul shooter on the year, Griffin would split and tie the game up at 82. Coach Marcus Shaw wisely elected to hold for one shot, but it would not be Quenten Taylor who would be the hero, instead it was senior DaJohn Williams who streaked into the lane from the left wing and floated a running shot over Griffin to take a 84-82 lead with 4.4 seconds remaining. Quan Tenney launched from just inside of half court at the buzzer, but the ball hit nothing but backboard as the Cougars secured its first state title in 18 years. Asked afterwards about the final possession Williams explained, "We were in a five wide. Coach told me attack and I just did. I had to make a play".