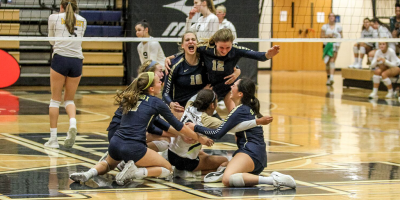 The fall sports season that might not be. Like it or not, that is what high school coaches across the state are preparing for.
As the coronavirus pandemic extends its invisible grasp across the nation – traveling as far as the White House pressroom months into the pandemic, it is clear the virus is virtually uncontrollable, even in the most controlled spaces.
And with that, the sports world holds its collective breath, with hopes toward an unknown future. For the fall sports teams with their seasons on the horizon, that same unknown future has impacted their current existence, for better or worse.
"For me, I just try to avoid just getting overwhelmed," said Walton volleyball coach Suzanne Fitzgerald. "I just focus on what I can control as a coach and then pass that mindset on to the athletes as best I can because there are so many unknowns."
Walton's volleyball program has won 14 state championships and the past five in the state's highest classification. Since 2010, the Lady Raiders have won nine titles, only missing in 2014.
Now, during a time when next season's players are either enjoying spring sports and keeping their bodies in shape or preparing for their upcoming season in various team-oriented ways, programs and coaches are adjusting with varied tactics toward dealing with a lost spring.
According to some, it has been beneficial.
"If I could design a perfect training environment for an athlete to kind of have to endure and get better at self-discipline and accountability and pushing themselves, it's now," said Fitzgerald. "You have to do this on your own and dig deep and not have some big carrot waiting for you at the end. It's just about today."
And with that, Walton's focus has been on the present, regardless of whether the upcoming season happens or not. According to Fitzgerald, that is by design.
"When I hear people start talking about championships or the end of the season," she said. "They get so fixated on the end-game as opposed to just today. And what has been kind of beautiful, our players we don't talk about that. We just talked about today, you know, what are we doing today? There has been very little chatter about the 'what ifs'."
East Coweta's softball program won back-to-back AAAAAAA championships in 2017 and 2018 and lost out in the state tournament bracket this season after losses to Mountain View 1-0 and Peachtree Ridge 8-2. As one of the best programs in the state, a lost spring is difficult. But the Lady Indians have seen players take an individual approach to preparation and it is a family-by-family decision.
"I think everybody individually, and individual families are having to make their own decisions on what they're comfortable with doing," said East Coweta coach Franklin DeLoach. "Because currently there's not a coach in this state under GHSA guidelines, no matter what sport, that can even touch it with a 10-foot pole to mandate anything in terms of practice right now."
Through the noise of the unknowns, the thought of not having a season, at this point, is unfathomable according to DeLoach.
"I need it as much as I need because I'm a creature of habit. I was cut by a grain of wood that needs athletics, but it is not about me," DeLoach said, almost as a message to the state, as programs prep and hope toward a brighter future in the fall.
"I'm going to tell you who needs it," DeLoach said. "The kids need it. Athletics are the glue. I heard this years ago from a professor and I have always believed it. Athletics are the glue that will hold many communities together. The high school athletics programs. We need it."
And that's where things stand: an inevitable preparation for the unknown future in high school sports.