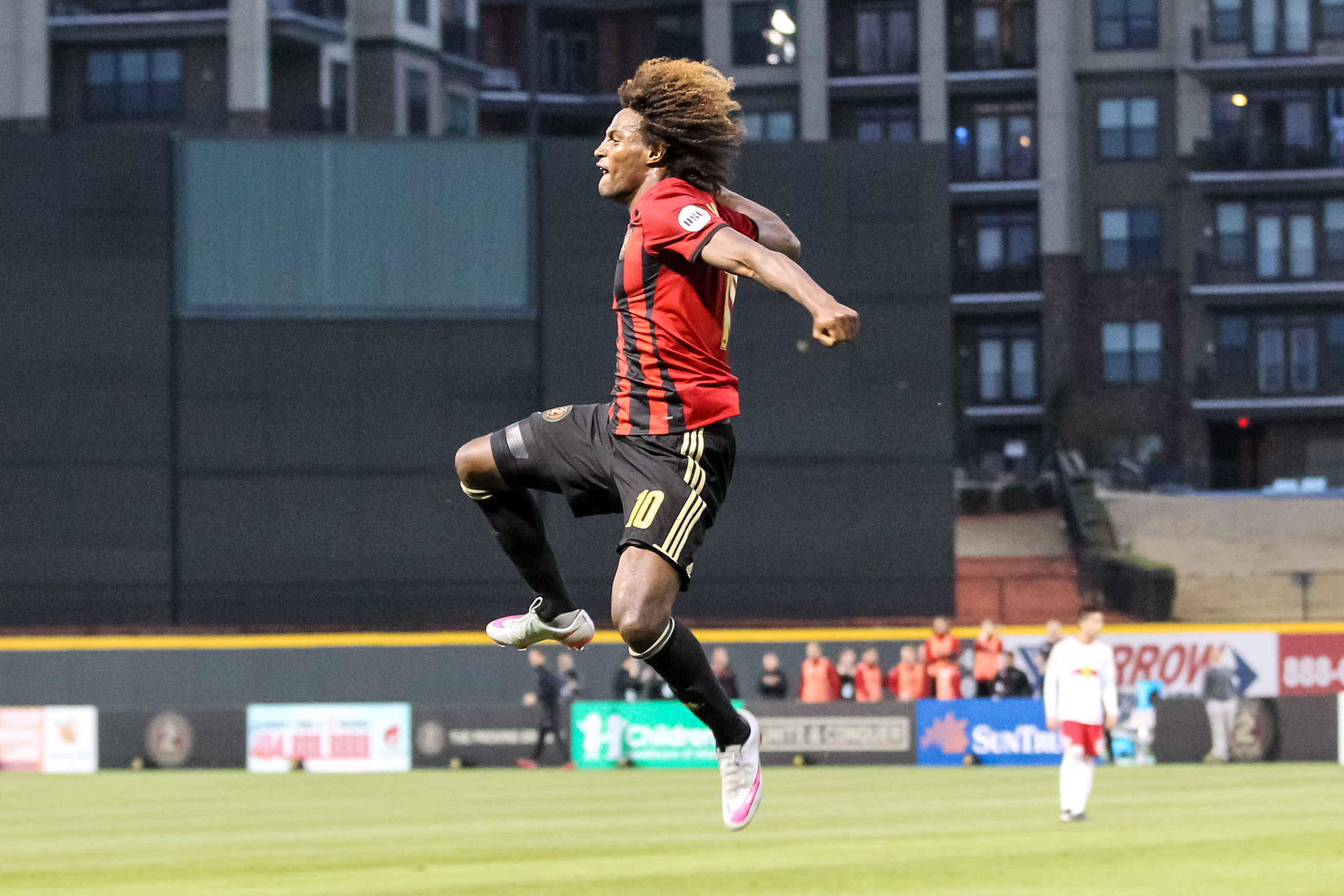 ATLUTD.com
After two years of playing soccer in Philadelphia, Yosef Samuel found himself back home in Atlanta, playing for Atlanta United 2 in the team's inaugural season. He had barely gotten to train with his new teammates before the season started, but 25 minutes into the team's first game against New York he scored the first goal in team history with an acrobatic scissor kick off a deflection, leading to a 3-1 victory.
Samuel was born in Ethiopia and moved to the United States in 2007, where he grew up in the Druid Hills area of Atlanta. After leaving Atlanta to pursue a career in soccer, he spent his first two years in the USL playing for the Bethlehem Steel, but it did not go exactly as he had hoped. "I felt like I struggled a little bit in Philadelphia; I was far from home and I wasn't given a clear instruction on what my role was," explained Samuel.
He also wasn't getting consistent minutes with Philadelphia, which had begun to frustrate the young striker.
Since coming back home and joining Atlanta United 2, Samuel has turned over a new leaf in his professional soccer career. "My coaches really value me in Atlanta and I fit in perfectly with the style of play here," said Samuel.
The Atlanta United 2 squad focuses on maintaining possession, which plays into Samuel's strengths. He is an extremely versatile player, and the style of play employed in Atlanta is allowing him to be patient with the ball and create more opportunities offensively. Samuel is also able to control the pace of the game a lot better with his new team
"We press high a lot in Atlanta," explained Samuel. "And that's something I can do well because I can run a lot".
Samuel feels that he has been much more productive since coming to Atlanta, and the more consistent minutes has helped him retain what he's learned and continue to improve his game "I've been able to make a lot of progress and I've learned a lot, just by playing. If you start one game and don't start the next two, you don't learn much in that span."
Samuel was never able to get into a groove in Philadelphia, sometimes playing for only 10 minutes at a time. Playing a majority of minutes on Atlanta United 2 has allowed him to gain confidence and showcase his ability to make it in the next level, and a certain team took notice.
On June 5, Samuel signed a short-term agreement with Atlanta United for their upcoming game against Charleston Battery.
"It's crazy. I was very surprised that I got called up. Even though I didn't get in the game, being in the locker room with players like Almirón, Nagbe… seeing the way they operate and go about the game, I understand why they are so successful. I want to be in that environment."
Instead of leaving Charleston disappointed that he didn't play, Samuel left hungry to get back to the MLS. He doesn't know when his next call or opportunity will be, but he is staying ready.
"I just have to control what I can control on Atlanta United 2… I feel like I'm ready all the time, I don't really take days off… You can't expect it to just happen to you".
Things are starting to click for Atlanta United 2 in their first season as a USL club, and Samuel and his team will look to keep it rolling against their next opponent Nashville FC.
"We've started to play really well, we're finding our identity and we've got to keep that going".
By Mark Shutley