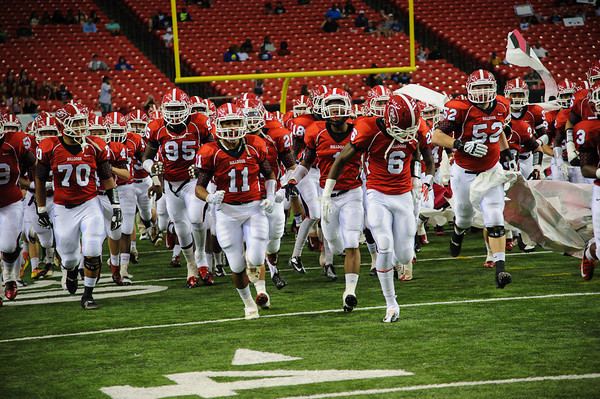 Photo by Ty Freeman
The biggest Corky Kell Classic ever is slated for August 22-23 and features seven incredible matchups between some of the state's top programs and most coveted prospects. Day one of the classic is packed with a double-header featuring two cross-classification matchups. Creekview has compiled a 56-28 record in its program's short existence and included an 8-3 finish last year before falling 34-33 to East Paulding in the opening round of the playoffs.
Creekview head coach Terry Crowder coached Chattahoochee in the Kell Classic before accepting the job with the Grizzlies and enters his second season at the school. North Paulding was classified up to Class AAAAAA this year and looks to challenge the Class AAAAA Grizzlies while coming off a school-record 11-win season in 2013.
Scott Jones took over the North Paulding program in 2012 and is entering his 18th season as a head coach after spending the bulk of his career at South Cobb and Kennesaw Mountain.
Emergent Class AAAAAA Archer faces a Class AAAA Sandy Creek program in the back-end of the Day 1 double-header that has played in a national spotlight for years. However, not many teams ride more momentum than Archer into the 2014 season. Like North Paulding, Archer finished with a school-record 11 wins last season. The Tigers were the only undefeated team in Georgia's highest classification heading into the playoffs and fell short to state runner up North Gwinnett 34-32 in a second round heartbreaker that easily could have been theirs.
Sandy Creek won back-to-back state titles in 2009-2010 and returned to the podium in 2012 with a perfect 15-0 season, including a 45-10 rout over Ridgeland in the state championship. Last year, eventual state champion Griffin upset Sandy Creek in the state quarterfinals and snapped its streak of 27 games without a loss.
DAY TWO …
Friday's double-header is followed by a five-game marathon on Saturday with four Class AAAAAA matchups and one Class AAAA vs. Class AAAAA tilt. The action starts bright and early with a 9 am kickoff between the Kell Longhorns and the Carrollton Trojans. Carrollton is one of the most storied and successful programs in the nation and owns an all-time record of 632-213-28 (.740) and seven state championships.
New head coach Ed Dudley, who fills in for Rayven Teague, spent his previous five years at Ware County. Dudley is familiar with the Trojans program and spent the 1988-91 seasons as Carrollton's defensive coordinator under head coach Ben Scott. In his four seasons as coordinator, Dudley's defenses held 35 opponents to single digits, including 21 shutouts.
Kell comes off a school-record 13-1 sea-son that ended with a semifinals loss to eventual state champion Creekside. The Longhorns are led by head coach Derek Cook and have compiled a staggering 44 wins the last four seasons. This is Kell's fifth time in the Classic and they are 3-1 in their previous appearances including a 26-16 win over Chattahoochee last year.
In the 11:45 am timeslot, Mill Creek will kick off Game 2 with Colquitt County. Mill Creek is led by an offense quarterbacked by Daniel David and powered by Kaleb Kim and Josh Fannin on the offensive line. The majority of the unit returns from last year after averaging 40.2 points per game. Colquitt County has been one of the top programs in the state the past several seasons, but the Packers are still looking for a championship season. Head coach Rush Propst has led the school to five straight semifinals.
In Game 3, Valdosta tees off with Brookwood at 2:45 p.m. Brookwood has appeared in all 23 Corky Kell Classics but has lost three-straight. Valdosta's only Corky Kell appearance came in 1996 against Brookwood and it result-ed in a thrilling 31-28 victory over the Broncos. Tucker and Norcross highlight Game 4 and will pin two of the states most success-ful programs the past few seasons together. Tucker is making the jump to Class AAAAAA this season and is coming off a 14-1 season that ended with a loss to Creekside in the finals.
Norcross defended its only state title in program history last year with a 31-14 win over rival North Gwinnett. The Blue Devils are 28-2 the past two seasons whie Tucker 24-4 and an outstanding 88-10 the last seven years. The Tigers have notched double-digit victories 12 of the last 14 seasons. The final game of the Kell Classic matches up North Gwinnett and McEachern. This will be just the third time these two teams have faced and it will paint a rematch of last year's Class AAAAAA semifinals that resulted in a 27-21 victory for visiting North Gwinnett.
The Indians offense is led by USC-commit Chuma Edoga on the offensive line and fellow Pac 12 commit Taj Griffin (Oregon), one of the fastest players in the country. On the defensive line, McEachern junior Julian Rochester is the play-er to watch. The 6-foot-5.5, 280-pound tackle is listed as the No. 1 prospect in the state and No. 3 recruit in the nation by 247sports for the 2016 class. North Gwinnett is led its traditional po-tent passing attack that features brothers Daniel and Josh Imatorbhebhe and Almonzo Brown at receiver. In the trenches stands 6-foot-5.5, 270-pound offensive tackle and Clemson commit Mitch Hyatt, who is one of the most coveted prospects in the nation.
2014 Metro PCS Corky Kell Classic Schedule
*Games televised on Fox SportSouth & covered live via 92.9 The Game on the radio
See more at corkykell.com
Friday, August 22
6:00 P.M. CREEKVIEW VS. NORTH PAULDING
8:45 P.M. SANDY CREEK VS. ARCHER
Saturday, August 23
9:00 A.M. CARROLLTON VS. KELL
11:45 A.M. MILL CREEK VS. COLQUITT COUNTY
2:45 P.M. VALDOSTA VS. BROOKWOOD
5:45 P.M.  TUCKER VS. NORCROSS
8:45 P.M.  NORTH GWINNETT VS. MCEACHERN