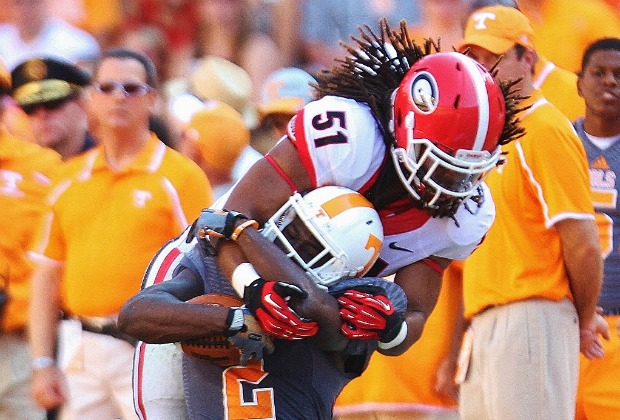 Photo by Rob Saye
As the Georgia football team continues their fall camp in anticipation for the 2014 season, people want to know how the defense is progressing. After talking with some of the players on Thursday, we know that preparation is not being wasted right now by new defensive coordinator Jeremy Pruitt.
Over the summer Pruitt implored his players that need to lose weight, to do just that. Players like outside linebacker Jordan Jenkins did exactly as he asked by shedding about 20 pounds. He says the difference has been huge not just for him, but for the team in general.
"We all watched the film of our spring individual drills/practices (Wednesday night) and the difference is so far," Jenkins said. "Going through some of the ladder drills and watching myself move around, I was big! I definitely feel like it's going have an effect on the season and going to make us that much better during the game."
Jenkins if you'll remember last season mentioned that the Bulldogs defense was having trouble picking up the hand signals for defensive calls during the LSU game last season. There were other times when missed assignments or miscommunication was cited for defensive letdowns during games in 2013. Bulldogs defensive lineman Mike Thornton believes that Pruitt is making sure that doesn't happen this season.
"I wouldn't say that it's simpler (the defensive scheme), but it's easier to pick up right now for the guys," Thornton said. "It's still complex in its ways, but for the most part it's easier to pick up for some guys."
I asked Thornton if he imagines that they could run into a similar situation where they have that same LSU situation against Clemson in three weeks. He believes the defense will have a good grasp on their assignments and scheme by that game.
The secondary last season had their problems on third down and against the pass. Teams converted about 39 percent of their third down attempts and the Bulldogs gave up an average of 227 yards through the air on 18 touchdowns through 13 games.
While Jeremy Pruitt might have some experience on the field with cornerback's Damion Swann/Sheldon Dawson and safeties Corey Moore/Quincy Mauger back after significant playing time in 2013. Swann is the one with the most experience in the defensive backfield. The good news is they and the rest of the young secondary have Jeremy Pruitt as their position coach, after successful stops at Florida State and Alabama. One name that has emerged as a player who's making a move for playing time during the fall is redshirt freshman cornerback Aaron Davis. He says that Pruitt is playing him a little at safety as well. Why? He wants his guys to know this secondary back and forth.
"It's really just increasing the amount of abilities/skills I can do as a defensive back," Davis said. "Safeties have a little different responsibility than corners as far as run fitting. Corners come from the inside and safeties coming down into the box. It's just really making everybody more complete players."
Inside linebacker Amarlo Herrera is back from last season as one of the defense's top returning players, after picking up 112 tackles on the year. That was good enough to rank him third in the entire SEC. Now, he's got to learn a new defense. But, has the learning curve been huge?
"You've just got to know words," Herrera said. "it's different words from the scheme we came from and he's got his own words to go with it. We're just trying to figure out those words and put them with the plays."
Seems like the Pruitt addition is working out so far for the Bulldogs. However, the true test will come on August 30 against Clemson inside Sanford Stadium. Because as we all know, there is no preseason in college football.