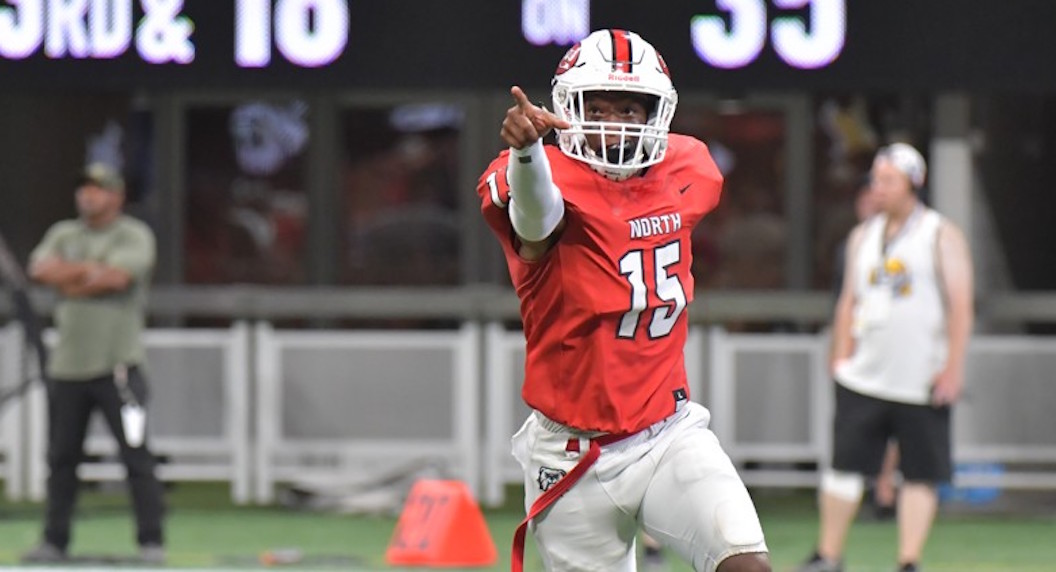 The Metro by T-Mobile Corky Kell Classic is set to kickoff the 2020 high school football season with the largest and most wide-ranging lineup in the event's 29-year history, including national power Hoover High School from Alabama.
Starting Wednesday, Aug. 19 and finishing Saturday, Aug. 22, the 2020 Corky Kell Classic will span across four days for the first time, with four separate venues showcasing a grand total of 11 games, all on television. The decision to start the event with a Wednesday doubleheader opened the door for other historic firsts—including seven first-time participants, two first-time host sites and the first-ever out-of-state program to be featured in the Corky Kell.
"This is the most extensive lineup that we have ever had,'' said Corky Kell executive director Dave Hunter. "It is inclusive of several metro counties and championship programs including Lowndes and Hoover in addition to playing in Forsyth County, Gwinnett County, Rome and downtown Atlanta. The Corky Kell staff is extremely excited about the 2020 year.''
Wednesday's action will unfold at Class AAAAAAA West Forsyth with Class AAA Carver-Atlanta taking on Class AAAAAAA Cherokee in the opener and Class AAAA Mays clashing with the host Wolverines in the backend of the doubleheader. This will be the first-ever Corky Kell appearance for West Forsyth and Carver, as well as Cherokee's first time in the Classic since 2007.
"I think it is going to be a playoff type atmosphere coming out the gate," said Atlanta Public Schools Director of Athletics Jasper Jewell. "There has never been a varsity game played on a Wednesday and the fact that we have been granted that permission to kickoff Corky Kell that way is great and both Carver and Mays are looking forward to this opportunity. I also think it is huge because when it is that time of the year, people will be clamoring for football to be back and they will be chomping at the bit to see some high school football. What better way to start off the season than two Atlanta Public School teams competing against two suburban teams from great programs and great districts."
Dacula High School will be the site of Day 2 of the Classic with Class AAAAAA's Denmark and Tucker squaring off in the opening game and the host Falcons taking on Archer in a Class AAAAAAA showdown in the nightcap. This will be Denmark's first-ever Corky Kell Classic appearance and it will be Dacula's first since 2003.
The action shifts to Rome's Barron Stadium on Friday for a doubleheader between Class AAAA Cedartown and Class AAAAAA Carrollton in the opener and Class AAA Rockmart and Class AAAAAA Rome going at it in the night slot. Carrollton will be making its first appearance in the event since 2014 and Rockmart will make its debut.
Saturday's five-game schedule will close out the Classic with a marathon of must-see matchups. Class AAAAAA Kell and Class AAAAAAA Walton will take the field first at 9 a.m. and then four Class AAAAAAA showdowns will follow. Brookwood and Collins Hill are scheduled for an 11:45 a.m. kickoff and Parkview and Mill Creek go head-to-head in another Gwinnett County showdown at 3 p.m. Then, at 6 p.m. Lowndes will take on Hoover in the first cross-state matchup in event history in what is likely to be a clash between two nationally ranked teams. It will be the first-ever appearance in the Corky for both championship programs.
"We are always looking for the best opponents we can get to challenge our kids and our coaches and our community loves to support us in these ventures," said Hoover Athletics Director Andy Urban. "We're honored to be in the position to be able to do it. For our state and for Georgia to be able to compare a top program across the lines is going to be a great way for both sides to see how we stack up."
"I don't know if you can out-do Mercedes-Benz Stadium," said Hoover head coach Josh Niblett. "I had an opportunity to go in there twice last year and watch a couple games. It's just an unbelievable venue and playing there will be an experience that our kids will never forget."
The final matchup of the 2020 Classic will feature McEachern and North Gwinnett in a Cobb County vs. Gwinnett County battle. All 11 games will be televised on Peachtree TV and CBS46, while 92.9 The Game provides radio coverage for all of the matchups. For more information, go to CorkyKellClassic.com.
Of the 22 teams playing in Corky next year, all of them reached the playoffs this season and 15 have advanced to the second round.
"For Dave and I, it was very interesting putting all the teams together,'' said Corky Kell partner I.J. Rosenberg, who is also president of Score Atlanta. "We try to take Corky to the next level every year and we had a lot of options and spent a lot of time on the phone with a number of schools. We think the result is the 22 schools that we have really give us the best field ever in Corky. Combine that with our CBS46/Peachtree TV and 929 The Game relationship as well as our digital presence, this has truly become one of the most powerful high school events in the country.''
2020 Metro by T-Mobile Corky Kell Schedule
(Home Teams on left)
Wednesday, Aug. 19 (At West Forsyth)
Cherokee vs. Carver-Atlanta (5:30 p.m.)
West Forsyth vs. Mays (8:30 p.m.)
Thursday, Aug. 20 (At Dacula)
Denmark vs. Tucker (5:30 p.m.)
Dacula vs. Archer (8:30 p.m.)
Friday, Aug. 21 (At Rome's Barron Stadium)
Cedartown vs. Carrollton (5:30 p.m.)
Rome vs Rockmart (8:30 p.m.)
Saturday, Aug. 22 (At Mercedes-Benz Stadium)
Kell vs. Walton (9 a.m.)
Brookwood vs. Collins Hill (11:45 a.m.)
Mill Creek vs. Parkview (3 p.m.)
Lowndes vs. Hoover (6 p.m.)
North Gwinnett vs. McEachern (9 p.m.)