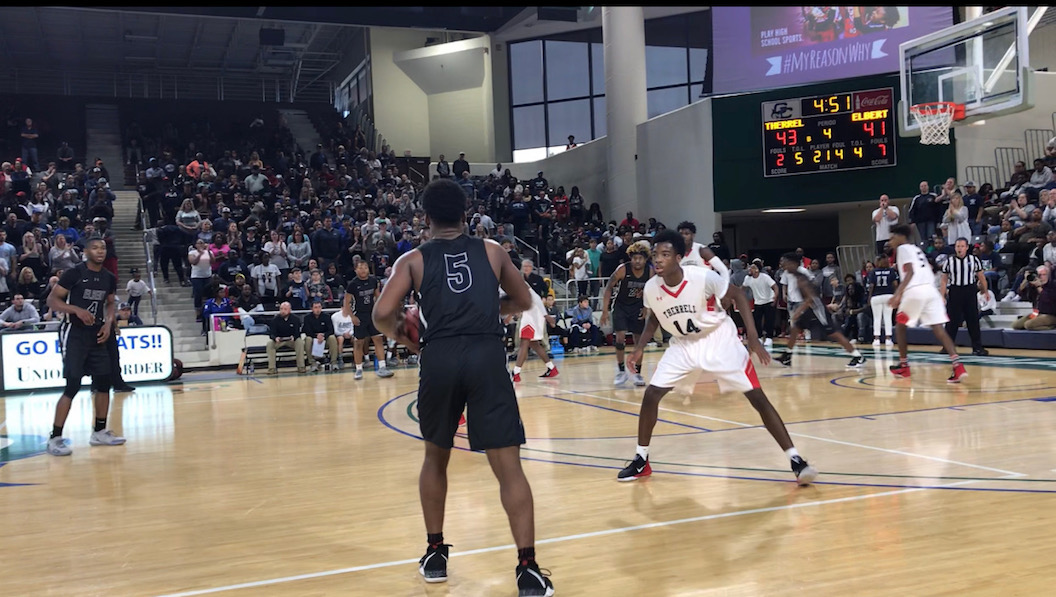 In Class AAAAAAA, No. 1 McEachern and No. 2 Norcross are off to 3-0 starts. Grayson improved from No. 5 to No. 3 after opening up the season with an 88-33 win over Jackson and a 74-53 win over Berkmar. The Patriots' 19-point loss dropped them from No. 4 to No. 8.
Lanier and Allatoona replaced Brunswick and Gainesville in the Class AAAAAA top 10 after Brunswick's 1-2 start and Gainesville's 0-2 start. Lithonia took over No. 1 in Class AAAAA and former No. 1 Fayette County dropped to No. 5 following losses to Newton (88-78) and East Coweta (79-70). Also, Hiram makes its debut at No. 4 after a blazing 3-0 start and Cedar Shoals debuts at No. 10 after Buford and Warner Robins exited the poll.
In Class AAAA, the top 3 remained intact with No. 1 Woodward Academy, No. 2 Denmark and No. 3 Sandy Creek, but former fourth-ranked Carver-Columbus dropped out of poll after a 65-44 loss to Newnan and Cross Creek debuts at No. 10.
Monroe replaced Westside-Macon in the Class AAA poll and debuts at No. 10 and the Class AA rankings did not see changes in the past week. Only three of the 10 teams in the Class A-Public top 10 have started their seasons at this point and the results did not influence the current standing.
In Class A-Private, Eagle's Landing Christian fell to Galloway 54-51 and Greenforest Christian 80-26 and fell all the way from No. 2 to out of the top 10. Greenforest took over No. 2 in this week's rankings and Galloway (4-0) comes in at No. 10 after Riverside Military also dropped out after a 1-2 start.
Class AAAAAAA
1. McEachern
2. Norcross
3. Grayson
4. Milton
5. East Coweta
6. Pebblebrook
7. Wheeler
8. Newton
9. Berkmar
10. Tift County
Class AAAAAA
1. Tri-Cities
2. Tucker
3. South Cobb
4. Langston Hughes
5. Chattahoochee
6. Douglas County
7. Lanier
8. Allatoona
9. Mundy's Mill
10. Alexander
Class AAAAA
1. Lithonia
2. Eagle's Landing
3. Kell
4. Hiram
5. Fayette County
6. Carrollton
7. Southwest DeKalb
8. Dutchtown
9. Lithia Springs
10. Cedar Shoals
Class AAAA
1. Woodward Academy
2. Denmark
3. Sandy Creek
4. Eastside
5. Americus-Sumter
6. Dougherty
7. St. Pius
8. Baldwin
9. Chapel Hill
10. Cross Creek
Class AAA
1. Pace Academy
2. Dawson County
3. Windsor Forest
4. Central-Macon
5. Johnson-Savannah
6. Hart County
7. Greater Atlanta Christian
8. Franklin County
9. Jefferson
10. Monroe
Class AA
1. Therrell
2. South Atlanta
3. Vidalia
4. Laney
5. Glenn Hills
6. Woodville-Tompkins
7. Spencer
8. Swainsboro
9. Banks County
10. Jeff Davis
Class A-Private
1. St. Francis
2. Greenforest Christian
3. Walker
4. Trinity Christian
5. Mt. Bethel
6. Christian Heritage
7. Mt. Pisgah
8. Wesleyan
9. Holy Innocents'
10. Galloway
Class A-Public
1. Calhoun County
2. Treutlen
3. Wilkinson County
4. Irwin County
5. Wilcox County
6. Hancock Central
7. Greene County
8. Pelham
9. Marion County
10. Clinch County
On the girls side, Westlake opened its season with a 69-35 victory over Spalding on Nov. 16 and the defending champions stay at the top of the state's highest classification. Cherokee comes in at No. 2 with a 3-0 record after victories over Lanier 69-32, River Ridge 79-48 and North Paulding 62-28. Collins Hill, Pebblebrook and McEachern round out the top-5.
Lovejoy leads Class AAAAAA again this week and is 4-0 on the year with victories over M.L. King 51-25, Tucker 77-30, Forest Park 64-46 and Drew 91-22. Valdosta is No. 2 this week with a 2-0 record and victories over Carver-Alabama 63-46 and Early County 71-64.
In Class AAAAA, Buford is at the top again this week with a 3-0 record and victories over Eagle's Landing 78-64, Greater Atlanta Christian 59-25 and North Forsyth 64-43. Carrollton, Statesboro, Veterans and Wayne County round out the top 5.
Carver-Columbus lost a close one against Class A-Private No. 2 St. Francis 52-46 on Nov. 16 but stays at the top of Class AAAA this week. Spalding, Luella, Cross Creek and Flowery Branch round out the top 5 in Class AAAA.
Johnson-Savannah is the team to beat in Class AAA again this week heading into Friday's game against local-rival No. 3 Beach. Jefferson is No 2 this week and No. 3 Beach is 1-0 after a 47-42 victory over Brunswick on Nov. 16. Greater Atlanta Christian and Dawson County – at No. 4 and No. 5, respectively – round out the top of the class.
In Class AA, Laney is the team to beat and is 1-1 on the season with a victory over Greenbrier 61-42 and a loss to Grovetown 64-61. Early County is No. 2 this week ahead of Douglass, Washington County and Bryan County, which rounds out the top-5.
Holy Innocents' is at the top of Class A-Private this week ahead of St. Francis, Wesleyan, Hebron Christian and Lakeview Academy. In Class A-Public, Wheeler County leads ahead of Greenville, Clinch County, Bowdon and Calhoun County.
Class AAAAAAA
1. Westlake
2. Cherokee
3. Collins Hill
4. Pebblebrook
5. McEachern
6. North Cobb
7. Grayson
8. Roswell
9. North Forsyth
10. Campbell
Class AAAAAA
1. Lovejoy
2. Valdosta
3. Forest Park
4. Creekview
5. Glynn Academy
6. Dacula
7. Langston Hughes
8. Stephenson
9. Grovetown
10. Douglas County
Class AAAAA
1. Buford
2. Carrollton
3. Statesboro
4. Veterans
5. Wayne County
6. Villa Rica
7. Eagle's Landing
8. Woodland-Stockbridge
9. Starr's Mill
10. Jones County
Class AAAA
1. Carver-Columbus
2. Spalding
3. Luella
4. Cross Creek
5. Flowery Branch
6. Sandy Creek
7.Woodward Academy
8. Troup
9. Druid Hills
10. McDonough
Class AAA
1. Johnson-Savannah
2. Jefferson
3. Beach
4. Greater Atlanta Christian
5. Dawson County
6. Hart County
7. Sonoraville
8. Ringgold
9. Rutland
10. Lumpkin County
Class AA
1. Laney
2. Early County
3. Douglass
4. Washington County
5. Bryan County
6. Rabun County
7. Fitzgerald
8. Putnam County
9. Southwest-Macon
10. Rockmart
Class A-Public
1. Wheeler County
2. Greenville
3. Clinch County
4. Bowdon
5. Calhoun County
6. Central-Talbotton
7. Turner County
8. Marion County
9. Pelham
10. Wilcox County
Class A-Private
1. Holy Innocents'
2. St. Francis
3. Wesleyan
4. Hebron Christian
5. Lakeview Academy
6. Mount Paran Christian
7. Greenforest
8. Calvary Day
9. Stratford Academy
10. Galloway