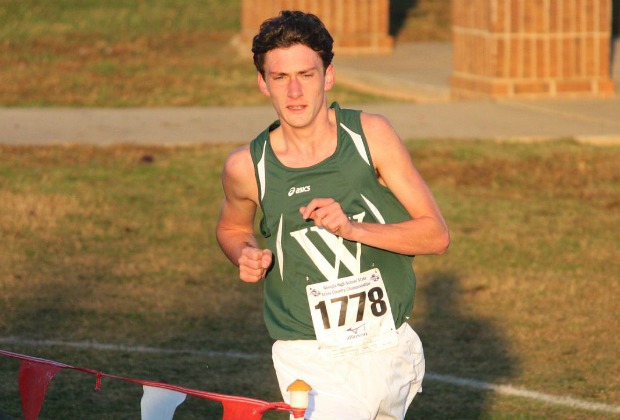 Tami McQueen
Marietta kept climbing in Class AAAAAA and landed at No. 3 after its second major win in as many weeks, this time at the Region 4-AAAAAA championships at Harrison. The Hoyas girls won the Region 4 meet and moved into the Class AAAAAA poll, debuting at No. 6, while North Cobb, which finished second, dropped to No. 8.
At the Carrollton Last Chance Invitational, Etowah finished second and was followed by Peachtree Ridge. The Eagles moved to No. 9 and the Lions entered the poll at No. 10.
Dunwoody entered the Class AAAAA poll at No. 10 after a second-place finish at the Region 6-AAAAA championships at Druid Hills.
In the Region 5-A championships at Our Lady of Mercy in Fairburn, No. 3 Galloway won the race while Landmark Christian came in second and moved up to No. 4.
Blessed Trinity and Cartersville swapped spots in Class AAA, Model moved into the Class AA poll at No. 6 and Lovett fell to No. 8 as a result of finishes at the Carrollton Last Chance Invitational.
In girls Class AAAAA, McIntosh dropped to No. 8 while Whitewater rose to No. 3 due to finishes in Carrollton.
In girls Class A, Providence Christian (now ranked fourth) and Athens Christian (sixth) switched places after the Stars won the Region 8-A championship meet at Athens Academy.
Also in girls cross country, Pace Academy came in second and replaced Holy Innocents' at No. 5.
Boys
Class AAAAAA
1. Mill Creek
2. Norcross
3. Marietta
4. Walton
5. Brookwood
6. Milton
7. Harrison
8. North Cobb
9. Etowah
10. Peachtree Ridge
Class AAAAA
1. McIntosh
2. Lakeside-Evans
3. Pope
4. Winder-Barrow
5. Flowery Branch
6. Union Grove
7. Lakeside-DeKalb
8. Starr's Mill
9. Richmond Hill
10. Dunwoody
Class AAAA
1. Marist
2. Perry
3. Wayne County
4. Alexander
5. Sandy Creek
6. Pickens County
7. Eagle's Landing
8. Dalton
9. Northwest Whitfield
10. Hephzibah
Class AAA
1. Woodward Academy
2. St. Pius
3. North Hall
4. Oconee County
5. Hart County
6. Blessed Trinity
7. Cartersville
8. Chapel Hill
9. North Oconee
10. Grady
Class AA
1. Westminster
2. Wesleyan
3. Bleckley County
4. Jefferson
5. Murray County
6. Model
7. Benedictine
8. Lovett
9. Greater Atlanta Christian
10. Pepperell
Class A
1. Athens Academy
2. Darlington
3. Galloway
4. Landmark Christian
5. Athens Christian
6. First Presbyterian
7. Holy Innocents'
8. Pace Academy
9. Hebron Christian
10. Mt. Pisgah
Girls
Class AAAAAA
1. Milton
2. Walton
3. Roswell
4. Woodstock
5. Peachtree Ridge
6. Harrison
7. Lowndes
8. North Cobb
9. Centennial
10. Lassiter
Class AAAAA
1. Flowery Branch
2. Lakeside-Evans
3. Whitewater
4. Winder-Barrow
5. Dunwoody
6. Lakeside-DeKalb
7. East Paulding
8. McIntosh
9. Union Grove
10. Starr's Mill
Class AAAA
1. Marist
2. Alexander
3. Heritage-Catoosa
4. Chestatee
5. Pickens County
6. Lanier
7. Westover
8. Eagle's Landing
9. Veterans
10. Grady
Class AAA
1. St. Pius
2. Blessed Trinity
3. White County
4. Woodward Academy
5. North Hall
6. Chapel Hill
7. North Oconee
8. Central-Carrollton
9. Grady
10. Jackson County
Class AA
1. Westminster
2. Wesleyan
3. Lovett
4. Jefferson
5. Bleckley County
6. Bremen
7. Union County
8. Thomasville
9. Pelham
10. Coosa
Class A
1. Landmark Christian
2. Darlington
3. First Presbyterian Day
4. Providence Christian
5. Pace Academy
6. Athens Christian
7. Athens Academy
8. Whitefield Academy
9. Mount Pisgah
10. George Walton Academy