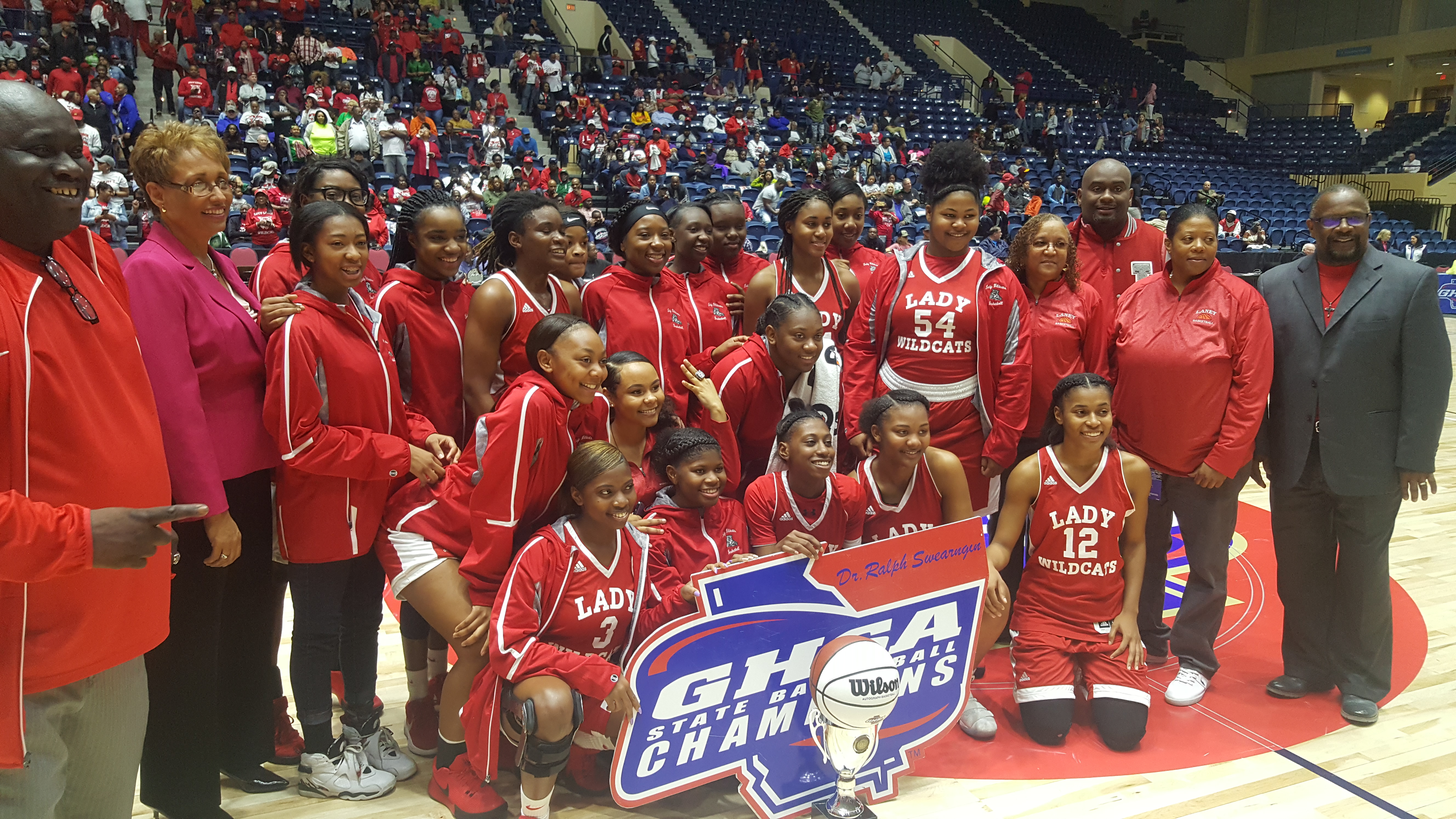 Laney's girls defeated Josey for the fifth time this season for the title.
Laney's flawless record stayed intact as it moved past Josey 63-40 in the Class AA girls state championship at the Macon Centreplex on Wednesday. The Lady Wildcats have not lost since Nov. 22, 2016, a 62-game winning-streak, and have won titles in three of the past four seasons – 2015 in Class AAA and 2016 and '17 in Class AA.
"We have a great team and went 32-0 going through the toughest part of the state," said Laney coach Otis Smart. "We've been through top-10 teams to get here. I believe in them and they believe in themselves. We love it. We love coming here."
Laney's De'Sha Benjamin, an Alabama commitment, nearly single-handedly pulled the Lady Wildcats out of a small deficit early in the game. Her hot-handed shooting allowed Laney a 13-10 lead after the first quarter and by the 2:40 mark in the second quarter, she had 17 of Laney's 24 points as the Lady Wildcats expanded the lead to 24-16.
"It means a lot, this is going to be my third one," Benjamin said following the game. "I'm just happy. I won one my ninth grade and my eleventh grade year so we are back-to-back state champs."
Laney pushed the lead to 29-20 at the break with Benjamin scoring 19 points on 8-of-14 shooting from the floor and 3-of-four shooting from the free-throw line. Teammate Jhessyka Williams added seven points and Jaiden Hamilton scored three.
And that was as close as it would get. Laney pushed the lead to 45-27 after the third quarter, holding Josey to just seven points in the frame.
The Lady Wildcats were led in scoring by Benjamin who finished the game with 26 points on 8-of-11 shooting from the floor. Williams finished with 19 points on 5-of-7 shooting. Hamilton added 14 points on 2-of-3 shooting from outside the arc and 2-of-3 shooting from the field.
"It gets tiring," Benjamin joked of the 62-game winning streak. "But we have put in work in the gym all the time, we just run and run and it paid off."
Josey was led by Ebony Clark who scored 12 points on 4-of-9 shooting. Teammate Tykedra Rolland added 10 points on 3-of-9 shooting. Her twin sister, Rhykeria, scored seven points.