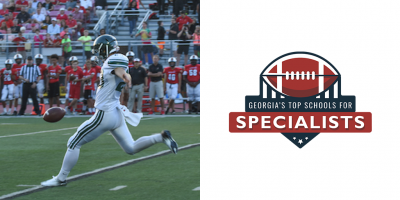 For decades, Georgia High School Football has been the home for outstanding specialists, consistently proving that the state produces some of the best specialists in the nation. The talent displayed by specialists is seen on every football field on Friday nights across the state. Below, I will list 10 of the state's top programs when it comes to specialists. The criteria that was considered in making this list varied program to program. For example, some of the programs made the list based on specific moments of unprecedented success in special teams for their respective programs, while others were measured by more recent trends. This list is not perfect.
1. Westminster – The Wildcat's prowess for producing quality special teams players, especially kickers and punters, has landed Westminster at the top of the list. Westminster is unique in the fact that it is one of, if not the only, program in the state with a designated kicking coach: Joe Sturniolo, or coach Sturno as he is called. He joined the program in 2000 after a meeting with head coach Gerry Romberg when Sturno was signing his daughter up for classes. Sturno offered to help with the football team and eventually he gravitated toward the kickers. Soon, his work began to pay off. Westminster's success began with Smith Harverty in 2007 when he was selected for the all-state team. The Wildcat's most successful product is Harrison Butker, who played soccer, basketball, and football for the Wildcats. Butker, a 2013 grad, went to Georgia Tech as a three-star recruit and became Georgia Tech's leading points scorer. He was 208-of-210 on extra point attempts and 43-of-60 on field goal attempts during his career at Tech. He was selected by the Carolina Panthers in the seventh round of the 2017 NFL Draft and signed by the Kansas City Chiefs later that year. Butker became a Super Bowl champion when the Chiefs defeated the San Francisco 49ers 31-20 in Super Bowl LIV in a game where he converted all four extra point attempts and made a 31-yard field goal. More successful punters and kickers to come from Westminster are Charlie Ham (c/o 2019, Duke), Alex Gracey (c/o 2018, Stanford), Blake Gillikin (c/o 2016, Penn State) and for more on Westminster's kicking program, follow the link here.
2. Norcross – Norcross comes in at No. 2 as it has produced several quality specialists in the past few years. Jake Camarda graduated in 2018 and, as a three-star recruit, signed with Georgia after committing in 2017 as a junior. Kicker Cole Hanna, a 2018 grad, walked on at South Carolina and was competing for the No. 2 kicker spot behind incumbent Parker White. Kicker Kellen Grave de Peralta is a 2020 graduate who is committed to the Navy. Returner Myles Autry, a 2016 graduate, signed with Georgia Tech before going to Hutchinson Community College.
3. Richmond Hill – The Wildcats have had success at producing specialists and the list continues to grow. Beginning with Canon Rooker (c/o 2012, Middle Tennessee) Richmond Hill continued with AJ Vandegrift (c/o 2014, Snapper, Limestone), Drew Crawford (c/o 2017, Independence Community College), Joseph Petriono (c/o 2018, Maryland), Matt Daniels (c/o 2019, West Virginia), returner Aaron Bedgood (c/o 2019, Coastal Carolina) and upcoming 2021 graduate Britton Williams.
4. Athens Academy – Athens Academy climbed the list with notable specialists over the recent years with Michael Santamaria (c/o 2014, Virginia Tech), Drew Byus (c/o 2018, walk-on UGA), three-star James Williams (c/o 2020, Syracuse) and Magill Bauerle (Georgia Southern).
5. Marist – Marist has produced a few quality specialists lately led by three-star kicker Justin Moore (c/o 2010, Georgia Tech). Three-star kicker Austin Hardin (c/o 2012, Florida) continued the trend ahead of punter Brendan Farrell (c/o 2019 Virginia), place kicker Joey Gogol (c/o 2015, Furman) and four-star returner Kyle Hamilton (c/o 2019) who is a safety at Notre Dame.
 6. Colquitt – Colquitt County's All-American kicker Ryan Fitzgerald (c/o 2019, Florida State) leads the group of quality Packer specialists along with Luis Martinez (c/o 2016, Georgia Southern) and Oscar Luna (c/o 2012). Fitzgerald, a three-star recruit, made 22-of-27 of his field goal attempts as a senior at Colquitt County.
7. Sprayberry – Why? Hot Rod. Rodrigo Blankenship carried his three-star rating from high school into a walk-on role at the University of Georgia before blossoming into everyone's favorite kicker. Blankenship, who was an all-state selection in high school, red-shirted his freshman year before leading the team in scoring during the 2016 season. As a sophomore in 2017, he received a full athletic scholarship. Against Oklahoma in the 2018 Rose Bowl, he converted a Rose Bowl record-setting 55-yard field goal as the Bulldogs pulled away. He was named to the first-team All-SEC in 2019 and the second-team All-SEC in 2018. He signed with the Indianapolis Colts as an undrafted free agent in April of 2020.
8. Cartersville – Cartersville's ability to produce specialists as of late began with three-star punter Collin Barber, a 2012 grad who signed with UGA and played four seasons. Jonathan Cruz (c/o 2018, Charlotte) was rated as the No. 23 kicker in the 2018 class. Gabriel Gridley, a 2018 grad, plays at Angelo State.
9. Allatoona – Kicker Skyler Davis, a 2018 graduate, plays for Elon and was 17-of-22 on field goals in his freshman season and 10-of-15 in 2019. While in high school, Davis spent time with Jude Kelley, a 2020 punter who committed to Georgia Tech. During his senior season, Kelley made a record 19-of-25 field goals, which included a career-long 54-yard field goal against Cartersville. His talent was on full display after his game-winner against Richmond Hill in the semifinals to send Allatoona to the state title game against Harrison.
10. Blessed Trinity – BT makes the list with 2016 graduate Brooks Hosea, a two-time all-state punter who committed to Army. Riley Lyons (c/o 2010, Dartmouth) played four seasons for the Big Green. Mitchell Rostowsky graduated in 2015 and was a walk-on at UGA.