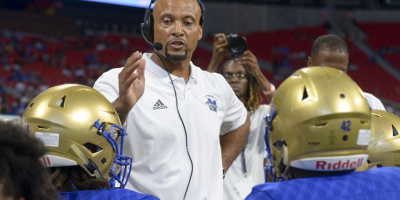 Photo: Daniel Varnado/For the AJC
The 'Georgia Prep Sports: From a Distance' videocast has provided insight and breaking news every Monday, Wednesday and Friday relating to the ongoing COVID-19 pandemic and the state's plans to return to high school sports. The direction of the show, however, took a dramatic turn with today's episode as discussions centered on the newest crisis gripping our nation and forcing the governor to declare a much different type of State of Emergency from that of which relates to COVID-19.
Exactly one week ago today, 46-year-old unarmed African American George Floyd was murdered at the hands of the Minnesota police in a video that has sparked condemnation and an unbending demand for justice. Protestors gathered in Minnesota and other cities across the nation the day after Floyd's death. These demonstrations escalated and became more widespread in the following days, and by last Friday evening, the city of Atlanta was faced with violence and destruction in its streets as the peaceful protest morphed into a night of utter chaos. One of the Minnesota officers has since been charged, but even the expedited criminal investigation into Floyd's death and the subsequent charges for one of the four cops involved couldn't quell the historically-rooted frustrations of racial injustices in America.
Friday's shocking events compelled the city of Atlanta and the state to dramatically increase its police presence as Governor Brian Kemp issued a state of emergency. Curfews also went into effect—sparking even more debate about the use of excessive police force, with race resting at the heart of the issue.
There are people out there that hope that the collective outrage over Floyd's death will produce a lasting change in America, especially as many members of law enforcement speak out against the inhumane brutality seen in the video and make their voices heard at a volume not typically experienced after similar events. The reality, however, is that moving forward together as a nation is going to require a deeper awakening of sorts. I'm realizing, that using past events to create a path forward is not a viable answer this time around. For starters, we live in the age of social media and the protests seen in the last week are unlike any others that this country has encountered. The connectivity afforded by today's technology has allowed protests to mobilize and be shared to the internet in real time. A crowd size can swell in a matter of minutes and police have little ways to control the movement without increasing their overall presence.
Additionally, outside forces and groups with other interests can mingle with protestors in order to create their own disruptions, which further complicates the situation. Nobody can honestly predict what is going to happen next from here, and the fact that this is an election year is another complicating factor for the road ahead with political and class divides adding to the fire.
I point this unpredictability out especially because Atlanta officials proudly spoke about the city's history of peaceful demonstrations on Friday—only to be completely overwhelmed and caught off guard just hours later when violence erupted.
We have all been impacted with what we have seen unfold in the past week. It is undoubtedly a difficult situation, and it is one that parents, teachers and coaches are going to have to talk to young kids about. 'Georgia Prep Sports: From a Distance' focused on this challenge and interviewed four guests on Monday about how they are going to address this issue moving forward and what can be done to help.
Host and President of Score Atlanta I.J. Rosenberg is an Atlanta-native and graduate of Lakeside High School in DeKalb. He talked about his own experience attending Lakeside during the school's integration during the show and what could be done moving forward to help mend the racial tension that has escalated over the past week. The show's first guest was McEachern head football coach Franklin Stephens, who gave a candid account of what being an African American male has taught him.
"It's a lot of mixed emotions when you look at what has transpired really not just this weekend, but over the couple of weeks," said Stephens. "I think when you look at the past couple of weeks, and you start with what occurred down in Brunswick with Ahmad Arbery and it moves to Minnesota and now into the Atlanta area and all over America with the riots, protesting and different things that are going on, it's sad. The emotions are mixed and it lets you know that any of these things can happen anywhere in America."
"You have to understand, my dad was an officer," explained Stephens. "He was a Deputy Sherriff in Burke County and I have the utmost respect for law enforcement. My original degree was in criminal justice before I got certified as a teacher, so I have been around law enforcement my entire life and I have a lot of respect. But the other thing is that I have been a black male, and as I told my wife, 'I'm not just a male, I'm a large black male.' Being a large black male, there are experiences that happen where I hear things that come from people living in a false world. I say that because I have been exposed to the racism and the prejudice in my life."
John Woods was the next guest on the show and talked about some of the incidents he has seen over the years that have changed his own perspective about race. Woods assumed the role of stepfather to three African American sons when he married Janelle Woods—who had three kids with Mookie Blaylock during a previous marriage. Woods talked about the time when he had bought Zack a car when he was playing football at Kentucky. One day, Zack was pulled over for speeding and the first question from the officer when he met Zack at the driver's window was whether or not the car was stolen. It is experiences like this that Woods says has taught him to better understand the issues of race in America.
Newly-hired Mountain View head coach John Poitevint joined the program to talk about the open door policy he plans to have with his new team this upcoming season in order to make sure they feel comfortable discussing difficult topics such as race. I joined Poitevint near the end of the program to express some of my own opinions about the events that have unfolded over the past week. I have co-authored a pair of books relating to professional Atlanta sports franchises and have done considerable research about the city's history over my years covering the city. The message I wanted to point out is that the opposite of racism is not saying that you are not a racist. Rather, the opposite of racism is anti-racism and we all need to make a concerted effort to stand against racism so that this next generation can live in a more peaceful and equal America.