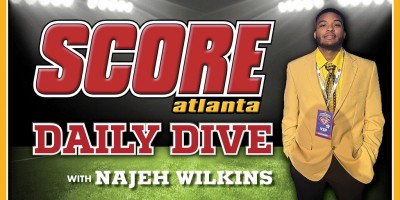 John Cineas is an impact player for the Grayson Rams on offense and special teams this season. He is a player to watch especially in the matchup against Lowndes this Friday. Cineas leads Grayson in catches (18) receiving yards (300) and touchdowns (4). He is dynamic when the ball touches his hands and can take it the distance on any play. He was pivotal in Grayson getting a road victory against Spartanburg (SC), coming up with a clutch catch in the fourth quarter on 4th and 27 that helped put the Rams in field goal range.
"#20 pressed me and I had to give him a move. He stuck his arm out to press and I swatted it down just like my coach taught me," said Cineas. "I had to swat it down. I looked back and I saw JD had thrown me the ball, and I already knew I was going to come down with it. I had to make the adjustment and it was just there."
On special teams, Cineas already has two kick returns for touchdowns this season. One came in the first week of the season against Walton and the other against Eagles Landing. He talked about what makes him so good in the return game.
"It doesn't come down to just me. It's the other guys on the field because without them I wouldn't be able to return the kick without their blocks," said Cineas. "They are giving me some good blocks. I just have to find the creases and things and just hit it. I have to trust myself."
Cineas worked hard in the offseason to improve his game and he focused on his route running. He not only did drills but also watched film to see where he erred and could improve. He credits watching his own mistakes and his relationship with his wide receiver coach and offensive coordinator for a great start to 2023.
"I worked on my route running. I did drills and watched film because you have to watch yourself to see what you are doing wrong," said Cineas. "Once you get a visual and see what you have to do, it is better for you. My relationship with my coaches is great. I come in every Sunday and we are watching film on the next team we have to play. They help me dissect the film and prepare me for college. They both come from the college level and they show me how the next level dissects film and the time they put in preparation for the game."
Cineas is a three-star player with 14 offers and several from Power 5 programs. His most recent offer came this past summer from Louisville in May. He talked about the offer, how he got it, and how thankful he is for all the colleges that are giving him an opportunity to play at the next level.
"I love all the offers because it gives me an opportunity to play on the next level. The Louisville offer was great. When I first talked to him and he said he was going to offer me I was excited," said Cineas. "I wasn't prepared for that and I was just coming back from a workout and was coming back from our lifting workout. Then, the receiver coach for Louisville was there and he said he liked my film. I was excited because I be trying so hard out there on the field."
Cineas stands at 6'1 and 200 pounds and uses his physicality to his advantage but he's not just a physical receiver. Cineas has an uncanny ability to adjust to the football and make big time catches. His burst after catches and speed in the open field makes him a touchdown waiting to happen and a threat defenses have to account for. Cineas has his eyes set on winning a state title for Grayson and being an all-state player. He is certainly off to a great start in 2023.
Want to get to know John Cineas more? Check out this rapid-fire Q&A below to know more about the talented 2024 WR.
Go-to-song Pregame: J Dot First Week out. It gets me turnt and mentally locked in you know. It gets me ready to go hit somebody
Favorite Postgame Meal Place & Order: Everything be closed when we are finished playing. Everything is closed down here. I just go home but sometimes I get IHOP. If I get to IHOP, I get the all-breakfast omelet and some pancakes.
Favorite Clothing Brand: Nike because it has had a big influence on me my whole life.
Favorite Pair of Shoes: I like the Jordan Black Hats. You can't go wrong with some Jordan 4s that are all black. Jordan fours are like the best shoes.
Best Youth Memory Playing Football: It was my first year playing football and we were playing the team we had lost the first game to, so it was in the semifinals. We needed a first down and it was fourth down. Back then I was playing tight end so they called a go route for me. The quarterback had thrown me the ball and I don't even know how I caught it but they said I caught the ball one handed and I scored, so that has to be my favorite memory. One I just didn't know and it was exciting seeing all my folks happy for me doing that.
Madden or 2K: Madden and I play mostly Ultimate Team.
Favorite NFL Team: I am a big Seahawks fan. I watched the Seahawks a lot and I was playing running back at the time (youth days). Who helped me fall in love with the game was Beast Mode (RB Marshawn Lynch). He was just ecstatic and was playing for the Seahawks. I just loved it.
Wide Receivers You Like In The NFL: Two people I like watching are Ja'marr Chase and Cooper Kupp. Cooper Kupp just won the triple crown as a receiver. I gotta take what I can from the top and learn from the best. Chase is just a dawg.