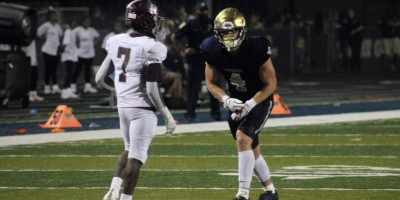 The GHSA released the new classifications for the 2022-24 seasons on Nov. 2 and the new 3.0 out of zone multiplier brought major changes that specifically impacted private and city schools—sending them up multiple classifications in several cases. The changes were intended to happen and GHSA introduced the multiplier to even the playing field after schools and their leaders advocated for it ahead of this latest reclassification cycle. By my count, there were more than 90 programs entering new classifications across Class 2A-7A. Appeals were expected, and historically a part of this process, but the volume of appeals that have already been submitted demonstrate the vast impact that the multiplier has had on the overall landscape.
This Tuesday, the Atlanta Journal Constitution reported a total of 60 schools that are contesting their placement in the new classifications. The vast majority (43) are schools petitioning to be moved into lower classifications and there are also 17 schools that will appeal to be moved up in classifications. If any one of these appeals were to be won by the schools, that will result in a shift that could impact teams that are not appealing. For example, if an appeal is won by a team in Class 6A that moves down to Class 5A, then that would send a new team up to Class 6A.
The headliners of the appeals are private schools St. Pius and Woodward Academy and city school Carrollton—all who challenging the decision to be moved up into Class 7A. Carrollton was moved up from Class 6A, while St. Pius and Woodward Academy jumped two classifications after competing in Class 5A the past cycle.
On the opposite end of the spectrum, Class A Private schools Trinity Christian and Holy Innocents' are among the 17 schools looking to move up in classifications—and both schools are asking to be moved up to Class 4A.
In total, the 60 appeals are more than twice as many as the previous reclassification cycle. Todd Holcomb of the AJC tracked the schools that are challenging their new placement.
To access all the reclassification assignments CLICK HERE
From 7A to 6A:
Arabia Mountain
Camden County
Carrollton
East Paulding
Etowah
Kennesaw Mountain
Richmond Hill
Rockdale County
St. Pius
Woodward Academy
From 6A to 5A:
Blessed Trinity
Cartersville
Chapel Hill
KIPP Atlanta Collegiate
Marist
New Manchester
From 6A to 4A:
Thomas County Central
From 5A to 4A
Calhoun
Flowery Branch
Greater Atlanta Christian
Jefferson
Jenkins
Perry
Riverdale
Starr's Mill
Walnut Grove
Whitewater
From 4A to 3A
Central-Macon
Cross Creek
Johnson-Savannah
Pickens
Richmond Academy
Ridgeland
Sonoraville
West Hall
From 4A to 2A
Lovett
From 3A to 2A
Bremen
East Jackson
Therrell
Thomasville
Vidalia
From 2A to A
Bryan County
Social Circle
Below are schools petitioning to play up:
7A
Milton
6A
Jackson County
5A
Mays
4A
Holy Innocents'
Mary Persons
Pace Academy
Trinity Christian
3A
Savannah
Woodville-Tompkins
2A
Aquinas
BEST Academy
Coretta Scott King
Davidson Fine Arts
Elite Scholars
Fellowship Christian
Johnson-Augusta
Technical Career Magnet