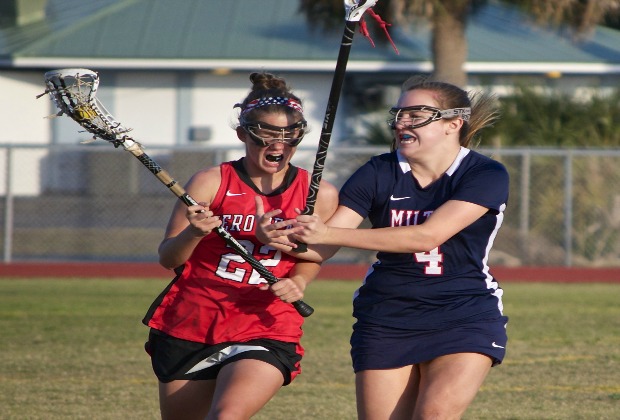 Photo by Kevin Laughlin
The Walton girls are the No. 3 seed out of Area 2-AAAAAA, but as its 24-3 road win over Kennesaw Mountain in the first round on Wednesday proves, this is a very talented No. 3 seed. Walton's only losses this season were to top-seeded Milton and No. 2-seed Lassiter, and Milton finished the regular season perfect against in-state competition while the Trojans' lost to Milton 14-10 on April 26.
Walton jumped to a 15-2 halftime lead over Kennesaw Mountain and cruised to victory in the second half. Erin McBridge scored six goals and dished two assists and Kylie Holthaus recorded a hat-trick. Five Raiders (Hunter Corvin, Lindsey Epstein, Meaghan Butler, Sydney Baker, Reilly Ewing) each netted a pair of goals and five other players found the net once.
No. 2 seeded Lassiter dominated Newnan 25-3 and followed the lead of Alexa Daugherty, who scored a game-high four goals. Top-ranked Milton handled Hillgrove 21-1 to advance to the quarterfinals.
No No. 4 seed made it out of the first round in any classification, but the Blessed Trinity boys were close. The Titans fell short 12-11 in its trip to Decatur on Wednesday. Decatur survived and advanced to take on No. 3 Pope, which dominated Holy Innocents' 16-6. Pope had lost five straight games heading into the playoffs against top competition and was just 2-8 against teams with winning records prior to its first round victory.