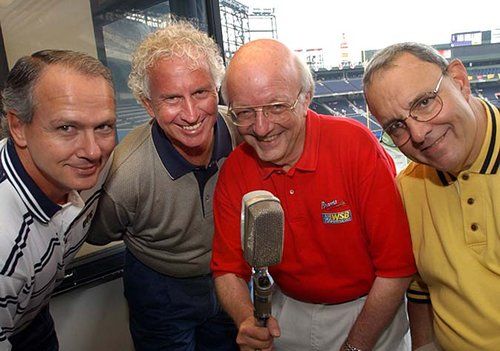 Photo Courtesy of the AJC
I.J. Rosenberg is the president of Score Atlanta. He spent 13 years as a sports writer at the Atlanta Journal-Constitution where he covered the incredible run by the Braves from 1991-96. Beginning with this column, Rosenberg will blog weekly on the sports media in Atlanta.
I miss Pete Van Wieren.
The Professor, who for me was one of the best ever in a baseball radio booth, has now been gone for almost two years.
From 1976 through 2008, Van Wieren called Braves games on radio and television and is a member of the Atlanta Braves Hall of Fame.
With the beginning of baseball season right around the corner, for me it is just not the same without Pete in the booth. I have always been an avid listener to baseball on AM radio and still at night will go out to my truck and put the game on, coming up with some type of work to do in my car.
Van Wieren never quite got the credit he deserved when he was with the Braves. While Skip Caray was a heck of a voice for the Braves, Van Wieren provided the meat as he studied for hours in preparation for the game. The Baseball Hall of Fame has a place for radio announcers called "The Ford Frick Award.'' Skip's dad Harry is in there and this summer Graham McNammee, who is no longer with us and considered baseball's first celebrity sportscaster from the mid-1920's to the early 1940's, will go in.
I don't know if Pete ever has a shot of going in but he certainly did the work of many of the men already in there and like Dale Murphy, the Hall would be a much better place with Pete's mug hanging in it.
OVER AT 680 …
I was talking to a few of my close friends at ESPN and interestingly they said their radio group is keeping an eye on Chuck Oliver and his nightly show called "Southern Sports Today" on 680 The Fan. The yearlong college football show runs LIVE earlier in the day to 30 stations/affiliates around the south and is rerun on 680 beginning at 7 p.m. I have had a few little issues with Oliver over the years as I don't think he takes criticism well which is not unusual for talk show hosts which, guess what, spend their day criticizing. However, Oliver is hardly alone there and I do listen to the show on the way home from work. His knowledge of college football is tremendous and he is not only up to date with new information but a lot of time way out in front of the news. On the SEC Network, I would replace ESPN's Paul Finebaum with him today as there is no comparison in preparation and what you get from each show. Oliver knows college football as well as Tony Barnhart, my former colleague at the AJC. For me, Finebaum's show works because of his guests and I think many of them are phony and set up.
I do feel 680 doesn't do a good job of using Oliver's college football expertise on their afternoon "Chuck & Chernoff'' which has become a mishmash of, well, I am not sure what it is. Chernoff is always the lead on the show and it seems we hear more from the producer than Chuck. What talk show stations don't understand is listeners don't want silliness, don't want to hear about the talent's personal life and the producer should be focused on planning out the show and making sure it stays on time. Give us something we don't know which is what Chuck can do. We want knowledge, we want insightful guests, we want a good caller or two from time to time. 680 has got it right from 9 a.m. to noon with "The Front Row.'' The morning show works because of Chris Dimino and I do feel Nick Cellini is settling in nicely and Christopher Rude has always been a pro … Buck & Kincade is a mess because Kincaid is only about throwing shots and from listening really knows little about sports. "Chuck & Chernoff'' would be much better with more Chuck and more meat in the show. Still, I see Oliver moving on to bigger and better things. College football rules the south and if he had someone like ESPN backing him he would become a real star. Next week I will hit on 929 The Game.
THIS AND THAT AND MORE …
Having done the Braves beat for the AJC when the team was at their best, I can't image how beat writer Dave O'Brien is going to make it through the season with a club that is going to lose a lot of games. But what we continue to get from O'Brien is perhaps the best sports blog in Atlanta. He has a tremendous following and I love the way he ends his blog with lyrics from a song. Recently, it was "Into The Mystic'' by Van Morrison. O'Brien even linked in a great live version of the song by the man who made "Tupelo Honey'' a household brand. Come July, I will send over a pack of 5-hour energy shots. … The amount of copy being put out these days about Kirby Smart and the Georgia Bulldogs blows me away. It dominates the web and the AJC's DawgNation is leading the charge. I will say to Georgia fans to be very careful about expectations for freshman quarterback Jacob Eason.
As a father of a D3 quarterback in the New England College Athletic Conference which is known more for its academics than its athletics, I went on 19 visits with my son and have seen a lot of quarterbacks, from five star ones to a kid like mine who used academics to get a shot at playing football in college. Eason reminds me of many that I have seen at all levels, a player with a very strong arm but questions about the rest of his game. Also, what bothers me a little about Eason is the lack of competition he faced in high school in the state of Washington. I see that all the time when I go watch D3 football as the kids that come from the south and have played in a classification like 6A in Georgia, always seem to stand out. Eason may end up being a star but all I am saying is don't put the crown on him just yet. … I wrote a fun piece for AJC.com running now on former Braves third baseman Bob Horner. The blonde-haired one with those piercing blue eyes is one of the true characters coming from a time when the Braves struggled mightily.