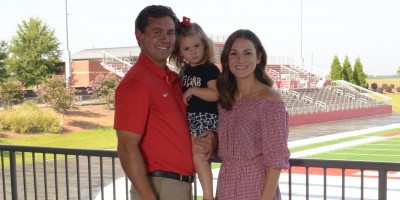 The Atlanta Falcons Coach of the Week program recognizes high school football coaches across the state of Georgia for their hard work and dedication to making a difference in student-athletes' lives on and off the field. North Oconee head coach Tyler Aurandt is the fifth winner of the 2018 season as he has been influential in the Titans' rebounding season.
Aurandt has a history of football in the state as a 2002 graduate and playing for Greater Atlanta Christian. He carried his football talents into college and won a national championship as a wide-receiver at Valdosta State in 2004. Following a suggestion and offer from Chris Hatcher, the Valdosta State head coach at the time, Aurandt took a job on the Valdosta staff and in 2007 he won a state title as an assistant coach. It was clear that coaching was his calling and in two seasons with North Oconee, Aurandt has turned the team into a winning one.
If you were looking for a phrase to describe North Oconee's current football program versus previous few seasons, "absolute and complete turnaround" would not even come close to grasping what is taking place in Bogart.
"Coach Aurandt took over a program that did not win a game in 2016," said North Oconee booster  Adam Wilson. "This year we are 5-1."
"In one year, he has turned the football program around," said assistant principal Cassy Moon. "Although I do not know all of his coaching achievements I can tell you that I have worked with coach Aurandt at both Grayson High School and North Oconee and he is not only an outstanding coach but an even better teacher."
In 2017, Aurandt's first year at North Oconee, the Titans opened with a 35-14 victory over Grovetown before losing nine consecutive games. It was a painful first-year for Aurandt as well as the fanbase which was welcoming a first-year coach. But out of that pain grew the desire for a culture change within the football program and it's reaping benefits on the field this year.
"His vision for the football program at North Oconee goes well beyond the field," said Moon. "His biggest goal is to nurture and cultivate character in each and every player in his program. He brings in speakers each week as part of his character-building program so that the students leave North Oconee equipped to impact the world in a positive manner."
Aurandt is also aware of the importance of instilling proper form and football knowledge into young generations that will eventually fill his team's ranks. With that in mind, Aurandt turned to the youth program and its coaches with a goal.
"He invests his personal time into the youth program," said Wilson. "Spending time with the youth coaches hosting camps and clinics to get the youth program right. He constantly promotes proper hitting drills, tackling techniques so that the youngsters learn it the right way and learn to love the game of football."
For North Oconee, the strong start at the beginning of October is welcomed and, according to the fanbase, the success started at the top.
"He deserves it," said Wilson. "He has worked countless hours and invested a lot of personal time to get the program headed in the right direction," said. Wilson. "He cares about these players as men, future husbands and dads."
"Coach Aurant is a young coach who spends so much of his time impacting the boys he coaches," Moon added. "Sure, he wants to win football games but more importantly, he wants these boys to win at life. He is going above and beyond to provide them with a positive role model in the classroom, on the field and in the community."
Each week, one coach will be selected to be the Atlanta Falcons Coach of the Week based on his commitment to his team, community and player safety. The winning coach will receive a $1,000 equipment grant, a commemorative football and tickets to an Atlanta Falcons home game.
To nominate a varsity football coach: Click Here
Rolling nominations will be accepted until Nov. 1.