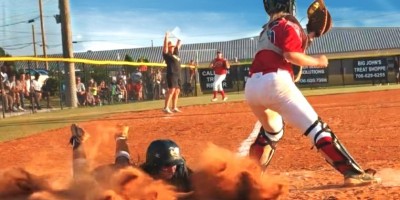 Calhoun Softball Twitter
There was plenty of region softball action tonight across the state as teams are vying for region seedings and the bracket positioning that goes with them.
Class AAA's Calhoun earned a home playoff-berth in the first round of the state tournament following its 3-1 victory over Sonoraville in the Region 6 tournament.  In Region 2-AAAAAA action, South Effingham won Game 2 against Statesboro (10-2) after falling in Game 1 (2-0).  The victory forced a Game 3 on Thursday.
In volleyball, Greater Atlanta Christian defeated Archer in four sets (25-23, 25-17, 17-25, 25-10).
Softball
Academy For Classical Education 14, Lake Oconee Academy 2
Alexander 3, Northgate 1
Apalachee 4, Habersham Central 1
Brookwood 13, Norcross 1
Calhoun 3, Sonoraville 1
Cambridge 4, Pope 1
Camden County 5, Tift County 1
Campbell 16, Westlake 3
Citizen's Christian 9, Charlton County 5
Claxton 8, McIntosh County Academy 6
Coffee 3, Northside-Warner Robins 0
Collins Hill 8, Peachtree Ridge 0
Cook 8, Berrien 0
Decatur 7, North Springs 6
Dunwoody 9, Chattahoochee 1
East Hall 12, Lumpkin County 4
East Hall 9, Dawson County 0
Echols County 6, Atkinson County 1
Forsyth Central 4, West Forsyth 2
Hampton 3, Eastside 0
Harlem 10, Screven County 0
Harrison 2, Allatoona 0
Heritage-Catoosa 4, LaFayette 2
Heritage-Catoosa 6, LaFayette 0
Heritage-Conyers 8, Greenbrier 0
Hillgrove 10, North Cobb 2
Kell 10, Cass 2
Lee County 8, Houston County 6
Locust Grove 3, Jones County 2
Locust Grove 8, Ola 0
Loganville 6, Walnut Grove 1
Lovejoy 17, Stephenson 8
Marist 12, Flowery Branch 1
Marist 5, Flowery Branch 4
Mill Creek 12, Duluth 0
Mt. Zion, Carroll 3, Christian Heritage 2
Northside-Columbus 8, Columbus 1
Ringgold 5, Lakeview-Fort Oglethorpe 3
Rutland 3, Pike County 2
Schley County 11, Brookstone 3
South Effingham 10, Statesboro 2
Statesboro 2, South Effingham 0
Strong Rock Christian 4, Eagles Landing Christian 2
Trion 8, Darlington 0
Wesleyan 10, Landmark Christian 1
West Forsyth 8, Lambert 4
White County 4, Chestatee 0
Volleyball
Greater Atlanta Christian 3, Archer 1
Hebron Christian 3, Pace Academy 0
Lakeside-Evans 3, North Augusta, SC 0