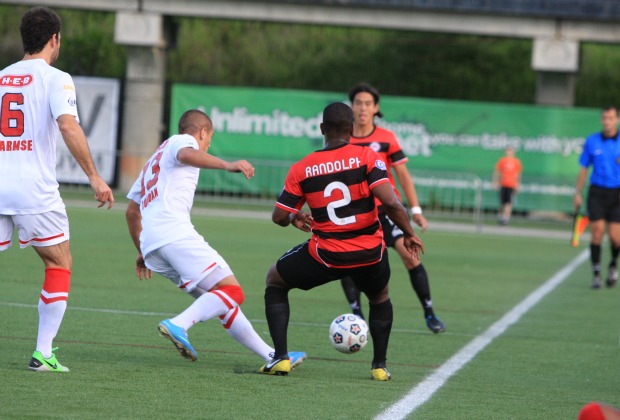 The Atlanta Silverbacks are back at Silverbacks Park this weekend for a rematch with the Tampa Bay Rowdies. When the teams last met on April 4, the Rowdies found a way to let a two-goal halftime lead evaporate, losing 4-3. There's no doubt they will be primed for payback. Tampa Bay is currently in fourth place in the standings with an overall record of 3-3-4, five points behind Atlanta.
The 'Backs come home following a 1-0 victory at Fort Lauderdale. Road victories are important in every professional sport, even more so for the Silverbacks, Atlanta's next three matches following this one will be on the road against second place Carolina (1 point behind the Silverbacks in the standings) then they will pack for back to backs in Minnesota, currently in third place. Atlanta's 5-2-2 record is impressive despite a lack of offensive firepower so far this season though they are leading the league in shots-on-goal. Only once this season have the 'Backs managed more than two goals in a match (that was in the previously mentioned comeback at Tampa Bay). On June 15, in their last match they only needed one to win but even that one came with a bit of difficulty. The goal was scored by El Salvadorian National Team player and starting midfielder Richie Menjiuar on a penalty kick in stoppage time no less. Reserve midfielder Horace James earned the penalty by being upended by the Striker goalie. Having the league's second best home record at 3-1-1 doesn't hurt but the odds are against lightning striking twice. The Silverbacks need goals, the defense has held up their end of the deal only given up 12 goals against this season.
NEWS:
The Silverbacks have made two new additions to the roster in Atlanta native Jahbari Willis, a forward out of Florida International University that played good enough as a member of the reserve squad to be called up to the regular squad. At 6-foot-3, Willis can give the 'Backs another option in the box late in matches when reserves come in handy.
Fellow forward Andy Herron comes over from Fort Lauderdale. The Costa Rican international team member will miss this year's Gold Cup competition but comes to Atlanta with plenty of experience. "I have been in soccer for 16 years, traveling everywhere from Costa Rica to the MLS," he said in a recent interview.
It's not too late to register your youngster for the Atlanta Silverback Youth Skills Camp (till 6/21) at Silverbacks Park. Team members and coaching staff teach the game and it's rule to kids from ages 5-14 from 9 a.m. till 3 p.m. Call the club's main number for further details.
On Sept. 7, the Silverbacks will visit Long Island (Hofstra University's home field) to play the newly minted New York Cosmos. The Cosmos have been rebuilt in the image of the iconic 1970′s super-club who's roster had such names as Pele, Beckenbauer and Carlos Alberto on it. The new Cosmos will just so happen to have forward Stefan Dimitrov on loan from Fort Lauderdale on it's roster. The NASL looks to be better and more diverse by adding New York to the league. Worse come to worse there's another northern team for Atlanta to be rivals with.