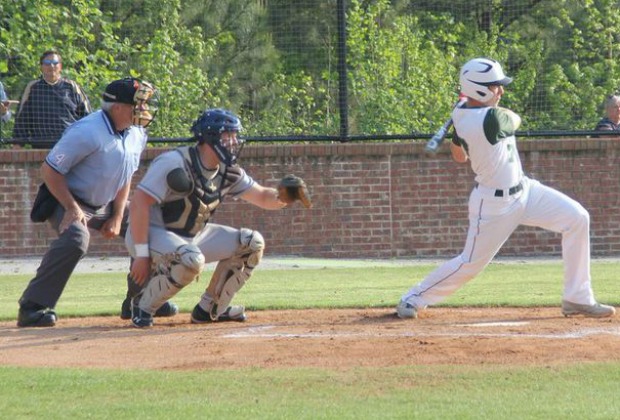 The ever competitive Region 8-AAAAAA has a log jam atop the standings after No. 1 Parkview (12-2) downed No. 7 Archer 16-3. The Panthers now sit at 4-1 in region while Archer (12-4, 5-1), No. 6 Brookwood (12-3, 5-1), and Grayson (8-7, 4-1) all hold a share of the lead. Will Ethridge advanced to 4-0 on the season after a strong five innings of work for Parkview. The Panthers strung together hits and ran wild on the bases as Daino Deas, Brandon Hill, Austin Biggar and David Draper combined to go 7-for-13 with six RBIs, six stolen bases and seven runs scored in Friday's win. Elsewhere in 6A, No. 3 Lambert (9-5, 5-1) struggled in the 2015 National High School Invitational in North Carolina, finishing 1-3 on the weekend. In their lone win over Mosley (FL), Seth Beer put the Longhorns on his back as he pitched 6.2 scoreless innings while striking out seven and allowing just three hits. Beer also provided a spark offensively, blasting a solo homerun as the Horns won 5-2.
5A's top ranked team, the Greenbrier Wolfpack (12-0, 5-0), remained undefeated after picking up wins over Cross Creek and Evans. The Pack has used steady pitching to carry them, allowing just 30 runs on the season. Columbus (9-3, 6-1) shutout Northside-Columbus 8-0. Troy Gilliland allowed just two hits in the complete-game performance. Dylan Baker and Trey Alexander both hit homers in the win.
No. 1 Buford (13-2, 5-0) defeated West Forsyth (7-6, 6-2) in a 4A vs. 6A matchup, 2-1. Connor Bennett hurled a complete-game one-hitter while Joey Bart provided the offense with a two-run single in the fifth. No. 2 Whitewater (10-3, 3-0) held its own in the 2015 National High School Invitational going 2-2. The Wildcats finished their weekend with a 10-8 win over Trinity Prep (FL). No. 5 Troup County (13-2, 5-1) swept defending state champion Carrollton with wins of 7-2, 10-7 and 10-6. No. 2 Locust Grove (14-1, 9-0) has won 14-straight games since a season opening loss to AAAAA's No. 5 Union Grove.
In AAA, No. 1 Blessed Trinity (12-2, 8-1) knocked off Cedar Grove (8-7, 4-4) behind Chris Siebert and Garrett Dupuis. Siebert went 2-4 with two RBIs and a triple while Dupuis finished with two hits and an RBI as the Titans cruised 9-0. Stetson Smith and Stetson Bennett have helped carry No. 2 Pierce County to 15-1 and a perfect 11-0 region record after wins over Appling County and Toombs County.
Top ranked Wesleyan (13-2, 5-1) defeated Holy Innocents' (8-5, 3-2) on Saturday, 4-2. Jahmai Jones picked up three hits including a homerun to power the Wolves. Jordan Ward provided Wesleyan with a complete-game and picked up seven K's along the way.
Class A saw No. 2 Tattnall Square (14-0, 2-0) defeat No. 7 First Presbyterian Day (11-3, 5-2) 3-1. Seniors Cole Gaylord and Jonathan Ward have led the way for the Trojan offense this season, both hitting over .400. Cory Bartholomew has been the ace, striking out 31 batters in 21 innings while accumulating a sparkling 0.67 ERA.
AAAAAA
1. Parkview
2. Kennesaw Mountain
3. Lambert
4. Milton
5. Walton
6. Brookwood
7. Archer
8. Lassiter
9. Valdosta
10. East Coweta
AAAAA
1. Greenbrier
2. Gainesville
3. Starr's Mill
4. Allatoona
5. Union Grove
6. Hardaway
7. East Paulding
8. Creekview
9. Loganville
10. Stephenson
AAAA
1. Buford
2. Whitewater
3. Locust Grove
4. St. Pius
5. Troup County
6. Pike County
7. North Hall
8. Mary Persons
9. Liberty County
10. Wayne County
AAA
1. Blessed Trinity
2. Pierce County
3. Jefferson
4. Jackson
5. Westside-Augusta
6. Washington County
7. Hart County
8. Rutland
9. Decatur
10. Franklin County
AA
1. Wesleyan
2. Greater Atlanta Christian
3. Lovett
4. Benedictine
5. Bacon County
6. Thomasville
7. Jeff Davis
8. Darlington
9. Rabun County
10. Bremen
A
1. King's Ridge
2. Tattnall Square
3. Mt. Paran
4. Whitefield Academy
5. Treutlen
6. Charlton County
7. First Presbyterian Day
8. Emanuel County Institute
9. Eagle's Landing Christian
10. Atkinson County