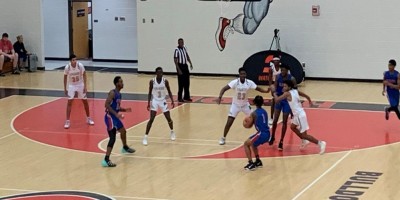 PHOTO: Ryan Lesniak, Peachtree Ridge AD
Thanksgiving basketball tournaments continued Tuesday and in the Dacula Tip-Off Classic, Class A-Private No. 3 Wesleyan and Class AAAAA No. 1 put on a show to close out the girls side of the tournament.
Buford earned the 50-49 victory in the battle of the Wolves and the game that went back-and-forth throughout. Buford led 17-15 after the first quarter, 31-28 at the break and it extended the lead to 46-36 entering the fourth quarter but then Wesleyan charged back into the game. Wesleyan began the fourth quarter on a 13-0 run and took a 49-46 lead on a 3-pointer with three minutes left, but Buford ended the game on a 4-0 run to take the win. Alyssa Phillips paced Wesleyan with 12 points, 10 rebounds and six blocks. Avyonce Carter scored 15 points and grabbed four rebounds. Paige Lyons finished with nine points and four rebounds.
In the Jared Cook Tip-Off Classic at North Gwinnett, the day began with Peachtree Ridge defeating Apalachee 61-53. Archer defeated Discovery 77-69 in the second game of the day and Areyon Johnson led with 24 points, CJ Hines scored 21 points with three rebounds and three assists and Justin Edmondson scored 12 points to pace Archer. London Riley made six 3-pointers on the way to a 21-point night to lead Discovery. Ian Davis added 17 points. In the third game, Pace Academy defeated North Gwinnett 58-52 and Matthew Cleveland's 25 points paced the Knights. Cole Middleton added 18 points for Pace. Kobe Jackson led North Gwinnett with 20 points and RJ Godfrey scored 10 points. In the final game of the night, Grayson beat Sandy Creek 62-55 and Deivon Smith led with 17 points for the Rams and Toneari Lane scored 15 points, with a bulk of his production coming in the fourth quarter. Jabari Smith scored 31 points to lead Sandy Green and Deshon Proctor finished with 12 points.
In the Gladiator Showcase at Johns Creek, a seven-game slate began at 10:30 a.m. with the Lambert girls beating Northview 61-16. Freshman guard Briley Elder and senior guard Riley Stevens each scored 14 points to lead the Longhorns. Northview was paced by Alahna Richards, who scored seven points. In the second game, the Johns Creek girls beat Oconee County 48-45. Carson Tanguilig, a 5-foot-8 junior shooting guard, led with 26 points for Johns Creek. Sybille Foucart led Oconee County with 12 points. Up next, the Duluth boys beat King's Ridge 55-49. Junior Tristan Johnson led the Wildcats with 25 points and Isaac Martin paced King's Ridge with 25 points. In game four, Lanier nipped Pace Academy 58-57. The Longhorns led 15-14 after the first quarter and extended the lead with an 11-9 effort in the second quarter. Pace outscored Lanier 20-19 in the third quarter and 14-13 in the fourth, but the game was out of reach, barely. Pace's Jordan Upchurch led all scorers with 29 points in the loss. In the fifth game, Buford's boys beat Northview 77-49 behind a 21-point effort from Sebastian Augustave's 21 points. Caleb Blackwell added 15 points for the Wolves. Ivoryon Cuffee scored 18 points for Northview.  Marist's girls outlasted Marietta 48-41 in the sixth game. Tyler Brazle scored 21 points to lead Marist. Eva Knox and Gabby Mays each scored nine points to lead Marietta. In the final game of the evening, Collins Hill defeated Duluth 75-63. Jaden Lingo's 16 points paced Druid Hills.
In the Lowndes Thanksgiving Tournament, Brunswick's boys defeated Crisp County 59-46 after leading the Cougars 20-6 at the end of the first quarter. Jaden Dunham scored 12 points with 11 rebounds and two blocks, Camarion Johnson scored 11 points and Xavier Bean added 10 points for Brunswick. Crisp was led by William Poole's 17 points and Jamorian Johnson's 14 points. On the girls side, Brunswick beat Crisp 60-23. Keya Daniels led Brunswick with 10 points and 10 rebounds and Makaila Brown scored 10 points with 12 rebounds. In the next game, Lambert beat Columbus 62-48. Colin Granger, Braxton Beaty and Will Baker each scored 10 points for Lambert. Jefferson's 82-76 victory over Dacula was fueled by a 21-point performance from Owen Parker and Jacob Radaker. Spencer Darby scored 14 points with four 3-pointers for Jefferson. C.J. Carithers scored 23 points, had two assists and made five steals to lead Dacula. Teammate Bryce Wilson scored 20 points with four 3-pointers and Lamariyon Jordan added 14 points, grabbed eight rebounds, made two assists, two steals and had one block.
In the Stratford Academy Tip-Off Tournament, the Athens Academy girls beat First Presbyterian Day 38-24. Meredith Reynolds led Athens Academy with 16 points
See the rest of the Tuesday basketball scores below.
Boys
Appling County 58, Ware County 54
Beach 72, Bradwell Institute 48
Bremen 48, Bowdon 47
Brookwood-Thomasville 56, Chattahoochee County  43
Brunswick 59, Crisp County 46
Buford 77, Northview 49
Campbell 53, Shaw 49
Central-Carroll 61, Heard County 39
Chapel Hill 83, Denmark 7
Cherokee 60, Brookwood 44
Cherokee Bluff 65, Forsyth Central 62
Clarke Central 77, Banneker 55
Coahulla Creek 61, Ridgeland 33
Collins Hill 75, Druid Hills 63
Colquitt County 62, Deerfield-Windsor 35
Commerce 89, Oglethorpe County 66
Creekview 74, Dunwoody 59
Douglass 56, Woodland-Stockbridge 54
Dutchtown 77, Hardaway 41
East Paulding 65, Rockmart 56
Effingham County 60, Savannah Country Day 37
Evans 82, Richmond Academy 48
Grayson 62, Sandy Creek 55
Habersham Central 67, Rabun County 51
Houston County 71, West Laurens 60
Jenkins 53, Southeast Bulloch 48
Johnson-Gainesville 56, White County 48
LaFayette 57, Woodland-Cartersville 38
Lakeview-Fort Oglethorpe 64, Silverdale Aca. 36
Lambert 62, Columbus 48
Loganville 63, George Walton Academy 41
M. L. King 64, Westminster 61
Madison County 62, Westside-Macon 61
Mary Persons 66, Tattnall Square 54
Metter 73, Jenkins County 61
Monroe Area 62, Flowery Branch 50
Murray County 103, Dade County 57
New Creation 88, Mt. Zion-Jonesboro 42
North Hall 59, Union County 53
Ooltewah 52, Southeast Whitfield 10
Our Lady of Mercy 83, Stratford Academy 35
Paulding County 85, North Cobb Christian 67
Pickens 65, Hiawassee Dam 52
Pope 70, Furtah Prep 49
Providence Christian 60, Mt. de Sales 42
Rockdale County 50, Stephens County 49
Sequoyah 65, Roswell 53
Social Circle 42, Loganville Christian 29
South Atlanta 49, Stone Mountain 45
South Effingham 62, Islands 52
South Paulding 73, Northgate 41
Spalding 71, Luella 69
St. Pius X 76, Lumpkin County 55
Starr's Mill 61, North Oconee 52
The King's Academy 60, Woodstock 59
Thomasville 54, Lowndes 51
Valdosta 57, Carver-Columbus 49
Vidalia 59, Tattnall County 36
Walker 61, North Cobb 57
Warner Robins 70, Central-Macon 37
Washington 83, Griffin Christian 46
Wheeler County 71, Claxton 65
Windsor Forest 74, Savannah 59
Girls
Americus-Sumter 72, Dougherty 31
Athens Academy 38, First Presbyterian 24
Blessed Trinity 47, Denmark 22
Bradwell Institute 49, Beach 46
Brentwood 58, Mary Persons 23
Brookwood-Thomasville 48, Chattahoochee County 26
Brunswick 60, Crisp County 23
Buford 50, Wesleyan 49
Central Christian 35, Dutchtown 34
Central-Carroll 59, Armuchee 43
Coahulla Creek 78, Ridgeland 34
Commerce 54, Oglethorpe County 23
Covington 68, North Murray 55
Creekview 58, Hillgrove 49
Dade County 51, Murray County 40
Dawson County 69, Brookwood 60
Decatur 49, Mountain View 38
Druid Hills 41, Morgan County 36
Etowah 45, Lumpkin County 43
Evans 49, Richmond Academy 33
Forsyth Central 56, Cherokee Bluff 31
George Walton Academy 49, Social Circle 44
Gordon Central 57, Adairsville 48
Greenbrier 51, Butler 50
Griffin 51, Archer 47
Hebron Christian 85, North Oconee 50
Hephzibah 29, Strom Thurmond 24
Houston County 52, West Laurens 45
Jefferson 52, Cedar Shoals 35
Johns Creek 48, Oconee County 45
Lakeview Academy 62, East Hall 51
Lanier 58, Pace Academy 57
Lincoln County 45, Calhoun 36
Loganville 62, Walnut Grove 30
Lowndes 68, Wilcox County 45
M. L. King 57, Cambridge 45
McIntosh County Academy 54, Treutlen 22
Metter 37, Jenkins County 26
Mt. de Sales 45, Providence Christian 22
Mt. Paran Christian 59, Woodland-Stockbridge 44
North Cobb Christian 41, Walker 31
North Forsyth 68, Cherokee 60
Northeast-Macon 60, Wilkinson County 39
Northgate 46, South Paulding 40
Northside-Warner Robins 56, Manchester 7
Peachtree Ridge 45, Pendleton 35
Pebblebrook 41, Alexander 29
Pensacola 39, McDonough 33
Quitman County 70, Jordan 43
Rabun County 79, Habersham Central 49
Richmond Hill 63, Liberty County 27
Rockmart 49, East Paulding 45
Roswell 68, Alpharetta 49
Sandalwood 43, Duluth 35
Savannah Christian 43, Islands 27
Signal Mountain, Tenn. 49, Gordon Lee 35
Silverdale Academy 73, Lakeview-Fort Oglethorpe 31
South Atlanta 36, Spencer 24
South Effingham 68, The Habersham School 27
South Forsyth 68, Gainesville 46
Southeast Bulloch 55, Jenkins 41
Stephenson 67, Stone Mountain 23
Stratford Academy 66, Prince Avenue 38
Trinity Christian 51, Heard County 41
Vidalia 42, Tattnall County 31
Warner Robins 61, Central-Macon 40
Westlake 81, Parkview 28
Winder-Barrow 66, North Gwinnett 62
Woodstock 52, Pope 36