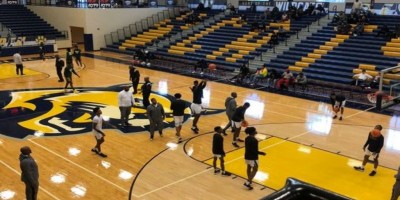 John Morgo
The Tournament of Champions Showcase at Wheeler High School took place on Saturday with a slate of five games to display some of the best basketball talent around. In the first game of the day, Class AAAAA's top-ranked Lithonia boys beat Greenforest 56-48 which moved the Bulldogs to 8-0 this season.
Eric Gaines led Lithonia with 28 points and 19 points in the second half. Lamar Oden led Greenforest with 16 points and Christian Fussell scored 11 points. In the next game, Class AAAAAA No. 7 Chattahoochee defeated Class AAAAAAA No. 8 Pebblebrook 66-65 after trailing 42-31 at the break. Junior guard AJ White led with 23 points and senior guard Franklin Bailey scored 19 points. Pebblebrook was led by Franklin Bailey's 19 points and Kaleb Washington added 15 points.
Class AAAAAAA No. 3 Grayson defeated No. 5 Wheeler 73-68 to moved to 8-0 on the season. The Rams trailed after a 23-10 run by Wheeler to open the game but fought back to take a 34-32 lead at the half. Wheeler built a 60-50 lead entering the fourth quarter but Grayson tied the game at 68 with 2:35 remaining on a 3-pointer by senior Toneari Lane. Caleb Murphy gave the Rams the lead with a dunk with 26 seconds left and from there, Wheeler could not find a basket. Lane finished with 19 points.
In the GA vs. SC Challenge, the Lakeview Academy boys defeated Pendleton, SC 48-46 and 6-foot-2 senior guard Harrison Cooper led with 10 points. Junior Conley Millwood scored nine points and Sam Stewart scored eight points. Holden Cooper made five steals and grabbed five assists.
See the rest of the scores below.
Boys
Allatoona 78, North Paulding 65
Arlington, TN 51, Miller Grove 44
Bleckley County 46, Perry 44
Bloom, IL 84, Pace Academy 54
Camden County 72, Mandarin 56
Charlotte Christian 44, Meadowcreek 39
Christian Heritage 69, Landmark Christian 50
Clarke Central 66, Seneca 60
Dade County 62, Ridgeland 60
Drew Charter 65, Our Lady of Mercy 60
East Coweta 67, McCallie, TN 60
Effingham County 46, Statesboro 45
Excel Christian 73, Stratford Academy 63
Franklin County 77, Oglethorpe County 35
Howard 67, McDonough 57
Jenkins County 78, McIntosh County Academy 72
Lakeview Academy 48, Pendleton 46
Lakeview-Fort Oglethorpe 70, Murray County 57
Lambert 68, Creekview 60
Lee County 76, Langston Hughes 45
Lithonia 56, Greenforest 48
Locust Grove 62, Lamar County 55
Loganville 56, Madison County 53
Lovett 49, Blessed Trinity 29
Marietta 62, Campbell 52
Mary Persons 68, First Presbyterian 62
Morrow 68, Mt. Zion-Jonesboro 50
Mt. Vernon Presbyterian 68, Holy Spirit Prep 47
North Clayton 68, Riverdale 65
North Cobb 53, Harrison 44
North Cobb Christian 71, Furtah Prep 69
North Murray 47, Haralson County 24
Northeast-Macon 49, Southwest 45
River Ridge 64, North Forsyth 54
Rockmart 62, Bremen 42
Roswell 59, Alpharetta 54
Salem 54, Morgan County 45
Shiloh 84, Holy Innocents' 40
South Cobb 51, Central-Macon 47
South Forsyth 61, Etowah 53
South Paulding 64, Central-Carroll 46
St. Anne Pacelli 59, Hawkinsville 15
Tri-Cities 68, Douglas County 62
Trinity Christian 80, Hebron Christian 67
Veterans 66, Northside-Warner Robins 55
Walker 72, King's Ridge 61
Westside-Anderson SC 56, Mill Creek 46
Whitewater 53, Griffin 49
Woodstock 71, Forsyth Central 65
Girls
Adairsville 50, Temple 36
Alexander 56, New Manchester 47
Beach 56, Brunswick 31
Bleckley County 56, Perry 30
Buford 73, Johns Creek 29
Calvary Day 53, Wheeler County 48
Camden County 49, Jenkins 33
Carrollton 98, Paulding County 11
Cartersville 47, Pepperell 43
Cass 62, East Paulding 55
Centennial 39, Milton 22
Central-Carroll 64, South Paulding 24
Cherokee 71, South Forsyth 46
Collins Hill 50, Columbia 34
Colquitt County 68, Monroe 44
Dawson County 60, Flowery Branch 55
Fannin County 52, Union County 47
Forsyth Central 55, Etowah 43
Hebron Christian 71, Trinity Christian 27
Hiram 50, Villa Rica 47
Jackson 55, Peach County 39
Jackson-Atlanta 61, Woodville-Tompkins 53
Jenkins County 58, McIntosh County Academy 40
Kell 72, Sprayberry 62
Kendrick 66, Jordan 40
Loganville 54, Madison County 32
Macon County 51, Brookstone 39
Murray County 49, Lakeview-Fort Oglethorpe 47
Northgate 54, Landmark Christian 33
Osborne 35, Kennesaw Mountain 21
Our Lady of Mercy 39, Drew Charter 30
Pebblebrook 55, Rockdale County 40
Pinewood Christian 51, Claxton 44
Portal 50, Treutlen 29
Providence Christian 48, Strong Rock Christian 37
Putnam County 51, Washington 23
Randolph-Clay 75, Webster County 14
Richmond Hill 44, South Effingham 38
River Ridge 55, Lambert 23
Roswell 57, Alpharetta 32
Savannah Christian 80, Johnson County 27
South Cobb 51, Wheeler 39
Southwest 44, Northeast-Macon 38
Towers 34, Carver-Atlanta 21
Tri-Cities 56, Douglas County 51
Veterans 52, Northside-Warner Robins 38
West Forsyth 47, Sequoyah 37
Woodland-Stockbridge 54, Dutchtown 34