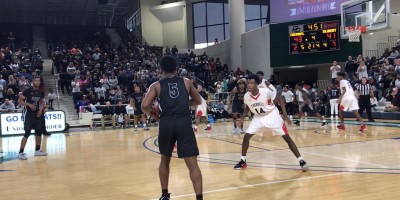 Basketball action on Tuesday was highlighted by a classic meeting between two high-ranked girls programs as Class AAAAA No. 1 Buford got a 47-44 victory over Class A-Private No. 3 Holy Innocents'.
Buford entered the fourth quarter trailing 42-37 before its smothering defensive effort and Gene Durden's patented full-game, full-court press overwhelmed Holy Innocents'. In the fourth quarter, Buford's consistent pressure wore down the Golden Bears and the Wolves put the game away on a 10-2 run. Senior guard Tate Walters, a Furman-commit, led with 13 points. Sophomore Tatum Ozment and senior Katelyn Klein each finished with nine points. Junior wing Sara Viti scored seven points. Junior guard Ashyia Willis netted five points and Abbi Perkins and Courtney Martin each scored two points. The Wolves moved to 9-0 and will face
Class AAAA's St. Pius X girls moved to 8-0 with a 49-19 victory over Class AAA Lovett. The Golden Lions led 13-4 after the first quarter and 28-14 at the break. Pius held Lovett to just a free throw in the third quarter while scoring 12 points to take control of the game. Senior Wylie Sheridan scored 11 points to lead the Golden Lions. Freshman Kelly Stephenson finished with nine points and junior Georgie Dooley scored eight points.
In Class AAA girls ball, Calhoun's 54-46 victory over Ringgold on Tuesday moved the Yellow Jackets to 3-3 overall and 2-1 in 6-AAA and helped things get back on track after losing three of its last four games, two in tournaments over the Thanksgiving break.
Freshman guard Britiya Curtis scored 20 points and helped lead Calhoun back from being down 20-17 in the second quarter. The Jackets pieced together a run and entered the locker room tied at 27 with the Tigers. Calhoun pushed its lead through the third quarter and enjoyed a 43-39 spread entering the final frame. It held Ringgold to just seven points in the fourth quarter while scoring 12 to put the game away.
Senior forward Anna George finished with 12 points and junior forward Maggie McBrayer netted eight points. Senior Rachel Akers led Ringgold scoring 14 points, senior guard Sarah Headrick finished with 10 points and senior guard Sydney Pittman added nine points.
See the rest of the scores below.
Boys
Alexander 102, Northgate 42
Allatoona 68, Osborne 43
Arabia Mountain 70, Chamblee 39
Berrien 60, Worth County 47
Bowdon 83, Bremen 54
Calhoun 65, Ringgold 26
Calhoun County 72, Quitman County 35
Camden County 61, River Science Aca FL 49
Central-Macon 65, Jackson 40
Chattahoochee 95, Dunwoody 50
Chattooga 87, Gordon Central 43
Cherokee 69, Lassiter 33
Cherokee Bluff 83, East Hall 44
Clarke Central 86, Heritage-Conyers 82
Claxton 70, Johnson County 51
Crawford County 61, Hawkinsville 32
Cross Creek 52, North Augusta, SC 50
Drew Charter 62, Wesleyan 55
Georgia Military 71, Greene County 50
Hiram 75, Kell 60
Howard 66, Southwest 45
Jackson County 43, Oconee County 38
Jackson-Atlanta 78, North Springs 34
Jenkins County 55, Savannah Christian 39
Laney 59, Hephzibah 54
Lincoln County 39, Social Circle 37
Lovett 83, St. Pius X 73
Lumpkin County 65, Fannin County 64
Manchester 69, St. Anne Pacelli 63
Mays 68, South Paulding 60
McIntosh 61, Spalding 56
Model 40, Coosa 28
Mt. Pisgah Christian 59, King's Ridge 50
New Hampstead 54, Richmond Hill 48
Newnan 59, Central-Carroll 30
Norcross 62, Lakeside-DeKalb 40
Northside-Warner Robins 72, West Laurens 38
Pace Academy 85, Stone Mountain 24
Pickens 66, Gordon Lee 51
Rockmart 70, Pepperell 52
Sandy Creek 70, Whitewater 36
Schley County 74, Dooly County 59
Shiloh 65, Archer 60
Sonoraville 59, Adairsville 53
South Atlanta 52, Washington 48
South Cobb 69, Creekview 40
South Forsyth 57, Lambert 43
Swainsboro 93, Bryan County 22
Therrell 50, Douglass 42
Union Grove 60, Tattnall Square 36
Veterans 79, Perry 50
Walker 88, Mt. Paran Christian 61
Winder-Barrow 60, North Oconee 47
Woodville-Tompkins 58, Metter 48
Woodward Academy 70, McDonough 56
Girls
Alpharetta 52, Pope 49
Archer 58, Shiloh 50
Atlanta International 51, Mt. Vernon Presbyterian 18
Bacon County 42, Toombs County 34
Banneker 51, Carver-Atlanta 26
Bethlehem Christian 53, Johnson-Gainesville 37
Brookwood 71, Central Gwinnett 43
Bryan County 49, Swainsboro 24
Buford 47, Holy Innocents' 44
Butler 53, Screven County 34
Calhoun 54, Ringgold 46
Calvary Day 92, Montgomery County 43
Central-Carroll 43, Newnan 35
Central-Macon 44, Jackson 38
Cherokee 71, Lassiter 12
Claxton 42, Johnson County 26
Colquitt County 68, Bainbridge 28
Columbus 40, Jordan 38
Commerce 43, George Walton Academy 27
Creekview 58, South Cobb 50
Darlington 41, Christian Heritage 30
Duluth 42, North Gwinnett 26
Dunwoody 40, Chattahoochee 28
East Hall 55, Cherokee Bluff 48
Fannin County 51, Lumpkin County 38
Galloway School 61, Prince Avenue 43
Georgia Military 64, Greene County 18
Gilmer 63, Heritage-Catoosa 30
Gordon Central 74, Chattooga 53
Grady 46, Decatur 38
Greater Atlanta Christian 73, North Hall 66
Hapeville Charter 55, Coretta Scott King 21
Hilton Head, SC. 48, Effingham County 18
Jackson-Atlanta 57, North Springs 18
Jefferson 69, Franklin County 38
Johns Creek 57, Cambridge 46
Jones County 0, Stockbridge 0
Lincoln County 62, Social Circle 47
Madison County 66, Apalachee 58
Mill Creek 46, Mountain View 20
Mt. de Sales 37, Academy For Classical Education 30
Mt. Paran Christian 65, Walker 27
North Atlanta 52, Northview 32
North Paulding 51, Cartersville 27
Northeast-Macon 58, Mary Persons 26
Osborne 52, Allatoona 35
Our Lady of Mercy 51, Heard County 45
Parkview 67, Berkmar 22
Pickens 79, Gordon Lee 54
Providence Christian 37, Athens Christian 32
Randolph-Clay 64, Chattahoochee County 37
Richmond Hill 43, New Hampstead 21
Rockdale County 68, South Gwinnett 28
Rockmart 43, Pepperell 26
Rome 53, Cass 49
Savannah Christian 0, Jenkins County 0
Sequoyah 61, River Ridge 49
Sonoraville 56, Adairsville 22
South Atlanta 43, Washington 20
South Effingham 50, Long County 34
South Forsyth 56, Lambert 24
Southwest 62, Howard 24
Spalding 70, McIntosh 21
Sprayberry 60, Dalton 17
St. Pius X 49, Lovett 19
Stephenson 60, Drew 35
Tallulah Falls 62, Landmark Christian 30
Trinity Christian 48, Chapel Hill 34
Veterans 39, Perry 28
Vidalia 54, Jeff Davis 35
Villa Rica 69, East Paulding 45
West Forsyth 62, North Forsyth 55
West Laurens 41, Northside-Warner Robins 36
Westminster 51, Towers 17
White County 79, West Hall 44
Woodstock 65, Roswell 58
Woodward Academy 68, McDonough 53