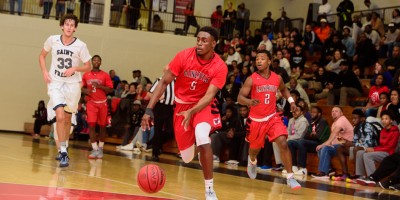 In Class AAAAAAA boys, McEachern (6-0) and Norcross (8-0) return as the No. 1 and No. 2 teams, but 10-0 Shiloh has jumped from No. 6 to No. 3. Former No. 3 Grayson dropped an 84-80 loss to Newton on Tuesday that brought the Rams' overall record to 8-1 and sent them to No. 4. Newton improved from No. 9 to No. 7 after the win and is 4-3 overall. Milton rounds out the top 5 with Wheeler coming in at No. 6. Peachtree Ridge jumped from No. 10 to No. 8 and East Coweta fell from No. 7 to No. 9 after falling 61-59 to No. 10 Pebblebrook, which is 4-5 overall.
In Class AAAAAA, Alexander used a 97-80 win over previous No. 5 New Manchester to leap from No. 8 to the fifth spot. Also, undefeated North Atlanta and Richmond Hill replaced Hughes and New Manchester in the top 10.
The Class AAAA poll saw Salem debut at No. 10 after defeating No. 9 North Clayton 72-69 on Tuesday. Greater Atlanta Christian and Beach were replaced by Westminster and Lakeview-Fort Oglethorpe in the Class AAA top 10.
In Class AA, Vidalia slid from No. 3 to No. 5 following a 56-50 loss to Woodville-Thompkins last Friday, which used the win to climb to No. 4. Also, Banks County ascended to No. 2 and Swainsboro improved to No. 3 and both programs remain unbeaten.
Pinecrest Academy replaced Mt. Parn in the Class A-Private top 10 and Treutlen took over No. 1 in Class A-Public following Calhoun County's 67-61 loss to Terrell County on Saturday.
Class AAAAAAA
1. McEachern
2. Norcross
3. Shiloh
4. Grayson
5. Milton
6. Wheeler
7. Newton
8. Peachtree Ridge
9. East Coweta
10. Pebblebrook
Class AAAAAA
1. Tri-Cities
2. Tucker
3. South Cobb
4. Pope
5. Alexander
6. Chattahoochee
7. Lanier
8. North Atlanta
9. Richmond Hill
10. Allatoona
Class AAAAA
1. Lithonia
2. Eagle's Landing
3. Dutchtown
4. Hiram
5. Cedar Shoals
6. Kell
7. Veterans
8. Miller Grove
9. Southwest DeKalb
10. Villa Rica
Class AAAA
1. Woodward Academy
2. Eastside
3. Americus-Sumter
4. Denmark
5. Marist
6. Cross Creek
7. Sandy Creek
8. Chapel Hill
9. North Clayton
10. Salem
Class AAA
1. Pace Academy
2. Windsor Forest
3. Dawson County
4. Johnson-Savannah
5. Hart County
6. Franklin County
7. Monroe
8. Westminster
9. Murray County
10. Lakeview-Fort Oglethorpe
Class AA
1. Therrell
2. Banks County
3. Swainsboro
4. Woodville-Thompkins
5. Vidalia
6. Jeff Davis
7. Spencer
8. Butler
9. Glenn Hills
10. Laney
Class A-Private
1. St. Francis
2. Greenforest Christian
3. Christian Heritage
4. Wesleyan
5. Trinity Christian
6. Walker
7. Mt. Pisgah
8. Galloway
9. Whitefield Academy
10. Pinecrest Academy
Class A-Public
1. Treutlen
2. Wilcox County
3. Terrell County
4. Lanier County
5. Calhoun County
6. Hancock Central
7. Wilkinson County
8. Greene County
9. Irwin County
10. Marion County
The Westlake girls lead the state's highest classification again this week entering its game at Wheeler on Friday. Cherokee moved to 9-1 after a dominant 71-12 victory over Lassiter on Tuesday and the Warriors stay at No. 2 this week. Collins Hill is No. 3 again this week and is coming off a 50-34 victory over Columbia. Roswell and North Forsyth round out the top of the class again this week.
In Class AAAAAA, Lovejoy is the team to beat at 8-0 and 7-0 in 4-AAAAAA play. The Wildcats are coming off a 75-28 victory over Mundy's Mill. Forest Park comes in at No. 2 again this week at 7-1 and 6-1 in4-AAAAAA after losing to top-ranked Lovejoy on Nov. 16. The Panthers are coming off a 59-27 victory over M.L. King on the road on Tuesday. Dacula, Glynn Academy and Valdosta round out the top 5, respectively.
Buford is leading Class AAAAA again this week and are riding momentum from an important 47-44 victory over Class A-Private No. 3 Holy Innocents' on Tuesday. Buford entered the fourth quarter trailing 42-37 before its smothering defensive effort and Gene Durden's patented full-game, full-court press overwhelmed Holy Innocents'. The Wolves put the game away on a 10-2 run. Tate Walters, committed to Furman, led with 13 points. Wayne County, Carrollton, Villa Rica and Statesboro round out the top 5.
Carver-Columbus leads Class AAAA's poll again this week ahead of Luella, Spalding, Woodward and Americus-Sumter. In Class AAA, Savannah programs Johnson and Beach top the poll ahead of Jefferson, Dawson County and Greater Atlanta Christian.
Early County is the team to beat in Class AA again with Laney, Rabun County, Putnam County and Douglass chasing. In Class A-Public, Wheeler County tops the poll ahead of Greenville, Clinch, Central-Talbotton and Calhoun County. Class A-Private is led by St. Francis again this week with Hebron Christian, Holy Innocents', Mount Paran Christian and Wesleyan in the top 5.
Class AAAAAAA
1. Westlake
2. Cherokee
3. Collins Hill
4. Roswell
5. North Forsyth
6. McEachern
7. Pebblebrook
8. North Cobb
9. Woodstock
10. Campbell
Class AAAAAA
1. Lovejoy
2. Forest Park
3. Dacula
4. Glynn Academy
5. Valdosta
6. Stephenson
7. Grovetown
8. South Cobb
9. Harrison
10. Creekview
Class AAAAA
1. Buford
2. Wayne County
3. Carrollton
4. Villa Rica
5. Statesboro
6. Southwest DeKalb
7. Jones County
8. Veterans
9. Griffin
10. Kell
Class AAAA
1. Carver-Columbus
2. Luella
3. Spalding
4. Woodward Academy
5. Americus-Sumter
6. Troup
7. Marist
8. Druid Hills
9. St. Pius
10. Cross Creek
Class AAA
1. Johnson-Savannah
2. Beach
3. Jefferson
4. Dawson County
5. Greater Atlanta Christian
6. Lumpkin County
7. Fannin County
8. Coahulla Creek
9. Cedar Grove
10. North Hall
Class AA
1. Early County
2. Laney
3. Rabun County
4. Putnam County
5. Douglass
6. Southwest-Macon
7. Bryan County
8. Washington County
9. Josey
10. Butler
Class A-Private
1. St. Francis
2. Hebron Christian
3. Holy Innocents'
4. Mt. Paran
5. Wesleyan
6. Stratford Academy
7. Trinity Christian
8. Calvary Day
9. Greenforest Christian
10. Galloway
Class A-Public
1. Wheeler County
2. Greenville
3. Clinch County
4. Central-Talbotton
5. Calhoun County
6. Turner County
7. Marion County
8. Bowdon
9. Montgomery County
10. Macon County