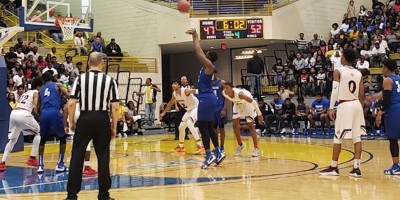 In Class AAAAAAA boys, top-ranked Grayson scored a 68-67 win over No. 3 Shiloh, a 70-44 win over Ramsay (AL) at Norcross and a 96-53 win over South Gwinnett to improve to 23-1 overall. Shiloh previously fell to Grayson 72-60 on Jan. 3 and the third-ranked Generals' (21-2) only two losses this season have come to the Rams. Milton is looking strong at No. 4 with a 20-4 overall record. The Eagles' only in-state loss this season was an 81-80 defeat to Grayson in the Jared Cook Classic. No. 6 Wheeler held off No. 8 East Coweta 79-66 on Tuesday and No. 9 Newton fell 67-62 to No. 3 Shiloh. Newton will visit No. 7 ranked Archer this Friday.
Class AAAAAA saw Tri-Cities fall from No. 5 to No. 9 after the program dropped its third game in its last five outings. Also, Richmond Hill replaced Evans in the poll and makes its debut at No. 10.
Statesboro moved up from No. 8 to No. 5 in the Class AAAAA poll and Cedar Shoals dropped a spot to No. 6 following its loss to Buford this past Friday. Cedar Shoals previously defeated Buford 67-61.
Class AAAA No. 1 Americus-Sumter improved its record to 23-0 and No. 2 Sandy Creek picked up its 16th straight victory with a 98-50 win over LaGrange on Tuesday. Woodward Academy sits at No. 3 and rounds out the top 5 with No. 4 Denmark and No. 5 Cross Creek, which leapt all the way from No. 10.
In Class AAA, Westminster was replaced in the poll with Westside-Macon, which debuts at No. 10. Swainsboro is the new No. 1 in Class AA and replaces Therrell, which fell 55-52 to Douglass on Friday and 74-71 to Hapeville Charter on Tuesday.
In Class A-Private, Walker dropped from No. 5 to No. 8 after posting losses in three of its last four outings and moving to 18-5 overall. In Class A-Public, Turner County fell from No. 8 to No. 10 after losing 66-60 tot Central Talbotton on Tuesday and 64-61 to Lanier County on Friday, which used the victory to take over at No. 8.
Class AAAAAAA
1. Grayson
2. Norcross
3. Shiloh
4. Milton
5. McEachern
6. Wheeler
7. Archer
8. East Coweta
9. Newton
10. Cherokee
Class AAAAAA
1. Tucker
2. Sequoyah
3. South Cobb
4. Lanier
5. Hughes
6. Valdosta
7. Chattahoochee
8. Pope
9. Tri-Cities
10. Richmond Hill
Class AAAAA
1. Lithonia
2. Eagle's Landing
3. Dutchtown
4. Kell
5. Statesboro
6. Cedar Shoals
7. Buford
8. Warner Robins
9. Veterans
10. Carrollton
Class AAAA
1. Americus-Sumter
2. Sandy Creek
3. Woodward Academy
4. Denmark
5. Cross Creek
6. Chapel Hill
7. Baldwin
8. St. Pius
9. LaFayette
10. North Clayton
Class AAA
1. Pace Academy
2. Dawson County
3. Winsor Forest
4. Johnson-Savannah
5. Hart County
6. Monroe
7. Lovett
8. Greater Atlanta Christian
9. North Murray
10. Westside-Macon
Class AA
1. Swainsboro
2. Jeff Davis
3. Therrell
4. Douglass
5. Butler
6. Spencer
7. Glenn Hills
8. Dublin
9. Laney
10. Thomasville
Class A-Private
1. St. Francis
2. Greenforest Christian
3. Mt. Pisgah
4. Wesleyan
5. Trinity Christian
6. Pinecrest Academy
7. Providence Christian
8. Walker
9. First Presbyterian Day
10. Galloway
Class A-Public
1. Treutlen
2. Wilcox County
3. Terrell County
4. Drew Charter
5. Calhoun County
6. Hancock Central
7. Wilkinson County
8. Lanier County
9. Dooly County
10. Turner County
The biggest change in the girls rankings this week is in Class AAAAAA, where Forest Park took the No. 1 spot in the poll from Lovejoy after the Panthers defeated the Wildcats 46-43 on Tuesday. Lovejoy dropped to No. 2 in the AAAAAA poll with Valdosta, Dacula and Glynn Academy rounding out the top 5.
In the state's highest class, Westlake is still the team to beat with Collins Hill, Cherokee, North Forsyth and Campbell filling up the top 5. In Class AAAAA, Buford stays at the top despite a loss to Class A-Private No. 4 Wesleyan 45-43 on the road on Saturday.
In Class AAAA, Carver-Columbus leads ahead of Americus-Sumter, Troup, Spalding and Woodward Academy. Johnson-Savannah is at the top of Class AAA again this week and Jefferson is chasing at No. 2. Laney maintains its No. 1 spot in the poll in Class AA ahead of Rabun County, Early County, Southwest-Macon and Putnam County.
Hebron Christian is at the top of Class A-Private again this week with St. Francis, Holy Innocents', Wesleyan and Greenforest in the hunt. Central-Talbotton holds the top spot in Class A-Public with Wheeler County, Clinch County, Calhoun County and Greenville filling out the top 5.
Class AAAAAAA
1. Westlake
2. Collins Hill
3. Cherokee
4. North Forsyth
5. Campbell
6. Woodstock
7. Colquitt County
8. Tift County
9. Pebblebrook
10. Grayson
Class AAAAAA
1. Forest Park
2. Lovejoy
3. Valdosta
4. Dacula
5. Glynn Academy
6. Harrison
7. Alexander
8. Hughes
9. Stephenson
10. Bradwell Institute
Class AAAAA
1. Buford
2. Kell
3. Veterans
4. Wayne County
5. Villa Rica
6. Jones County
7. Statesboro
8. Starr's Mill
9. Southwest DeKalb
10. Carrollton
Class AAAA
1. Carver-Columbus
2. Americus-Sumter
3. Troup
4. Spalding
5. Woodward Academy
6. Luella
7. Marist
8. Central-Carroll
9. Stephens County
10. Baldwin
Class AAA
1. Johnson-Savannah
2. Jefferson
3. Beach
4. Pierce County
5. Greater Atlanta Christian
6. Cedar Grove
7. North Hall
8. Sonoraville
9. Ringgold
10. Westminster
Class AA
1. Laney
2. Rabun County
3. Early County
4. Southwest Macon
5. Putnam County
6. Douglass
7. Vidalia
8. Josey
9. Washington County
10. Bryan County
Class A-Private
1. Hebron Christian
2. St. Francis
3. Holy Innocents'
4. Wesleyan
5. Greenforest Christian
6. Mt. Paran
7. Darlington
8. Calvary Day
9. Galloway
10. Trinity Christian
Class A-Public
1. Central-Talbotton
2. Wheeler County
3. Clinch County
4. Calhoun County
5. Greenville
6. Pelham
7. Bowdon
8. Macon County
9. Turner County
10. Georgia Military